The title doesn't really have anything to do with this post; I have just had it in my head for a long time (Does that ever happen to you? Have a post title in your head but just need to post to go along with it? No? OK then. Never mind.)
With me being back at work my Internet time has been reduced. This has been a positive thing for the most part. I do not have time to worry about what I "should" be doing as a blogger, based on what "they" say. I write when time allows, for that is all that I can really do. It is kind of freeing to know that I don't have the time to dwell on if I am doing all of the "social networking" things that I keep reading are necessary. I only have enough time to keep up with the friends I want to, and to write what I need to. Which is how it should be.
The downside to the lack of time is that I worry about getting out of the groove of it all. If I post nearly every day then the ideas are flowing and I have no problem whipping up another post. When days happen between my musings I start to second-guess myself. I wonder if what is going on is really something I need to write here for the world to see. Then I take another day to think some more. Before you know it I could end up talking myself out of posting altogether. Truth be told, I have contemplated that idea. The only glitch is that I would miss it far too much.
So. Here I am with a few snippets from the past few days. It is all I have to offer and if it is not as good as my last blog post then, well, I don't really care. Which is actually kind of awesome.
First things first.
I was asked to be a contributor to Canada Moms Blog, which is a part of the Silicon Valley Moms Blog (SVMB) group.  If you have any idea who SVMB is you will realize what an honour (Canadian spelling, YO) this is. I did a side blog about my first post over there, but here it is in case you missed it.
***
I was sent an email this week by The Blogger Formerly Known As Schnozz. I spent time with her at BlogHer last year and can testify as to her awesomeness. She is part of an amazing array of women who have contributed essays to a book about Mommy Blogging that is coming out this year. She asked if I was interested in reading an advance copy and writing a blurb about it. It will go on the back cover. Um, YES.
Wait.
My opinion means something? Huh.
Also, WOW.
***
Matthew and I have craved a vacation away together (without the kids) but it was not in the cards.  Thus, he sent me on a trip to California. Upon returning from my trip all refreshed and rejuvenated I ordered him to finally plan a trip for himself. The wheels were set in motion and this weekend he has been at a cabin up at the ski hill with his two BFF's. They are having a great time playing in the snow, eating pizza and drinking beer.
In his absence I have been trying to woo our kids. Operation Become The Favorite Parent is in effect. On Friday night we had pizza for dinner, Cadbury Mini-eggs for dessert and a movie. Saturday night, I whipped them up a dinner of pancakes and Bacon (Breakfast! It's what's for dinner!) They loved me best, if only for 2 nights.
***
While leaving the video store on Friday we walked by two older couples. One of the women threw out the (NOT SO ORIGINAL) statement, "Wow! You must be busy!" Her husband then piped up, "I sure hope you are babysitting!"
Which, well, HOW DO YOU RESPOND TO THAT? And also, WHY WOULD YOU SAY THAT?
I so need to make a T-shirt to wear when I am out with the kids. When I get that same blasted statement said to me I will turn and point to the caption:
Yes, I Am Busy
Way to State the Obvious
***
If you read my post over at Work It! Mom you know that I did not spend this weekend pining for my husband's company and sitting alone eating Doritos.  I missed him, yes, but while he was out exploring the mountainside with his friends, those of us wives left behind made plans for ourselves. We arranged babysitting (My brother lives with us. Score!) and head out on the town.
Our first stop: A wine tasting seminar: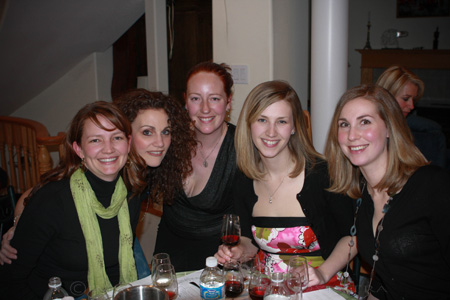 Though it may look like we went a little overboard on the wine, it was not the case.  It was a very professional wine seminar that taught us how long to smell the wine, where the different flavors were tasted on your tongue, facts such as the one that wine tastes different on an empty stomach than on a full wine.  They even had us take notes and everything; we had to work for our wine. But there was still (good) wine, so there was that. At the end of the affair they brought out food from a new bistro that is opening up and I have to say that it was pretty amazing.  The fact that we were eating dinner three hours past my normal time means that I may or may not have stuffed my face.
We left the winery to head out to our next stop: Watching an Irish band at a local pub. We needed to rush Amanda home (She wasn't coming to see the band) as her babysitters had plans of their own. In my haste I had the BRILLIANT idea of phoning another friend who was meeting us. While I was driving. Down an unlit road. That I had never been on before.
I pulled this neat manoeuver where I DROVE OVER A LARGE ROCK (OR THREE) that punctured my front tire and LEFT IT FLAT. Awesome. OF COURSE THIS WOULD HAPPEN ON A RARE WEEKEND THAT MY HUSBAND IS OUT OF TOWN.
*Bangs head on the table due to the sheer stupidity of that move I pulled*
I limped the van to the nearest gas station where we were rescued by Amanda's Father-In-Law. He brought us back to her house where my husband had left our trusty 4Runner. Tamara and I hopped in and headed off to see the band. The show (or the night) must go on!
The band was phenomenal as well as a whole lot of fun. If you saw four Moms jumping up and down on the dance floor way past their bedtimes, that would have been us.
This afternoon will mark the return of Matthew and the rescuing of our van from its lonely spot at the gas station.
(I AM SUCH AN IDIOT)
I've babbled enough (and have a van to rescue)(Shakes head (yet again) at my genius move.)
So. Tell me what's going on with you. Anything good?
comment via Facebook
comments