…enemies can suck it.
Speaking of friends, Saturday was a day that I needed more than I even knew that I did.
Those of you who have been around these parts for awhile know that one of my Girls, Christy, moved away last summer (More photos of hot Canadian chicks here). We tried to convince her not to move but she thought she should live with her husband and three children. Funny, that. Christy's husband came through for her (and us other girls) by buying her a plane ticket for a solo trip back here this week to spend time with her peeps (and also help to celebrate someone's upcoming birthday).
The afternoon began with me getting all decked out in black and then darting off to meet Karen so that we could carpool to Kelowna. Karen and I have known each other for half of my life now (Weird. And also, awesome). We used to make frequent shopping trips together but now that we are both working and share five kids between us those solo jaunts are spread far apart. As in, the last time we made such an extended child-free trip, I was pregnant with Emily. That would be THREE YEARS AGO. Please excuse my grammar, but that ain't right.
We spent the afternoon shopping (I bought the CUTEST dress at RW&Co. Watch Flickr on Tuesday) and then we headed to the restaurant we were meeting the rest of the girls at. There was a bit of a communication problem getting everyone to the right place at the right time but it all worked out in the end. I have not laughed that hard in way too long. I would try to share some of the humor here but it would get lost in translation. There may have been some chair dancing (AMANDA) and a discussion of perky lemons. Don't ask.
We also came to the consensus that I will acquire Dance, Dance Revolution for the Wii and host the next Girls' Night at my place. You know that the photos from that event are going to be AWESOME.
The extended group of girls could not make it due to varying circumstances (Or maybe because I am not as cool as I used to be. Kidding. Maybe) but these girls here?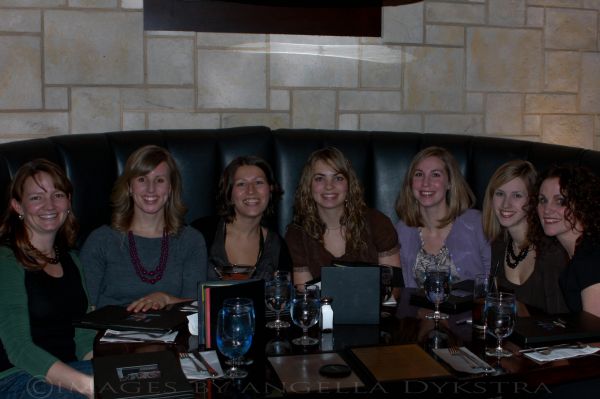 Are the ones that I spend the bulk of my time with and who know my heart intimately. They can also make me laugh so hard that I go into that silent laughter, complete with tears. Everyone should have friends such as these. I truly hope you do. If not, come on over. We're all about inclusion over here.
comment via Facebook
comments