I know I've posted a hundred or so photos of Miss Emily at ballet and I promised myself that I would take it down a notch, but I cannot help it this week. Last Saturday the girls were given their costumes for the end of the year recital and were allowed to wear them in class. I helped stuff my daughter into her sausage casing costume and then had to refrain from picking her up and nibbling on her.

Seriously.
As if I can stop at only one photo.
She's getting good at the pirouette.

Her hat was "itchy" and it started to bug her.
She was a real trouper. The promise of a treat helped her make it through the rest of class.
In addition to being a ballerina extraordinaire, she's turning into an even more interesting kid by the day. She truly is three going on thirteen. While part of it has to do with mood swings that rival her Mother's, the rest of it is comprised of how much older that three she seems. She holds her own with bigger kids (and adults), she knows her alphabet (and the song, of course) and can count like a mad woman. Her latest development has been adding adjectives to many of the things she says.
"Well, that's a creepy alien." (She knows the word creepy. And what it means. That's, um, creepy.)
I have been remiss at updating on the boys what with the balletpalooza that's been going on. Let's remedy that, shall we?
We have Mr. Nathan.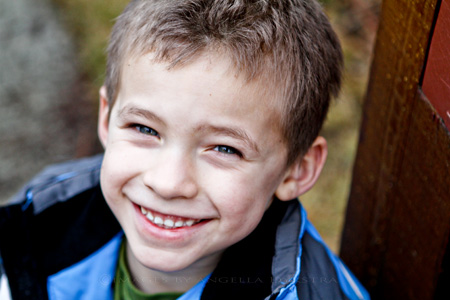 Dude is as full of love and hugs as ever and is absolutely thriving in school. So much so, that I wish that the "phasing-in" of full-time Kindergarten had started years ago. The days he is not at school, all he talks about is SCHOOL. Oh, First Grade. We're so looking forward to you.
He's been into the knock-knock jokes lately and his favorite one is the Knock, knock/Who's there?/Boo/Boo who?/Don't cry, it's only a joke one. He's only done it right once, with the remainder of attempts being full of "poop" and "toot" references. He knows that potty humor is always funny. That's my boy.
Mr. Graham is as charming as ever.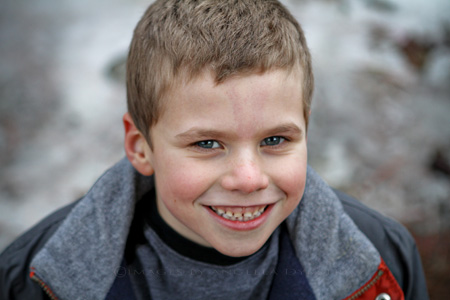 He's also been the one taking my return to work the toughest. You would think that the younger ones would be the hardest hit, but no. He hugs me at least three times each morning before I leave and while he's hugging me says, "I miss you already." GAH. He spends the entire evening after I've returned home hugging me as well, and spends the time in between accosting Matthew with hugs. I told him that he's lucky that he gets to spend so much time with his Daddy; many kids don't get to have that experience. That didn't seem to make a difference and I'm left waffling between wanting to smother him with even more affection and telling him to suck it up. OK, not really waffling; I just hug him as tight as I can and be as present as possible when I'm home.
Oh, dear. Happy "Cute Girl At Ballet" post went all sad. We're fine. We're still adjusting but we're getting there. And if we don't get there, we'll make changes. This is what we do.
Let me distract you with this:
So cute it hurts.
comment via Facebook
comments