Before I ramble on about Mexico, I thought I should give an update on the quarantine we have been under.
The kids are on the upswing (I think). Yesterday was the first day we did not have to dunk the boys in a tepid bath and listen to them scream about how much it hurts. Woo!
Miss Emily still has a river of boogs flowing out of her, and is also working on some bottom molars. There are two squishy mounds of throbbing red flesh on the gums of her bottom jaw. I do not envy her in the least. She wants to spend every waking moment on my hip/lap so I have not been able to get much done. I am totally fine with it though – we are just making up for last week's missed cuddles.
Yesterday afternoon we were all feeling a little stir crazy, so we did some errands as a family. We threw in a trip to the park down by the lake for good measure.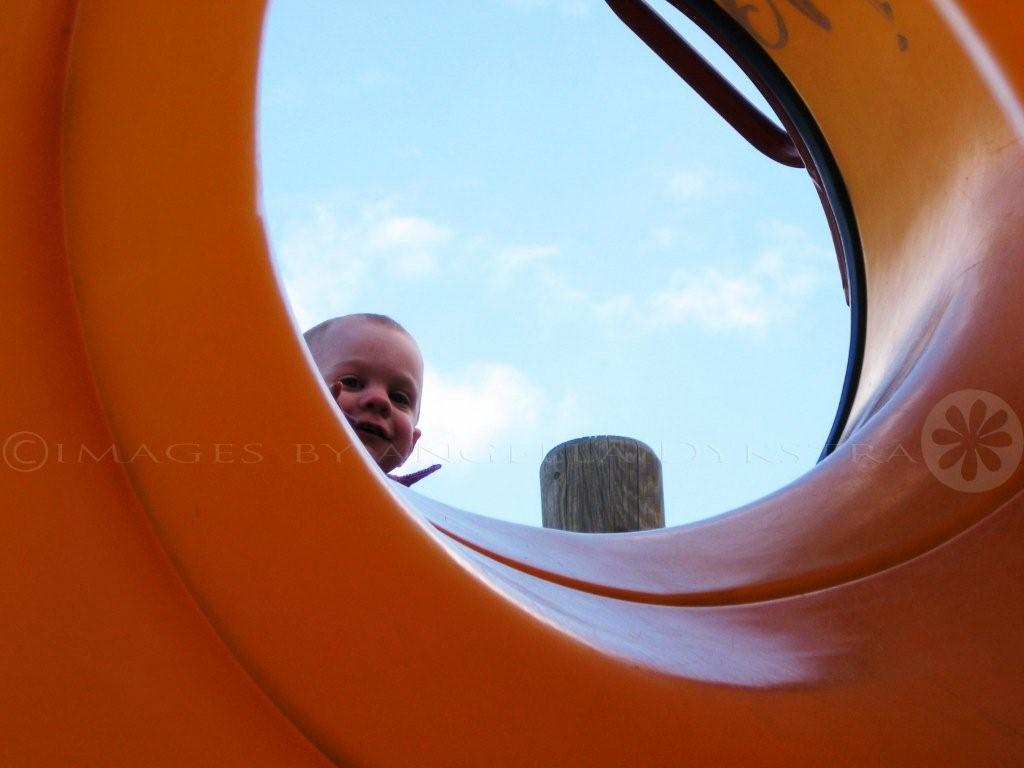 This was before she went down. Once. She was pretty skeered after that and refused to go again. This surprised me as she has been known to climb on top of the table and jump up and down. Go figure.
On to Mexico!
Matthew and I are lame and boring. Really. Our days were pretty routine (Just how we like 'em!). We would get up once the sun was over the horizon. We would (gently) toss my camera, our books and iPods into the backpack and saunter over to the Buffet Of Amazing Food for breakfast.
We would hightail it back to the south end of the beach. It was less crowded, had a smaller pool (complete with a pool bar), and next to that was the 24 hour snack bar. We would claim a pair of chairs under one of those straw umbrellas that were everywhere.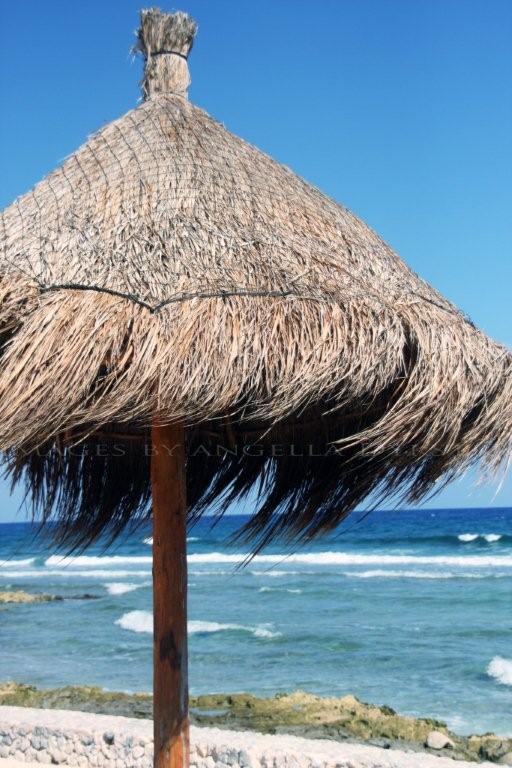 We would set up camp. Sunscreen lathered on, iPods blazing, noses buried in books, sipping bevvies. It was awfully boring. And truly wonderful. I would look up every once in awhile to take in the view from my chair.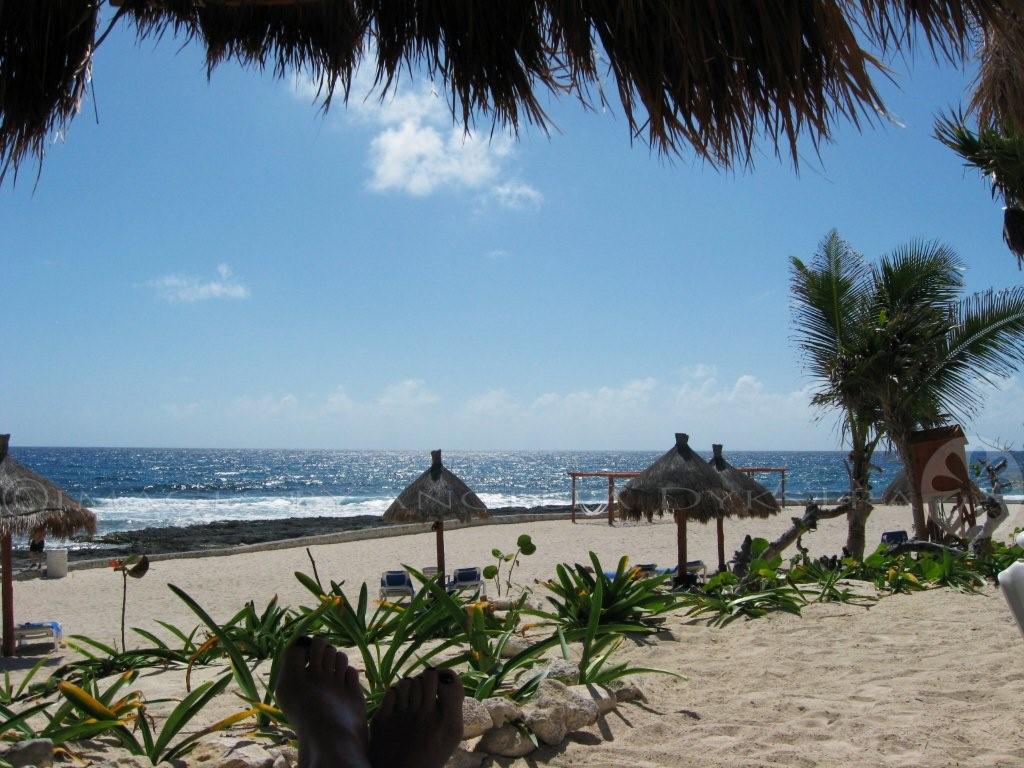 To the left: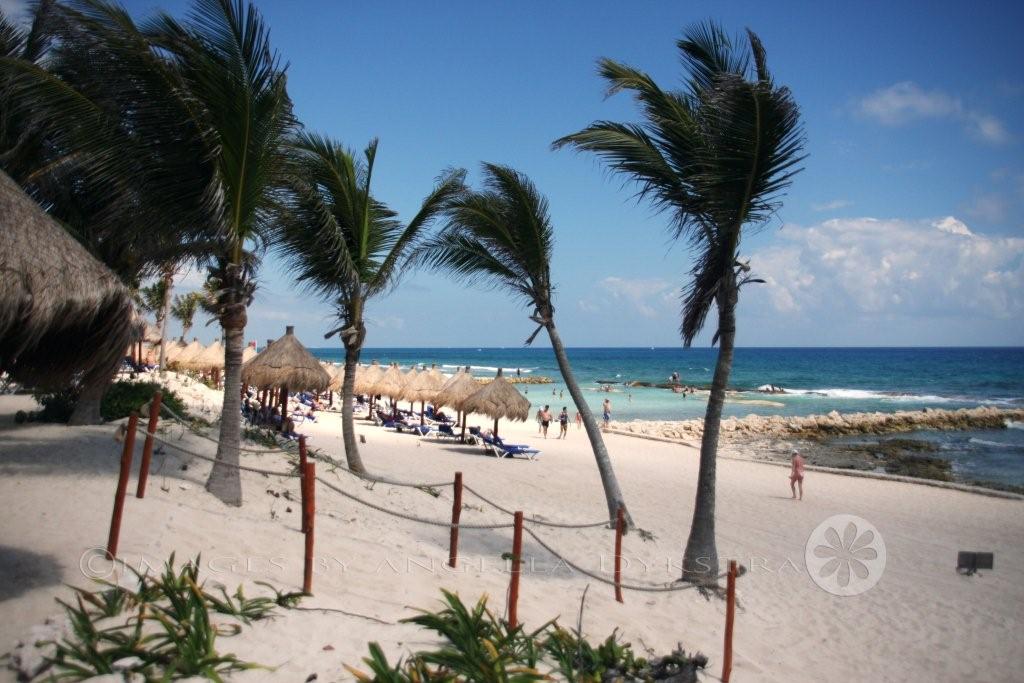 That area to the left is where they had built a breakwater.  It is quite windy there, so most days it is not safe to swim in the ocean.   This little area provided you the opportunity to swim in the salty blue water.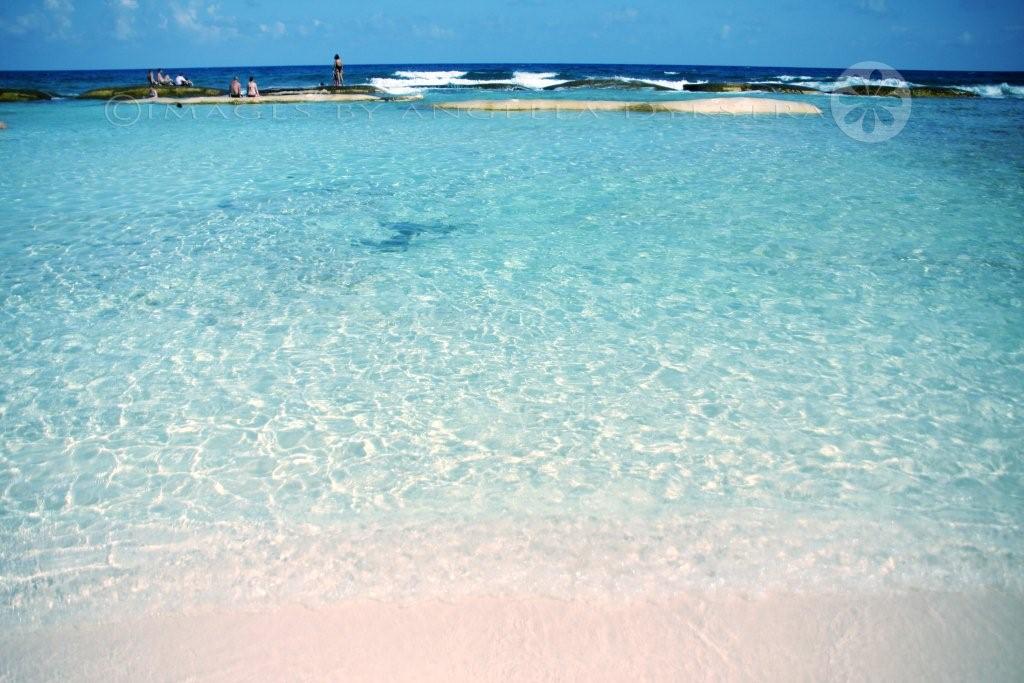 Isn't that colour amazing?
We took self portraits.
(This is the one I posted on Flickr from Mexico.)
We were miserable, as you can see.
After two days of listening to the Activities Coordinator yelling into the microphone at the pool directly behind us, we thought we would venture down off of the bench so that we could have unobstructed views of this.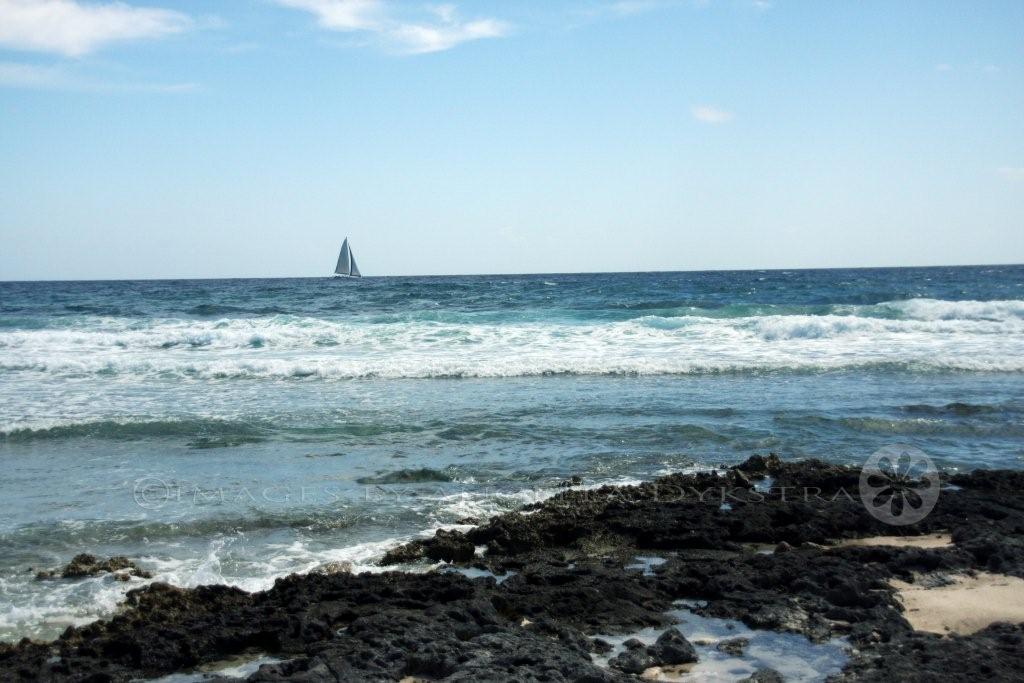 And, of course, my beloved hammocks.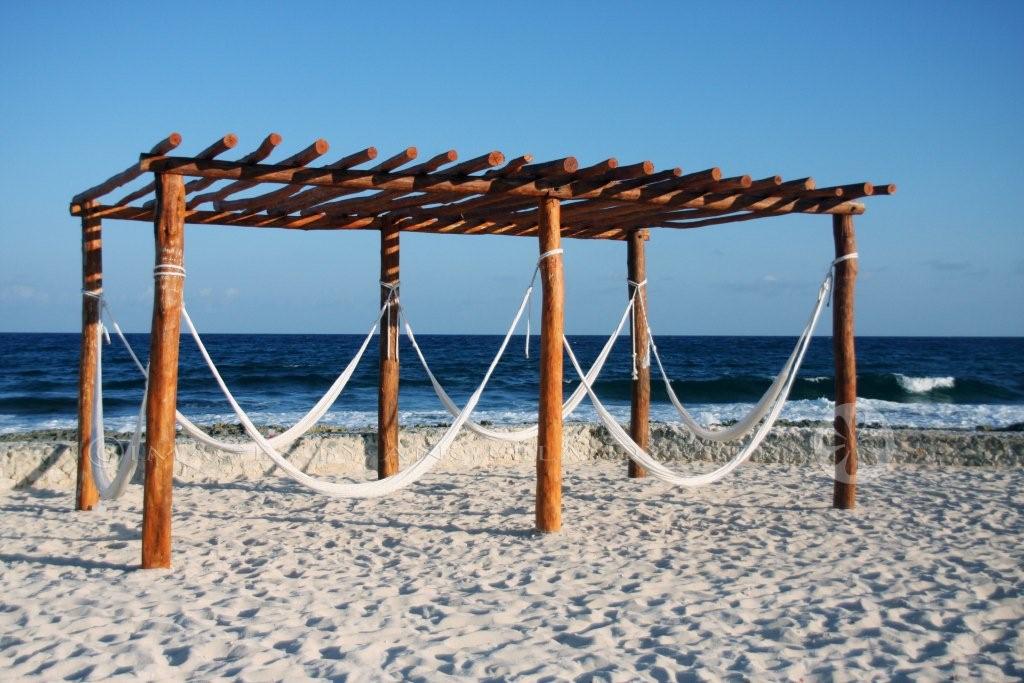 The hammocks were down for the last two days because there were weddings being held there.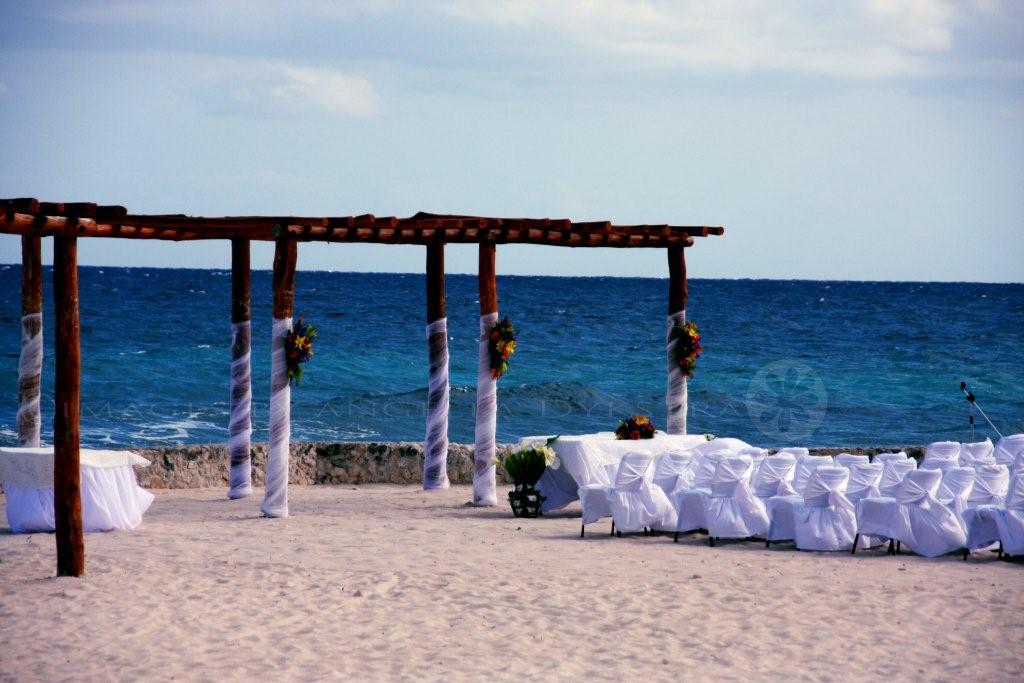 Honey and I both agreed that if we could go back in time eight years, we would get married RIGHT THERE. Maybe we should renew our vows for our tenth anniversary…
We would eat our lunch at the snack bar so as to not lose our chairs. And so as to not exert more energy than was absolutely necessary. We already had to take more steps from our new location to refill our refreshments, so we needed to balance that out.
The highlight of eating at the snack bar? THE HOMEMADE SALSA. Or as they called it, "Mexican Sauce". The guacamole was also phenomenal. During the week I ate my body weight in chips and salsa. And pineapple. Mmmm…pineapple.
Most nights we were in bed by nine o'clock. I KID YOU NOT. We might not have been (ahem) sleeping, but we were in bed. We wanted to soak in as much sun as possible during the day.
Tuesday we decided to mix things up and go on a three-hour shopping excursion in Playa del Carmen. They have a street called 5th Avenue that reminded us of Robson Street in Vancouver, except there were no cars on it. There was a Starbucks, however.
I took my camera, but did not take many shots. I was too busy bartering. GO ME. We got a beautiful dress for Emily, shirts for the boys, a couple of necklaces for myself as well as a sarong that called out to me from a rack of about two hundred of them.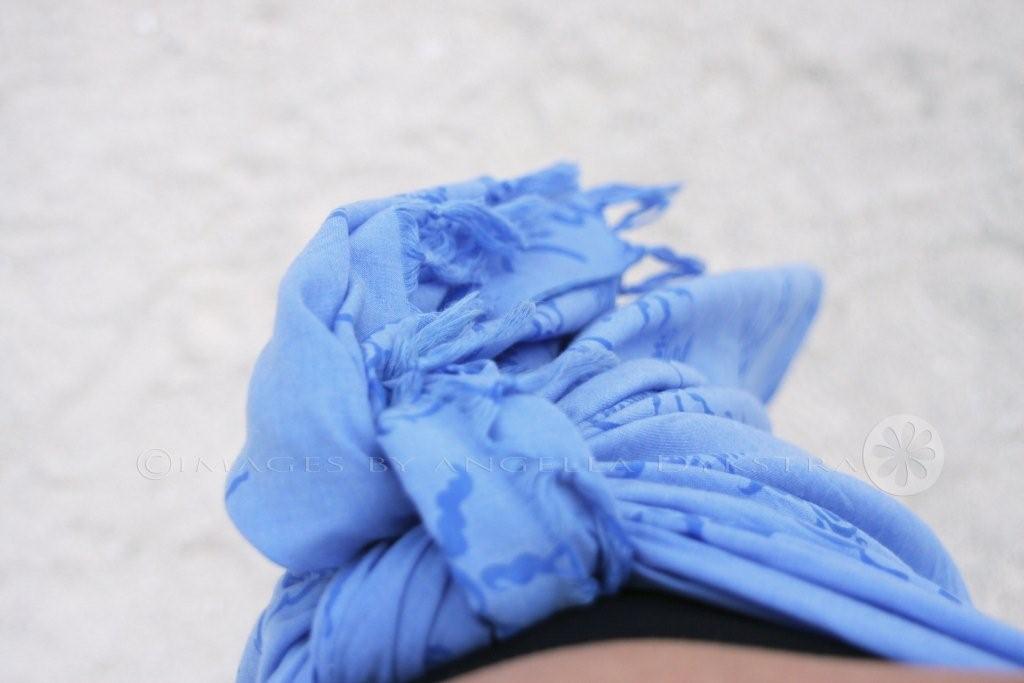 (Taken the next day)
I also bought a pretty blue skirt (see below).
I did happen to catch a shot of these guys.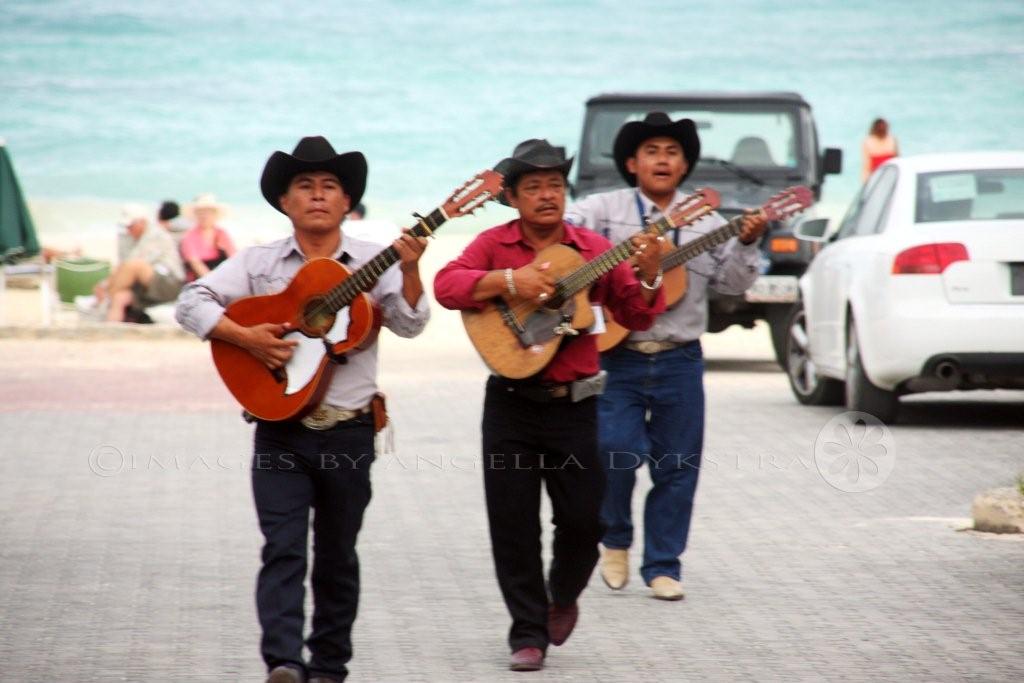 Authentic Mexican experience going on!
As I mentioned in my last post, we had our photo taken by our tour guides after they supplied some props.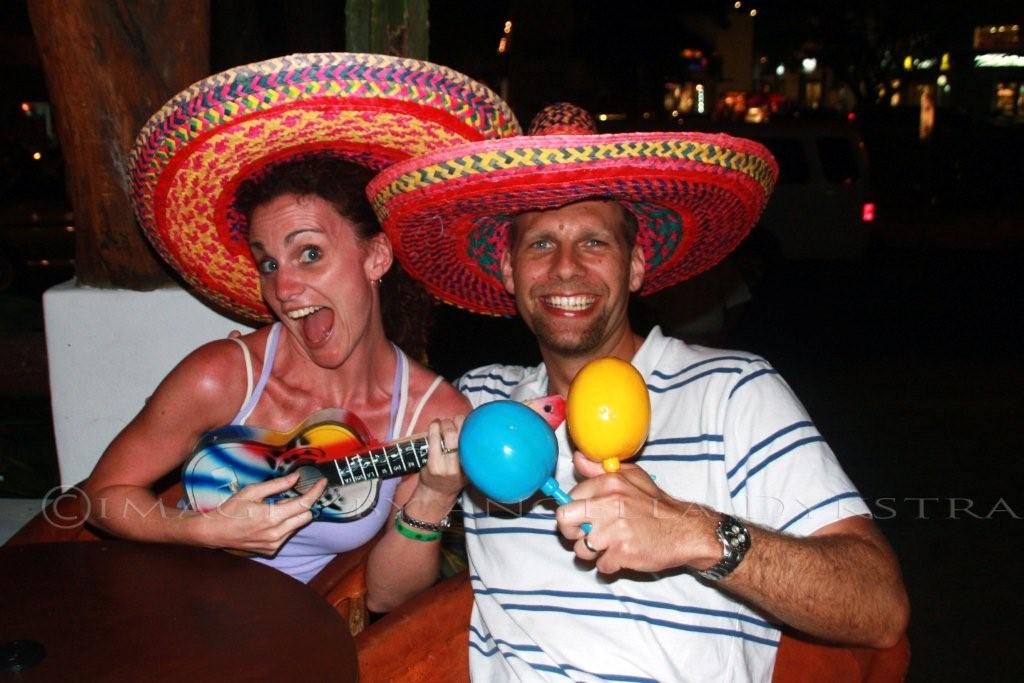 They really were the best nachos I have ever had. I don't have a photo of them because I was too busy stuffing my face enjoying Honey's company.
We got back to the resort a little after nine. (Gasp!) Each night they had a live band out at La Hacienda from ten until midnight, and then the discotheque opened up. We thought we would shake off our old fart status and check it out. We had a "nap" and then thought we should set up the camera with the self-timer to catch us party animals ready to go shake our booties.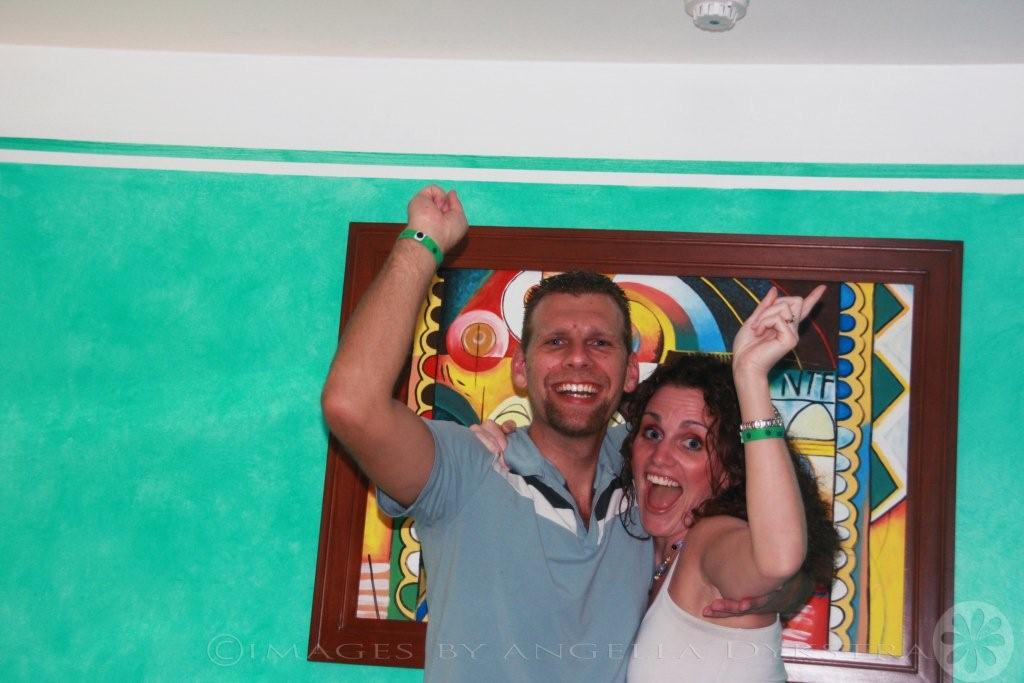 A little crooked. Let's try again: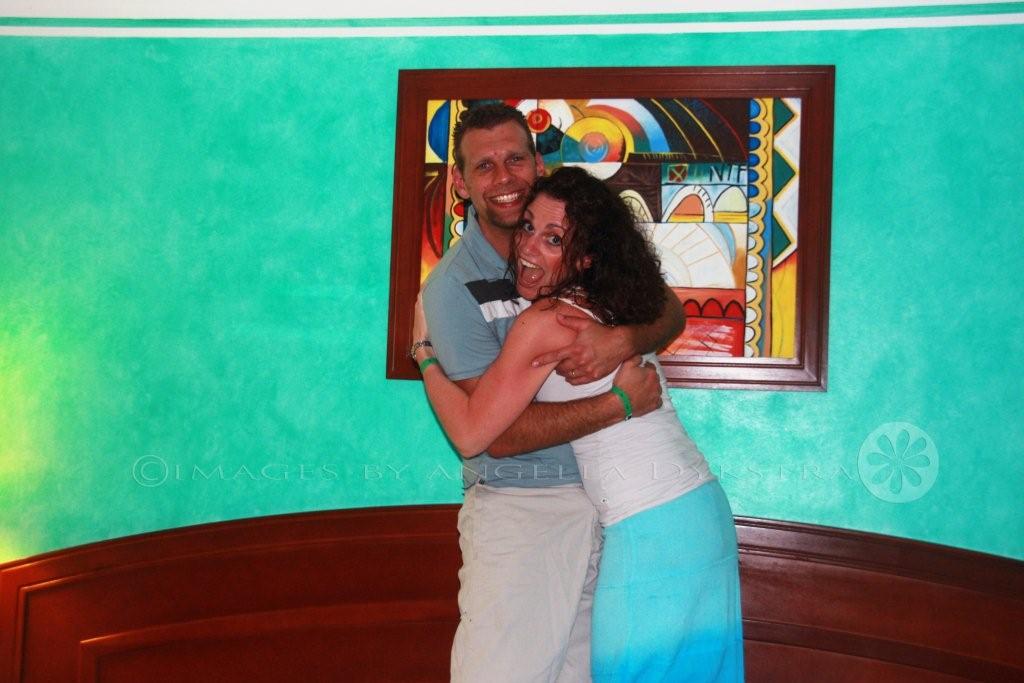 I love that skirt. It flips and twirls when I walk. Wheee!
The live band was amazing, but the discotheque was lame. We bailed after only a few songs. I am glad we checked it out, but we were pretty tired and grumpy the next day. Nothing a nap couldn't fix though.
I will stop here (if you have even managed to make it this far). Next post will be about the adventure we took on Thursday to the other half of the resort…where we honeymooned eight years ago.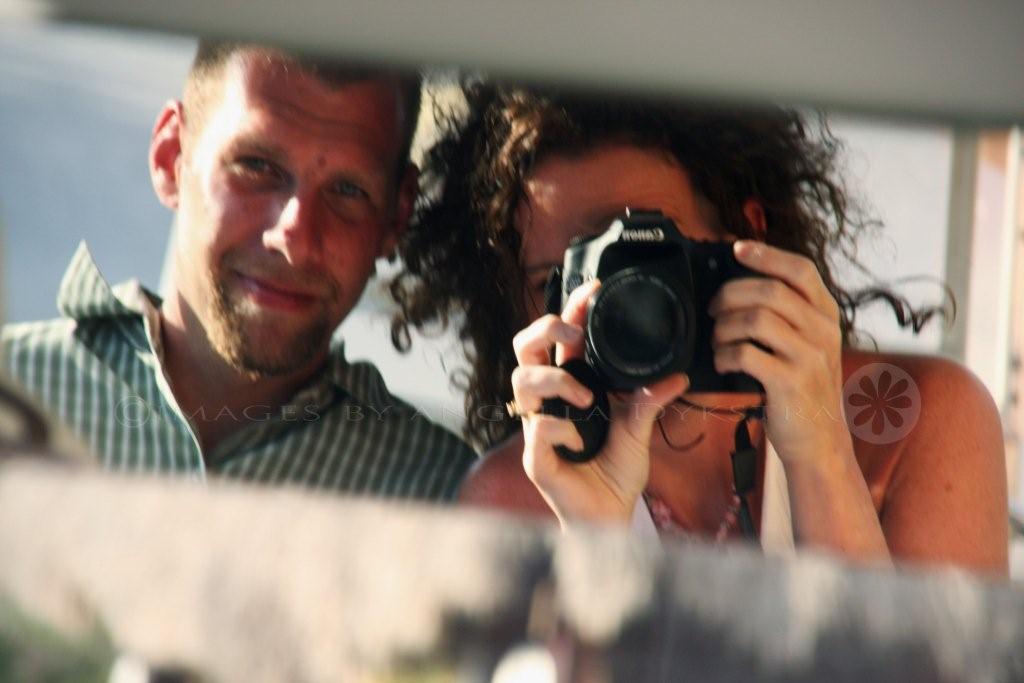 Stay tuned.
comment via Facebook
comments