When we made plans for the kids to make their second annual trip to Grandma's house, it came with a lot of hand-wringing on my part. Last year we were so lost without them! I felt like I had a big weight on my shoulders! They missed us immensely! Do they really need to go?
We asked the kids what they wanted to do and they immediately replied with GO TO GRANDMA'S HOUSE and they counted down the "sleeps" until we left and not even an hour into the (six hour) drive, Nathan asked: "Are we at the ferry boat yet?"
Matthew and I made plans to cope the exact same way we did last year – get away from our (empty, deathly quiet) house except for those blissful nighttime hours in our pillow-top king-sized bed. Unfortunately for me, he made plans to go fishing with his brother Monday afternoon/evening (Yay! Fishing! He loves fishing!) which saw me alone in our (monstrous, deathly quiet) house.
I tried to make the best of it. The rest of our days and evenings are packed to the brim with work (only today – I have another four-day weekend) and barbecues with friends and shopping and watching a movie (Eclipse, last night) and day trips and adventures that will be well-documented with my camera. I decided that I would work ahead on some of my freelance stuff so that I could truly have some days "off".
But then I called the kids to say good night and they all whimpered about how much they missed me and Emily and Nathan flat-out lost it and I hung up the phone with tears in my eyes. And THEN, my Internet decided to crap out. I did the whole unplug everything/plug it back in trick and still nothing and I called technical support and after FORTY-FIVE MINUTES on the phone with him he confirmed that it was an issue on their end and that I should just check it every half an hour. Dude. I DON'T HAVE TIME FOR THIS.
Matthew came home in the middle of it all and was so! excited! about the fish he caught and I was all, "I'm happy for you but TONIGHT IS NOT GOING WELL FOR ME." And then I turned into a blubbering mess because I had something due today and the STUPID SATELLITE INTERNET wasn't working on a PERFECTLY BEAUTIFUL DAY and COMPUTER ISSUES MAKE ME DO THE HULK SMASH and I AM A HORRIBLE MOM because MY KIDS MISS ME and I MISS THEM and yet I'M STILL HERE and THEY'RE STILL THERE and MAYBE TONIGHT WASN'T THE BEST NIGHT TO LEAVE ME ALL BY MYSELF.
(I didn't actually yell – by the time those thoughts made it through the snot and tears it was more of a muted whiney sound.)
So, I packed up my computer and went to a friend's house to get my stuff done and came back home and we mutually agreed that we should just talk in the morning and I went to bed. I hit the gym in the morning, then called him after my class. Me: "Sorry I was so emotional." Him: "Sorry I was so insensitive." And all is right in the world again.
It pains me whenever I talk to the kids but we're doing the best we can to enjoy this time that we have as just the two of us. Our plans for Thursday and Friday have me ridiculously excited (Photo opportunities galore!) and I know that the days will fly by. Then, Friday night, my babies will be back in the fold. As for now, we are okay.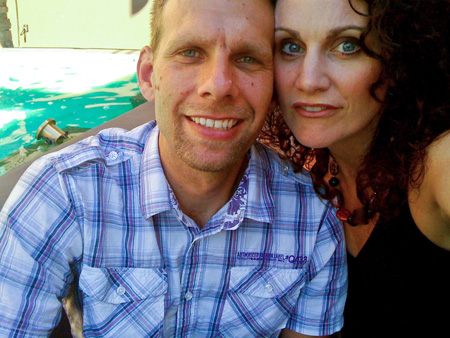 More than okay, really.
* Joshua Radin. I heart his music.
comment via Facebook
comments