Life has kicked me in the hiney.
I thought about doing a tangent about using the term "ass" instead of "hiney" and how God used the term "ass" in the Bible, and I could make it all funny and such.  Except that fellow Jesus lovers would get all upset with my swearing. Then I could talk about how Jesus turned water into wine, and hung out with "sinners", so maybe "swearing" was not a big deal back then.  But then I thought that maybe the humour would fall on deaf ears and so I let that tangent idea go.
Wait.  Where was I?
Oh, yes.  I am feeling a little overwhelmed.  Nothing unusual, if you are a regular around these parts.  Life gets all CRAZY and I get all FREAKED OUT and then I WRITE A BIG RANT POST and you guys are all, "IT'S GOING TO BE OK" and I am all, "I KNOW" and "I LOVE YOU GUYS".  And "WHAT WOULD I DO WITHOUT YOU???"
Wait.  Where was I?
Ah, yes.  Crazy.  Per usual.
I cannot blame this particular brand of crazy on work, as I am currently not working.  I am "just" on full-time parenting duty.  This involves hanging out with children who do as I say, act as they are told, and say, "Yes, Ma'am!" whenever I speak.
HAHAHAHAHAHAHAHAHA!
Wait.  Where was I?
Here is the deal.  I went away for a conference where I got to meet some of the amazing women (WAY more than I linked to!) that I knew online.  I have read some garbage after the fact where people were upset that certain bloggers did not become their BFF's.  GET A GRIP, people.
I went there to meet people that I already had a connection with.  I did not expect to be BFF's with people whom I had never been friends with beforehand.  If you did?  You had completely unrealistic expectations.  Seriously.  Another point I would like to make: YOU CANNOT BE CLOSE FRIENDS WITH 1,000 WOMEN.
Shocking, I know.
Wait.  Where was I?
Just busy.  And overwhelmed.  Leaving home for five days threw me off-kilter and I am having a hard time getting my groove back.  I am married to Superman, yes, but some things are my forte (Paying bills! Because I am an accountant!) and they waited for me until I returned.  I feel like I am sprinting to catch up but am running out of steam.  I am also leaving again this weekend for a three-day solo trip to Vancouver (attending a wedding and shooting another).  Upon returning, I start a two-week work contract.
Yes, my head WILL explode.  JUST YOU WAIT.
Wait.  Where was I?
Barely keeping up, that's where.  In addition to being run-down and overwhelmed, I have three little people who depend on me to make meals, clean their clothes, and wipe a butt crack or two.
There are the primal necessities and then there are the emotional responsibilities.  Other parents can understand what I am saying here.  Kids like boundaries.  Boundaries make them feel safe and secure.  Every once in awhile, they need to test those boundaries to make sure that they are still there.  As per Murphy's Law, all three kids have chosen THIS WEEK to test those boundaries.  HAPPY HAPPY JOY JOY.
This morning was a complete and utter gong show.  I was trying to get everyone fed, dressed, and out the door.  There were shouts (by me) of, "Please get out of your jammies!" and "Stop wrestling on my bed!" and "CAN YOU PLEASE GET YOUR CLOTHES ON FOR THE LOVE OF PETE!!!"
I threw their clothes downstairs while packing the beach bag with snacks and ice water. As I lumbered down the stairs with the gear (Towels, and snacks, and ice water, oh my!), I saw that Miss Emily thought she should help me out by dressing herself.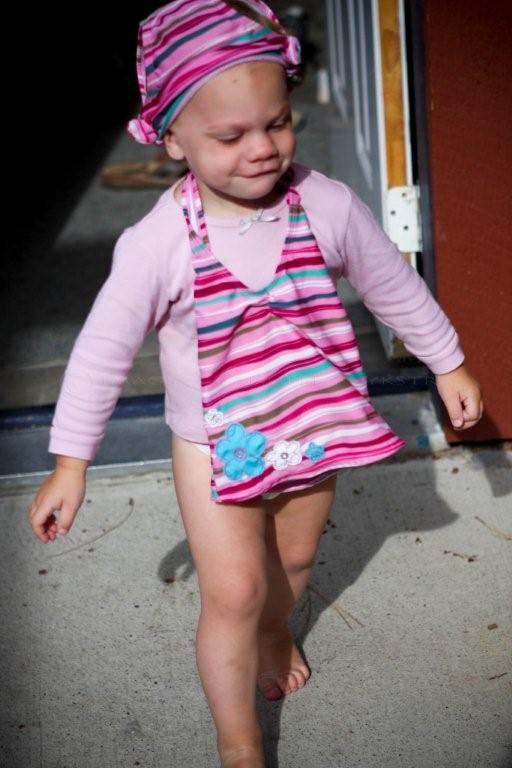 (Yes, the lighting/photo is crappy, but I WAS CAPTURING A MOMENT.)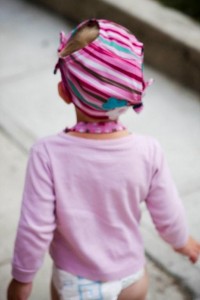 Kind of looks like a do-rag, no?
Just wait.  It gets better.
I looked in the rear view mirror and caught sight of my three kooky kids.  Upon arriving at the beach, I thought it best to capture what I saw.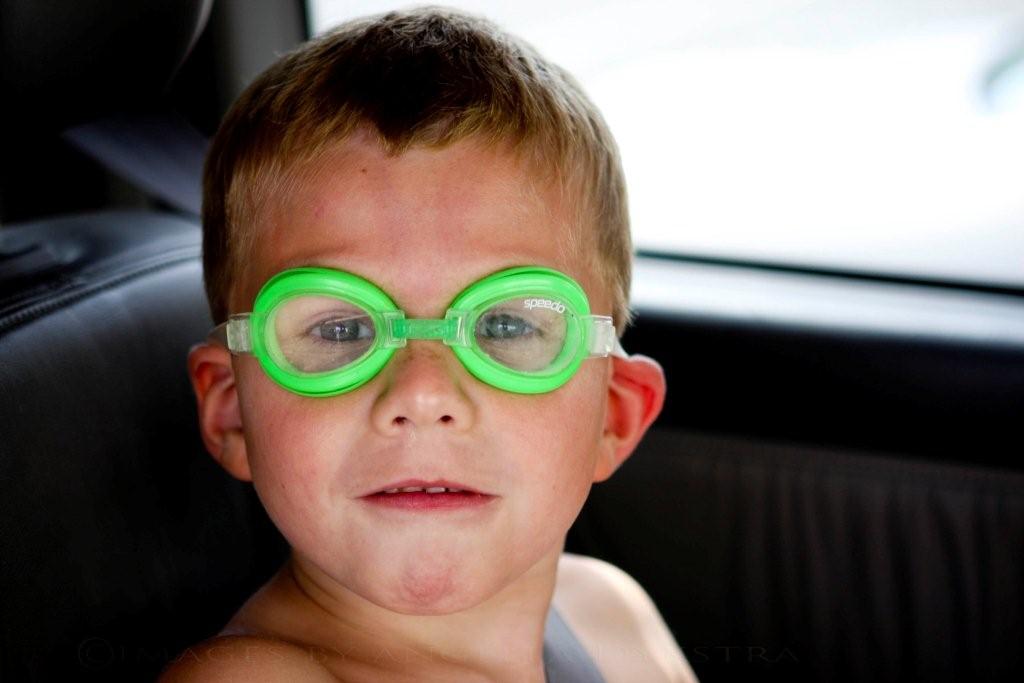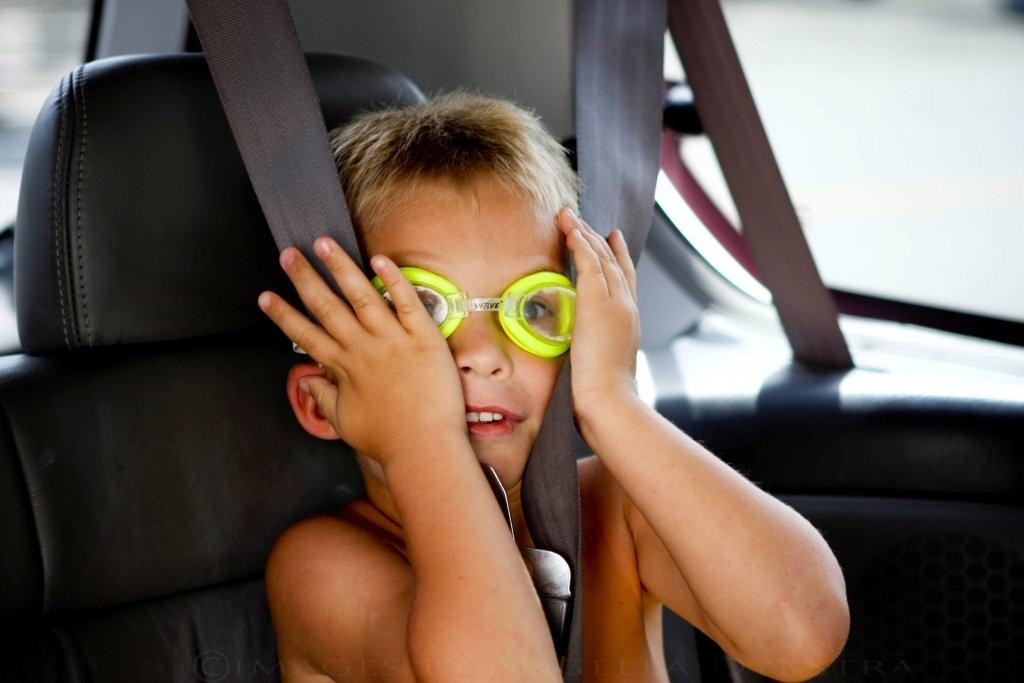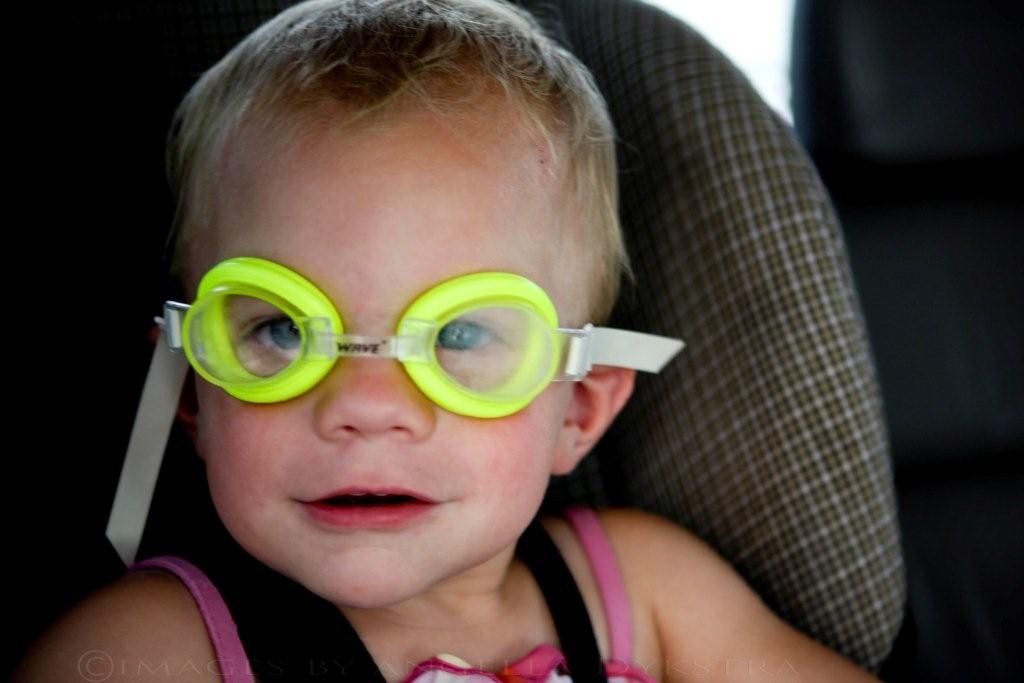 Kids.  They drive you to the bring of insanity, only to bring you back again.
Wait.  Where was I?
Right.  Crazy, but content.  Busy, but blessed.  Tired, but peaceful.  As I should be.
comment via Facebook
comments