How do I even begin to recap our trip to Las Vegas? I suppose the best way to attack this is to start at the beginning. And we'll use titles because who doesn't like organization? Nobody, that's who.
Thursday
Thursday saw us leaving the house at 8 a.m. in order to drop the dudes off at school and head to the airport. International flights require you to be there two hours in advance and we live over an hour away, which means that by the time noon hit…we hadn't even left the country yet. Eight hours and three flights after that startling revelation, we finally arrived at our hotel (The Mirage).
People had told us that the hotel was not only nice, but that it was in the perfect location – right in the center of the strip. Even our can driver told us that we had made a great choice. While Matthew checked us in, I got distracted by the hugest indoor aquarium I have ever seen. This is but one tiny snippet of it.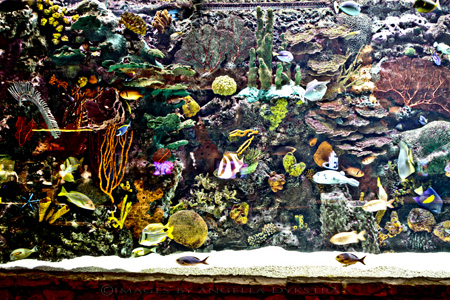 I cannot remember how many gallons of water it contains, but if I were Miss Emily I would go by her old standby: One thousand hundred billion hundred thousand. Or something.
We had told the hotel staff that it was our anniversary and they upgraded us to a beautiful room on the 23rd floor. Would you like to see the view?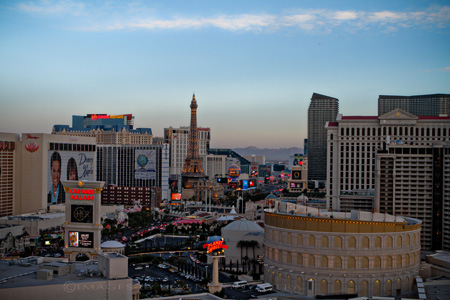 That's facing south down the strip.
Here's the view after dark: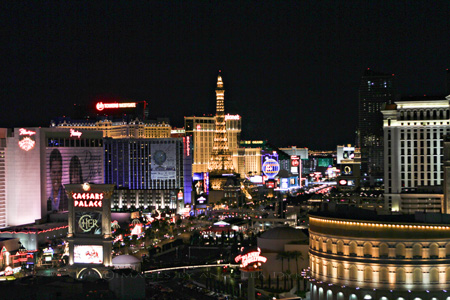 Not too shabby.
We quickly freshened up and headed downstairs. We had been told great things about the piano bar at Harrah's across the street and had planned to take it in since it was already so late. I had mentioned this to a man in the elevator who had asked us our plans and he gently corrected me on my pronunciation – I had been pronouncing it as "Hurrah's". As in, "Hurrah! We're in Las Vegas!" I kept slipping up with the pronunciation all weekend, but hey. Hurrah! We were in Las Vegas!
We acquired margaritas to go, headed out to the street and promptly decided that we should explore the strip instead of going inside another hotel.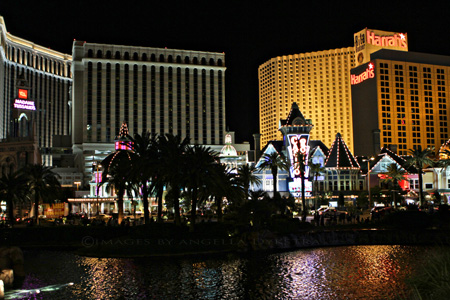 Walking the strip was indeed a sight to see and before we knew it we had spent two hours wandering around the area close ("Close" in Vegas is not what it appears to be) to our hotel.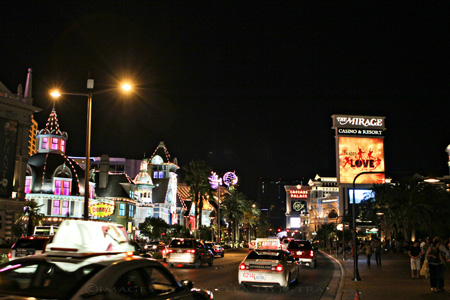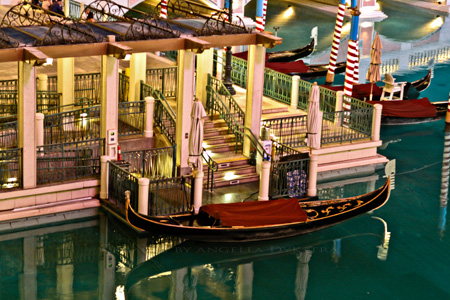 We had a lot of fun apart from the fact that I had worn strappy heels instead of comfortable shoes. We had planned to simply walk across the street! Our plans changed! Band-Aids from Walgreen's saved the day! Eh, lesson learned.
Friday
You guys aren't going to believe all that we crammed into Friday. Heck, I was there and I don't even believe it. My feet are still cursing me and all of the walking I did.
Matthew had heard about this huge store (Bass Pro) that carries outdoorsy stuff. Seeing as he's into hunting and fishing and all things manly, he really wanted to go to there. It was a little ways past the very south end of the strip so we hopped on the bus which took us to the smaller outlet mall. I walked around for, oh, almost two hours while he drooled over range finders and gun straps and whatnot. Being the frugal man he is and the fact that there were no real deals to be had, he met me back at the mall empty-handed. We had a quick lunch and then got on the bus to head back north.
Because we started at the end of the line, we managed to snag front row seats on the top level of the double decker bus. Yeehaw.
We saw "the" Las Vegas sign.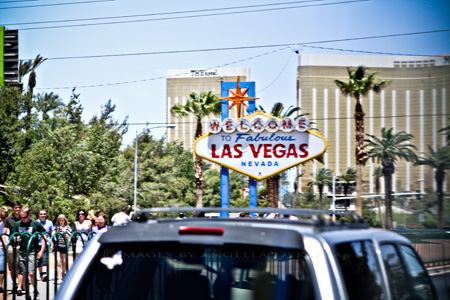 We had a great view of New York, New York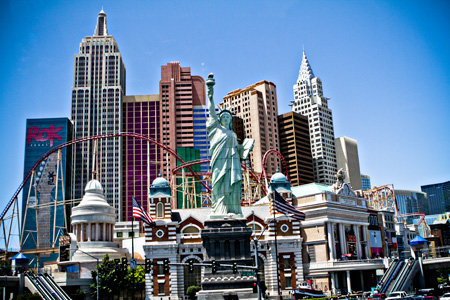 We had a great view of everything, really.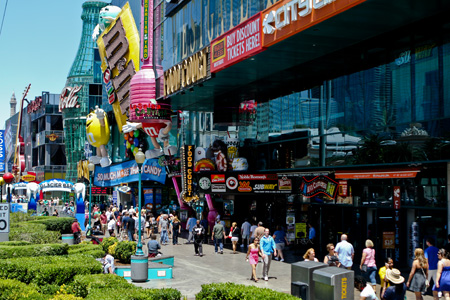 (That's M&M World, etc. – we went in there on Sunday.)
Being the geniuses we are, we thought we should maybe get all of our planned shopping done and over with. This saw us stopping at our hotel to drop off my purchases and then getting back on the bus and going to the very north end of the strip to where the Premium Outlet Mall is. Two more hours of walking and shopping and all of our "must-buys" were crossed off of the list.
THEN, to further prove our intelligence, we thought that since we were already in the area, we should explore Fremont street (Old Vegas).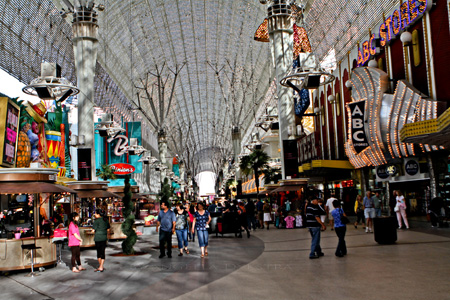 We grabbed dinner, asked what time the lights came on and found out we'd have to wait two hours. Um, no. As much as I'd love to have seen the full light display, my feet had been on the go for over nine hours straight. We headed back to the hotel, filled up our margarita containers and…hit the street again. Lest you think that we're completely insane, we merely sauntered across the street to the Harrah's Piano Bar. (Hurrah!) If you ever go to Vegas, I highly recommend it – a lot of singing and a lot of laughing.
Saturday
We had planned on lounging by the pool for a few hours but we slept in until nine. Nine! NINE. I can't remember the last time I slept in that late. Maybe when we went to Mexico? Two years ago? Anyway, by the time we pulled ourselves together and grabbed breakfast there was not a single empty deck chair to be found. So, we did what we knew best – we bought a bus pass and went exploring. I KNOW.
We decided to check out the Miracle Mile because, you know, we hadn't done enough shopping the day before. Good grief. We ate lunch on the patio of a Mexican restaurant and basked in the sun while people watching. I like people watching in general, but people watching in Vegas takes it to an entirely new level.
We wandered across the street to the Bellagio. We had heard nothing but good things about their atrium and fountains, and had tickets to see O that same night, so we thought we best know where exactly we would be going. Upon walking through the lobby and catching a glimpse of the atrium, my mind was instantly blown.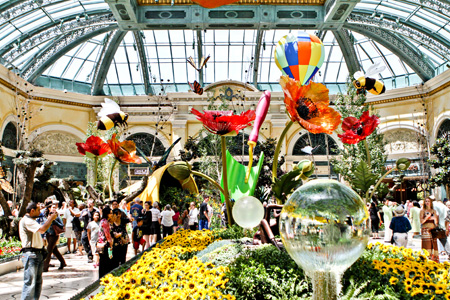 The atrium is amazing.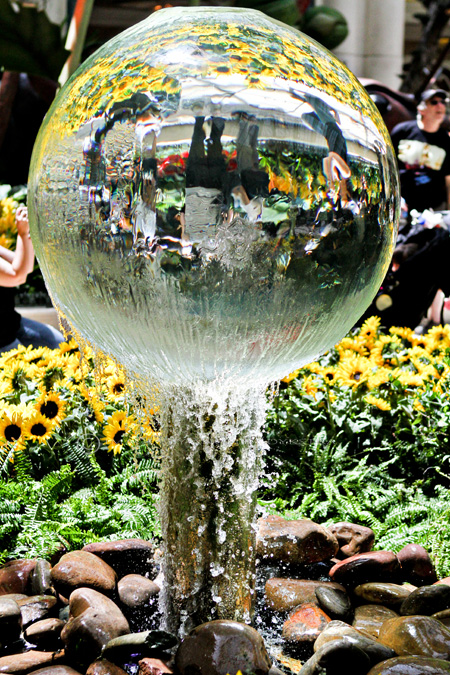 So is the lobby ceiling.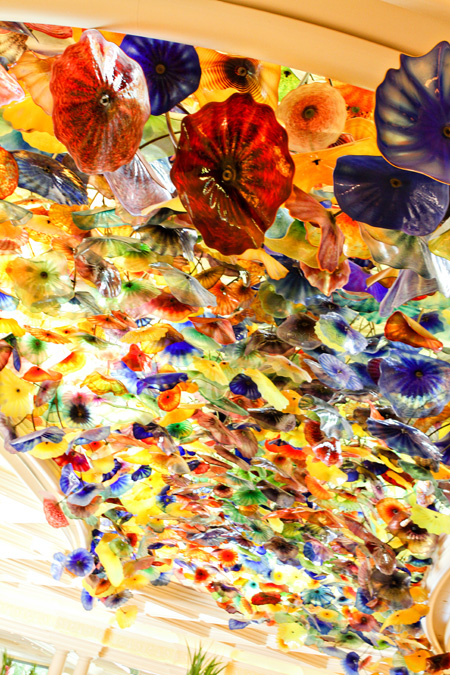 We headed back to the hotel to change, grab some dinner, and head back to see our very! first! Cirque du Soleil show! We had picked seats that were basically smack in the middle of the theater and I was in awe of the view we had. The show itself left me gasping at some of the stunts and applauding many times over.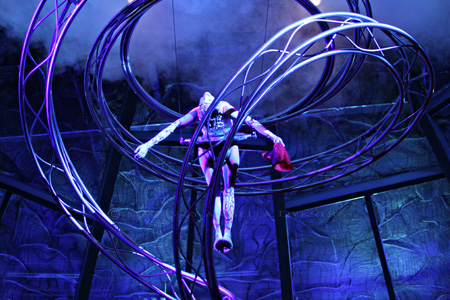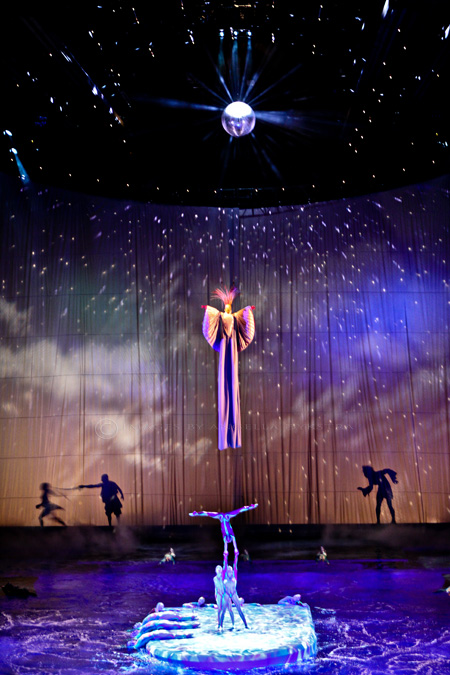 I think they should rename O "OMG" because that's what I was thinking as I walked out of there. We got outside just in time to catch one of the fountain shows.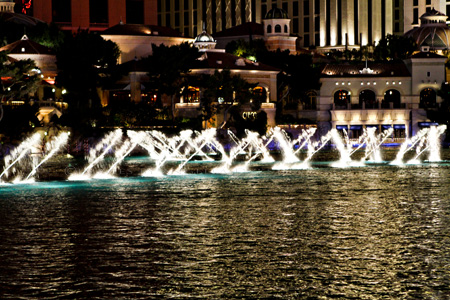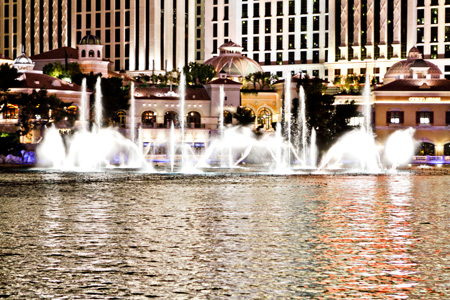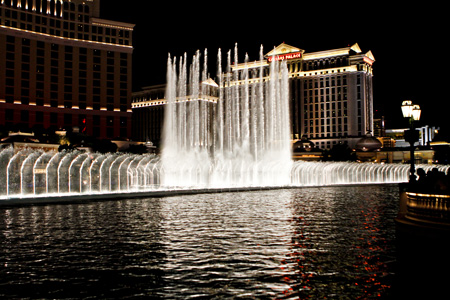 (I have approximately thirty photos of the fountain show alone. It's hard to delete any of them because water + lights = pretty.
Sunday
The weather was a little bit cooler which meant that us hearty Canadians were finally able to find a chair by the pool. Two hours of sitting in the sun with a book was exactly what my body (especially my feet) needed.
The afternoon saw us exploring. Again. Despite the fact that my hips and ankles had now joined the chorus of, "CAN YOU PLEASE STOP WALKING ALREADY?" We headed back to the south end of the strip where we checked out Coca-Cola World, bought M&M's in each of the kids' favorite colors at M&M World and went into the MGM Grand to see the tigers.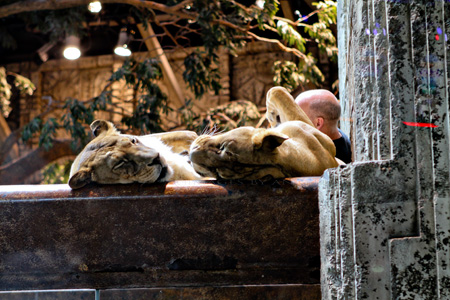 Nice kitties.
We finally wandered through New York, New York and loved the food court design.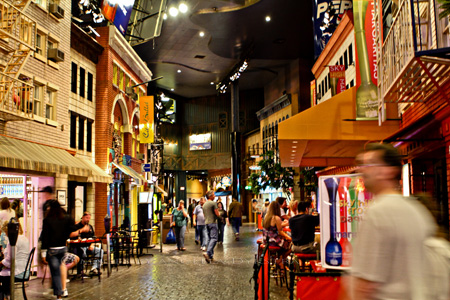 We had planned on eating dinner at Nine Fine Irishmen but we ended up at the hotel in the early afternoon and had no desire to walk anymore. At all. Ever. We did manage to make it to the bus stop and back to the hotel where we freshened up, grabbed dinner at the burger joint downstairs and mutually agreed that the only walking we would be doing for the rest of the evening would be back up to our room in order to relax.
Honey watched a basketball game, I started going through photos and slapped up a quick post and then we curled up together with the bottle of champagne that the hotel had sent up for our anniversary and watched LOST. The perfect end to a perfect weekend. Well, apart from the fact that we still don't know what LOST was really about.
Monday
Another twelve-hour travel day which included a three-hour layover in Seattle (Which gave me time to edit photos and draft the bulk of this epic recap). It's great to be home with our three little munchkins and I'm looking forward to getting back into our routine. As much as I love to travel and to see new places, I love coming home that much more. My feet are pretty happy too.
*More photos will be on Flickr this week as I go through them and throw them up there.
comment via Facebook
comments