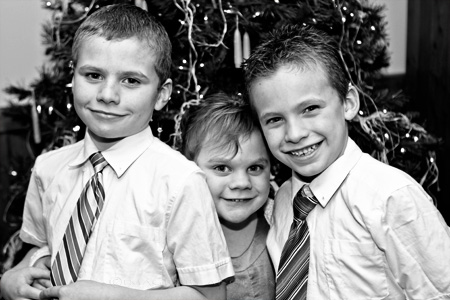 If I can be completely truthful here, I was pretty spoiled as a child. I may have had parents who were divorced and a Mom who battled her own demons and a million other external factors that made me feel awkward and insecure and incapable of, well, being a remotely capable social being. The one thing I did not lack as a child was gifts. I'm not referring to the gifts that saw me in the "gifted class" and skipping third grade but the gifts I received at Christmas and on my birthday. Or at many other times throughout the year. My sister and I wanted for nothing. Part of may have been my Mom's desire to be seen as the "better parent" after the divorce but a lot of it, I choose to believe, is because she really wanted us to have everything we asked for. Even if it meant taking out a loan at Christmas in order to do so.
I moved in with my Dad and Step mom when I was thirteen and things didn't work quite the same way. I had to clean my bathroom once a week (sometimes twice in one day; my Step mom wasn't going to let me coast) and I was in charge of cleaning the kitchen every night, wiped counter tops and swept floor included. I was given an allowance that was dependent on other chores related to the family business and that was the extent of my spending money until I went and got myself a job. I started out at Radio Shack and then moved up (Ha!) to Dairy Queen and then to the City Campground and so forth. We still celebrated Christmas and my birthday and I lacked for nothing, but I wasn't spoiled.
I am forever grateful that my Eldest Child status and their training taught me the value of hard work and of the money that I earned.
I married another Eldest Child and He Of The Dutch Background is even stingier with money than I am. Well, he was. Ten (almost eleven!) years into this marriage and he's learned to loosen the reins a little. Sometimes what you love outweighs the unknown future.
When we started this parenting journey, we vowed not to spoil our children. We wanted our kids to know the value of money and to be grateful for what they have and to not be those kinds of kids (and adults) who think that the world owes them. We slipped up a bit in the first few years, with both of us coming home with "just one more" present and with grandparents who would search high and low for deals so that they could get as many presents as possible within their budget. After one year where Christmas seemed a bit MUCH, we pulled the reins in. We buy each of our kids one "big" present and a couple of smaller presents. Oh! And the stocking full of Pez dispensers and Life Saver "books" and mandarin oranges. The Grandparents have been asked to rein it in as well, and they have. Because they get it.
I think, based on the fact that we are constantly teaching our kids the value of money (allowance, etc.) and that, no, they do not always get what they want and that Christmas is about Jesus and that the presents are just a reminder of His gift and that while you may ask for presents for your birthday or other holidays, those requests are not a given…that our kids get it. Most of the time. They are not perfect and they are the ripe old ages of eight, six and FOUR, so you cannot expect them to be perfectly reasonable all of the time. Heck. I'm thirty-five and I'm not perfectly reasonable all of the time.
For their ages, though, I think they've got a pretty good grasp on finances and presents and they do not think that the world owes them anything. They say excuse me and please and I'm sorry and thank you and you're welcome and I love you, Mommy without provocation. They're good kids, these babies of mine. And that's not just my parental bias talking. The majority of it is their temperament and the fact that they are no longer toddlers and I'd like to think that a little bit of the credit goes to the time and effort that Matthew and I spend teaching them lessons and correcting bad attitudes and encouraging them to be the neat kids that they were destined to be.
This is part of the reason that I am so excited to surprise our kids with a trip to Disneyland (tomorrow!). We've told them that we'd probably go after Emily turns five (this coming October) and they could see that made sense – she'd need to be tall enough. Never mind the fact that she towers over most kids her age and is tall enough for the majority of the rides. They are not expecting this trip, at all, but we wanted to do it for them and for us as a family. To revel in the magic and the sunshine and the fun.
That's a big part of parenting, I think. You teach and you train and you correct and you raise them in the way they should go. And then, when they least expect it, you shower them with something that they would never expect. It makes all of the hard stuff worth it.
comment via Facebook
comments