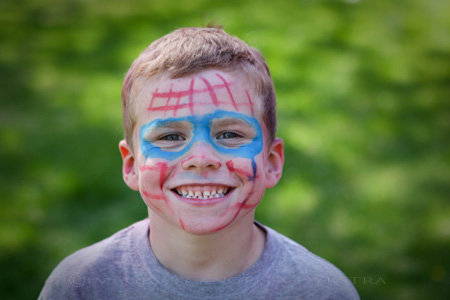 On Friday, Graham's school took them on a field trip to the Okanagan Children's Festival. When I arrived at the school to pick him up, a few of the moms who had gone along on the excursion were standing and waiting for the class to be dismissed. One of them is a good friend of mine and she told me that Graham COULD NOT WAIT to show me what his face was painted as. I was ninety-nine percent sure that I knew exactly what he had asked for, and it turns out I was right. When the bell rang, he came bursting out of the door all abuzz about the day and about his Spidey-face. He told me that he wanted to keep the face paint on until June 4th (Um, no.)
The entire drive home he regaled me with stories of the festival. Of the snacks that he had bought, of the crafts that he had made, of the group of kids that he had toured the festival with. We arrived home and he proceeded to fill Matthew in on all of the day's activities while I sat across the table from them and checked my work email. Graham was being Graham in every way and vibrating with excitement as he is prone to do. I focused on work while he filled Daddy in on the events of his day.
I soon noticed that the tone of the conversation had come down a notch or five. Graham was talking about his friends at school and how there were some problems. Matthew asked him what he meant. He started explaining one of his new friends was torn between hanging out with Graham and one of his closest friends from Kindergarten. This other kid was possessive and didn't want to share the common friend with Graham. He has behavioral issues and had tripped Graham and shoved him to the ground.
I know this kid and he deserves to have his face shoved in a pile of dung. Daily.
He then told us that the three boys who have been his friends since Kindergarten had not wanted him to play with them the past few days. They made him play on the other team when they played soccer at lunch. Not only that, a girl in his class had told him that he was "annoying." He said that nobody liked him and that he had no friends.
In the span of those few minutes, all of my memories from elementary school came flooding back. I was tall (always in the back row of school photos), awkward, and enrolled in "special" classes. My clothes never seemed right, my body seemed even worse. I had hurtful insults hurled at me that I remember with clarity decades later.
I managed to keep all of those emotions at bay. I beckoned Graham, my firstborn son, my baby to come to me. I hauled him onto my lap and asked him to tell me what had happened. What else had occurred that was making him so sad? He told me that one of those three friends that he has had since starting school had called him names. I probed further and he told me what exactly he had been called. I will not repeat those names here because this is a public record, but I can assure you that they are names that no six-year-old child should be called.
I sat there with my arms wrapped around this boy of mine. He is literally 2/3 of my size but at that moment all he needed was to be held by his Mommy. He is so much like me that it is borderline ridiculous. Not only does he look like me, he is wired exactly the same as I am. He likes the same things, he is gifted in many of the same areas, he has the same love languages as I do. This is where the name calling hit a sore spot.
He is like me in that kind words make his heart fly. If you build him up with encouragement, he can soar on those words and accomplish so many things. Pouring verbal love on him makes his smile stretch across his face and make his heart grow ten times bigger.
A single negative word can wipe out hundreds of positive ones. That one negative instance can inflict wounds that last for minutes, hours or days.
Matthew asked him if he knew how much we loved him. He did. He asked him if he knew that we were there for him no matter what. He did. He asked him if he knew that Nathan and Emily would be his friends for his entire life. He did. I asked him what I could do to help. Did he want me to take to the other Moms? Or the kids? He said he would like it if I could talk to the other kids and tell them that calling mean names is not cool. I promised that I would do so on Monday.
On Monday mornings, Matthew drops the kids off on his way to work. I told Graham that I would talk to the boys after school if he still wanted me to. He told me that would be fine.
When picking up Nathan from preschool I talked to one of the Moms from the three dudes (Not the one calling names). She's a friend of mine and I knew that she would not be happy about this situation. In the midst of explaining what had happened, I burst into tears. It was the first time that I had done so but I could not help myself. I have this smart, sweet, loving boy who is loved by so many in the community. How is it that he can be attacked so hurtfully?
On the way to pick him up from school I mulled over the situation. I felt tears prick my eyes as I wrestled with the emotions of this whole situation. I feel horribly ill-equipped. I have no idea what I am doing. We are heading into stormy territory and I cannot see a life boat anywhere in sight.
I found the Baby stage to be hard on me. Are they sleeping enough? Or maybe too much? Are they eating enough? Or maybe too much? Are they pooping enough? OR MAYBE TOO MUCH?
The toddler/preschooler stage is even more difficult. You have the tantrums, complete with the Limp Noodle/Bucking Bronco manoeuvre. There is the screaming (Them, too) and the attitude (Them, too). There is the whining to deal with and the whole CAN YOU JUST DO YOUR BUSINESS ON THE TOILET ALREADY party.
I am now into uncharted waters. Heart issues. I do everything that I can to keep my kids safe. Car seats and seat belts. Bike helmets. Teaching them to STOP RUNNING INTO TRAFFIC ALREADY (NATHAN). When scrapes and bruises happen you kiss it better, apply a Band-Aid and the wound is forgotten for the most part. It is the heart wounds that I do not know how to deal with. There is no Band-Aid available that can cover the infliction.
I arrived at the school with Nathan, Emily and Diesel in tow. My friend whom I had talked to in the morning was there; she told me that she had talked to her husband at lunch and they were pissed. I told her not to be; that I was sure that the boys were not meaning to be malicious. She knew this; she was just trying to make me feel better.
The bell rang and Graham was one of the first kids out of the door. He told me that I did not need to talk to his friends. We spent the next ten minutes in the school yard while my kids played with the other kids. When we finally got back into the van I asked Graham what had happened that made everything OK.
He told me that he had told the dudes that the names that they had called him were not cool. He also told them that they had hurt his feelings. When I asked him what the dudes had said, he told me that they had said sorry. And had played soccer with him at lunch.
I was thankful for my sunglasses as I could not fight back the tears any longer. In the midst of his hurt, my son had reached out to those that had hurt him in the hopes of reconciliation. He had expressed his feelings and had received healing in return. With no intervention from his Mommy.
I know that there will be many instances to come as the years go by where I will be at a loss as to how I can help my children. I will do the delicate dance where I try to balance between intervention and interference. I don't think that I am in any way prepared for it, but all I can do is try.
comment via Facebook
comments