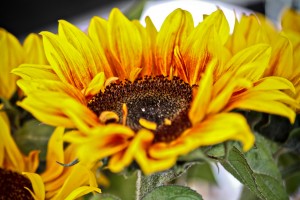 I have been back at the office (I should call it The Office because oh, the hilarity I would share if I could) "full-time" for a month now. "Full-time" is in quotes because during the first four weeks I was back I went to Portland and then to California and have only worked one five-day week. That week was awesome. Or, exhausting. Same difference.
My work life is chugging along pretty smoothly. I'm back in an environment that I've floated in and out of for the past nine years and am working with people who have known me for that amount of time. That in itself is fantastic. These people have been in my life since I was a newlywed without children and have been there as our family of two has morphed into a family of five.
Switching from the education side of accounting back to the public practice side means that I am dusting off areas of my brain that have been in hibernation for a long time. While there are many moments where I surprise myself with intelligent things spouting forth from my mouth, there are an almost equal amount of time where I feel like the pistons in my brain are misfiring and my cranial matter may need a tune-up. Possibly, a complete engine re-build.
These colleagues of mine are not very web-savvy. The students may very well be but there are ten or so of them and a month later I only know ONE of their names (Because I am awesome) and, so. I have no idea if they are Farmville Facebookers or kids with a lot more knowledge of the Internet. As for the folks I've known for almost a decade, they seem to be pretty stereotypical accountants for the most part. They all have email, a few have iPhones, but one of them keeps referring to "The 'Net" and it takes all of my strength not to laugh out loud. Another colleague (and his wife) are Facebook friends of mine and as such, know about D to the B. Last year, when I returned to work part-time for tax season, he asked if I would be writing about work. No. NEVER.
I mean, I guess I am posting about work but in a generic, "It's all about me" tone, as opposed to sharing office gossip. I'm not stupid.
The one thing that has been on the forefront of my brain this week is trying to reconcile the Angella I am here and the Angella that I am in the office. I have nothing to hide, here, but the thought of everyone in the office reading my site kind of skeeves me out a little. Those young students (whose names will forever (it seems) elude me) could very well have Googled me on Day One and be reading each and every post. If so, um, HI. (SO AWKWARD.)
This past week I had a number of co-workers ask me how I have so many friends in California. I've tried a number of responses that are not lying, per se, but are not as forthcoming as, "I have a BLOG" because I CANNOT EVEN IMAGINE THAT CONVERSATION. Here are a few exchanges that occurred this week:
We went to college together.
"You went to college in the States? Where?"
(I actually do have friends from California who I met at college here in Canada. So, not a total lie.)
***
I met them at a writing conference.
*Blink, blink* "What kind of writing?"
*Blink, blink*
***
I haven't figured out the correct response to the question and know that "I'd tell you, but then I'd have to kill you" won't fly.
I threw it out on Twitter and had some good responses but I hate to lie and I know it will all come out eventually and, shoot. I hate to be in the place where I'm wondering who knows what about me and what they are thinking about me when I am interacting with them. I am in no way ashamed of anything that I write here – it is the exact opposite. This is my space where I get to be me and tell my own stories and keep a record and be part of a community and, well. I don't now if I'd be who I am today or if I'd have done all that I have creatively if it were not for my little corner of the Internet.
Despite all of that I wondered if maybe I needed to shut down this space. Maybe it doesn't fit the "professional" life. Maybe, instead of melding the two sides of me together, I needed to say goodbye to Dutch Blitz and be a business-type woman who doesn't share anything personal. Maybe that would be the best course of action as one who is a "professional".
Truth be told, I cannot give it up. I need this space like I need air. It is where I turn when I want to write about the good, the bad, the awesome, the ugly. To cut this off would be both ridiculous and detrimental to my mental health. I just need to figure out how to reconcile my two worlds. Do I make every effort to keep it a "secret"? (Quotes necessary, because if you Google my name, BAM! There I am.)(I'm a poet and didn't know it.) Or do I just be straightforward and tell people that I have a website and give them my URL (*Cringes*)?
Until I figure it out, maybe I'll just tell them that I'm a secret agent. Or a Ninja.
comment via Facebook
comments