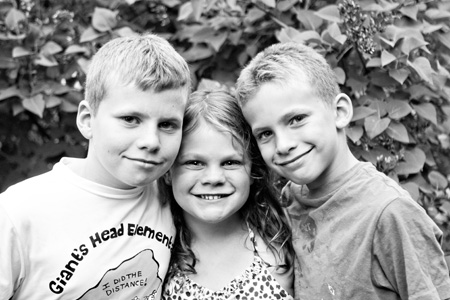 Before I ever had kids (also known as The Time I Knew Everything About Parenting), I was certain that I would have four children of my own. My Dad and Step Mom (the woman I call Mom) had four kids, all two school grades apart. I lived with them from the time the oldest was a year old and I was a pseudo parent to them. I changed diapers (we no longer talk about that), I helped with bedtime and I played on the floor with them. Four kids was the perfect family formula!
When Matthew and I got married, I told him that I thought having four kids was ideal. He came from a family of three kids, and said he would commit to having two kids. Maybe three. I thought that I would woo him to the idea of having four children once we had two or three of the amazing little buggers.
We had Graham, our first born child, eleven month after losing our very first baby. Graham was (and is) a cherub. Big blue eyes and curly blonde hair and a smile that lights up the entire house. He was such a 'good baby' (and is such a 'good kid') that we went forth with the plan to have another child. As he is a December baby, we thought we should get going on the procreation train pretty quick in order to have our kids fit into our dream of being two school years apart.
On the morning of Graham's first birthday, I took a pregnancy test (Read: peed on a stick) and the result was a strong positive. We didn't tell Graham because, 1. It was HIS BIRTHDAY and, 2. He was one; his vocabulary was a little lacking. Instead, we opened presents and ate cake.
Eight months later, almost to the day, Nathan arrived into the world. He was long and skinny, whereas his brother had been long and … cherubic. He had a full head of brown hair, whereas his brother had been bald, with hints of blonde peach fuzz. He was the spitting image of his dad (Which was kind of awkward when it came to breastfeeding, to be honest), whereas his brother looked so much like my side of the family. Two boys, twenty months apart. Both from the same gene pool, both perfectly formed, and yet so completely different. Genetics are fascinating.
In those first few weeks of having a newborn — and a twenty-month-old — I thought that maybe two kids was my limit. I remember sitting with Matthew, Graham asleep in his room and Nathan sleeping on his Dad's chest on the couch. I suggested that maybe we were done. Matthew was (also sleep-deprived, as he would take one feeding in the night to give me a longer stretch of sleep) in agreement that this might be it. We didn't take any 'permanent measures', because nothing was definite.
Shortly after Nathan's first birthday I felt like I wanted one more baby. One more, be it a boy or a girl. I brought this up with Matthew and he said that he had been thinking the same. Soon, we were pregnant. Again (Fertility has never been an issue for us).
The third pregnancy brought on so much more public commentary than I had been subject to when I was pregnant with the first two. (Though one woman stopped me in a mall parking lot when I was eight months pregnant with Nathan to tell me that I looked AMAZING. God bless her.) Being pregnant with a third child, with two kids under the age of three in tow, garnered me some hilarious comments, with 'You're going to be BUSY' being the frontrunner. People do love to state the obvious.
People assumed that I was trying for a girl. Did I want a girl? Of course. I've yet to meet a parent who didn't want a child who shares their same sex, their same wiring, their same … plumbing. Oh, I wanted a girl. I'd always wanted a girl. Someone to share girl-related problems with, share clothes with, drive my husband crazy together with. But 'trying for a girl' makes as much sense as 'trying for a puppy.' We were 'trying for a third, healthy, baby.'
I was pretty sure that we'd have a third boy, though part of me wondered if it was possibly a girl. I honestly had no idea who we'd meet after labor. My Doctor had two boys and two girls, and was rooting for a girl for me. My nurse had three girls, and suggested I would probably have a third boy. And then before I knew it, they both screamed 'IT'S A GIRL!' I've ended up with my dream set of kids. An older brother (well, two) to watch the younger sister and kids so close in age that they have built-in playmates. (Yes, they bicker, but nothing horrendous.)(Not bragging, just THANKFUL.)
Three kids is the magic number for us. For now. I have no desire to be pregnant again, and Matthew has had The Procedure, but we've always been open to adopting. We have friends who've adopted internationally, and friends who've adopted within Canada. I'd prefer the latter, one day, but we'll see how it all pans out.
I'd love to hear your story about your kids, dreams and realities, if you want to share.
comment via Facebook
comments