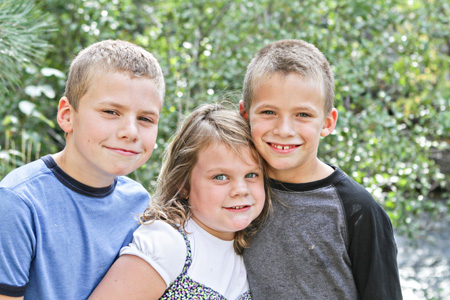 I tend to talk about how great these years are with our kids. There are no more diapers, no more bottles, no more naps to schedule our days around. Our kids get along pretty phenomenally, for real, and road trips are actually enjoyable. Enjoyable! And I'm not even lying! Also: They wipe their own bums!
The hardest part of this stage in our lives (for me) is school. Not schoolwork, or homework, or reading for book club every night. The hard part is the friends.
My kids have pretty great friends. Some are friends that they know from church, others are friends that they've met at preschool or school and all of the kids are good kids. By "good" kids, I mean that they are polite and respectful and play fairly. For the most part. There are times where these "good kids" give me grief. It's when they reject my kids.
It doesn't happen often but it happens occasionally and when it does it breaks me.
We have an after-school debrief where we talk about what they learned that day, what homework they have and what events are coming up. It also includes the question, "So who did you play with today?" I like to know which kids are investing in my kids and vice versa. I also like to know who their friends are and how the social aspect of school is going.
Yesterday, I heard that Emily didn't play with anyone at recess or lunch. She wasn't upset, or crying, she was just stating facts. I asked her what friend A was doing. "She was playing with friend B." I asked her about friend C, whom she had referred to as her Best Friend last week. "She told me that I couldn't play with her." Well, what about friend D? "She was playing with friend C and they didn't want me to play with them." I then asked her what she did during recess/lunch.
I didn't play on the playground. I just stood by a tree all by myself.
She was so matter-of-fact, and so content, that I managed to keep it together. I got her an after-school snack, sent her to play with her brothers and then snuck upstairs to cry it out a little. My baby girl had stood alone.
I had a less-than-stellar elementary/junior high experience. I was picked on for being overweight (I was on crutches in seventh grade for a knee injury and a kid (JASON XXXXXXX) passed me on the stairs and said that I needed crutches to hold me up because I was so fat.) I was also picked on for not being "cool enough." (I had a group of the "cool girls" invite me to the schoolyard in eighth grade. They then proceeded to tell me that I was ugly and fat and that I should leave town.)
(I did leave town, which was life changing. I moved in with my Dad and Step Mom and found my faith, which led me to Matthew and these three incredible beings that have been placed in my charge.)
My own school experiences make me extra sensitive when one of my flesh and bones is made to feel less that awesome. Thankfully, I have a husband who is more even-tempered that I am. He heard me out and then we had a family meeting. We talked about Emily's day and reiterated that family comes first. If any one of them found themselves alone, they were to look for one of the others and hang out with them. This worked well last year with the dudes. We also talked about taking care of kids they see who are alone – to reach out to them and ask them if they want to play.
These rough days really are few and far between. Our kids go to a great school, in our pretty fantastic small town, with amazing teachers, and these glitches are a part of little kids learning to operate in the world.
It's hard, and it sucks, but my kids have a greater advantage over (me, and) many other kids. They have parents who talk to them and who listen to them and who are going to walk them through each and every step. I didn't have that in my elementary/junior high years. As much as it kills me to hear their occasional tales of rejection, I am so glad that they have Matthew and I as parents. Two geeks/nerds/socially awkward people who get how hard school can be, and who love them so much that they tell us not just the good, but the bad, too. We work through it together.
The tears won't kill me; they just remind me that love isn't easy. And they make me thankful that I love enough to cry.
comment via Facebook
comments