Being out of the baby/preschool stage is fifty shades of awesome. There are no diapers, no bottles, no limp-noodle meltdowns.
(I remember being seven months pregnant with Nathan at a large wholesale chain and carrying a flailing Graham on one hip while balancing hanging flower baskets on my other hip and wondering why NOBODY HELD THE DOOR OPEN FOR ME.)(Jerks.)
While having kids in The Golden Years of childhood is great, it is not necessarily smooth sailing. There are issues that are weren't on the radar when I first decided I was ready to throw forth babies from my loins.
Cell phones. Facebook. Twitter. Gmail.
My oldest son is in fourth grade this year (!). He had friends last year (in third grade) who had cell phones. CELL PHONES. IN THIRD GRADE. He would casually ask if he could have a cell phone too and I would reply as calmly as I could.
No. NO. NOOOOOOO.
We live in a small town and if his friends need to call him they can call our home line. If they need to talk to him during school hours they can, you know, talk to him in the school yard. I cannot think of a single reason that a child would need  cell phone in fourth (or third) grade.
As for Facebook I will continue with my eloquence and sum it up as above.
No. NO. NOOOOOOO.
I had a relative's nine-year-old request me as a Facebook friend last year.
No. NO. NOOOOOOO.
I mean, do what you want to do, but that's not happening in my house. My kids do not need to be on Facebook. And when the time comes that they are on the Internet, we have rules we've already discussed.
1. There will be no computers in their bedrooms. (Because, OF COURSE.)
2. Computers will be in a public area, be it the kitchen table or the family room. (Because, OF COURSE.)
3. When they do join FB, their Dad and I will be (unrestricted) friends. (Because, OF COURSE.)
Lest you think I am archaic and a total hosebag, Sir Graham came home from school last week with his friend's gmail address written out on a piece of fullscap and he asked if he could have a gmail account. Matthew set it up on his laptop — with the agreement that we had to know his password at all times — and G and I started emailing.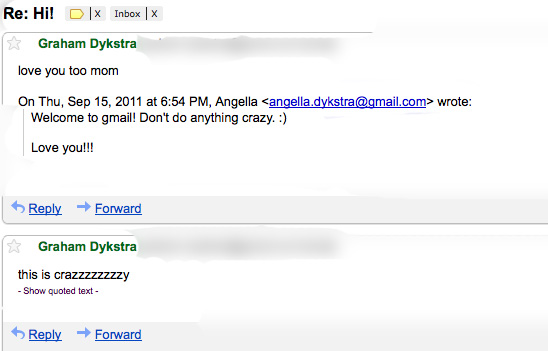 We spent the next twenty or so minutes emailing (Knock-knock jokes, FTW!) and he thought it was pretty fun. He hasn't asked to log in again and I'm most definitely not going to push it.
I'd love to hear your thoughts on this whole new (online) territory for kids because it's all new to me.
*Said in the voice of Optimus Prime. Of course.
comment via Facebook
comments