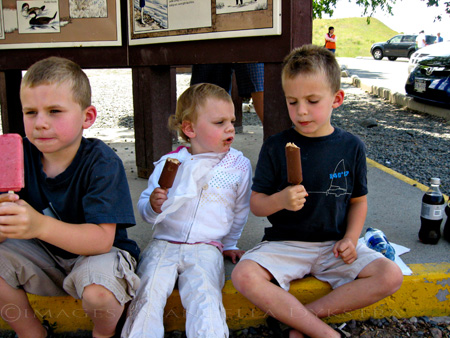 I have a number of friends, both in real life and online, who are about to become parents for the first time in the next few months. I also have a group of friends who would very much like to be expecting a baby sometime in the near future. Another group of friends have not decided whether or not they want to embark down the road of parenthood, but have not shut the door. Yet.
I have been inspired to share what little bit of wisdom that I have garnered in order to warn/encourage/discourage these friends in their journey to that odd creature most often referred to as Mommy.
There is no better way to do this (In my very humble opinion) than to go (somewhat) chronologically, using bullet points.
-You decide you want to get pregnant. The though of getting pregnant consumes you. You read all of the literature and cut out caffeine, chocolate, alcohol.
-You may miscarry (as I did), despite doing what you were "supposed" to do. Bollocks.
-You may pregnant again and know that you will do everything possible to keep this baby as healthy as possible. However. Meat and vegetables trigger your gag reflex.
-Nachos for everyone! But mostly, YOU.
-You may achieve a circumference of forty-eight inches. That's FOUR FEET, people.
-You may have the pleasure of having the nurses cut slits into the hospital underwear because your thighs were TOO FAT TO FIT INTO THEM.
-You may get to see your doctor fly backwards when the suction apparatus was not enough to pry your baby from within you.
-You may have to have an episiotimy, and the use of forceps. When your son finally arrives, his shoulders may be so wide that you have what they coyly call a "fourth-degree tear." The reality is that you have torn from front to back.
-OUCH
-You may hold this perfect little being in your arms and feel your heart magnify a thousand times and shatter into a million pieces, all at once.
-You may fear the thought of your first bowel movement.
-You may go through the first year of your child's life reading every book available and phoning every friend with children in the hopes of figuring out what you are "supposed" to be doing.
-You may then realize that you have no idea what you are doing, but your kid is alive and well so…HUZZAH!
-You then think that you should expand your family, since this baby thing is SO EASY.
-Shortly after you become pregnant, the Perfect Baby becomes a Toddler whose main form of communication is SCREAMING with a side dish of SHRIEKING.
-Since he has no idea what you are saying, you tell him that if he had been this way three months ago, YOU WOULD SO NOT BE PREGNANT RIGHT NOW.
-Two years later, when baby number two is in Perfect Baby stage, you get pregnant again.
-Three months later you find yourself saying, "If you were like this three months ago, I WOULD SO NOT BE PREGNANT RIGHT NOW."
-You realize that you are a slow learner. Or have NO MEMORY WHATSOEVER. Or both.
-You will spend the next few years vacillating between thinking that you have your children figured out and then realizing that YOU HAVE NO IDEA WHAT YOU ARE DOING.
-However. There will be an infinite number of moments where you will revel in their awesomeness and realize that having them is the best decision that you and your husband have ever made.
Hands down.
comment via Facebook
comments