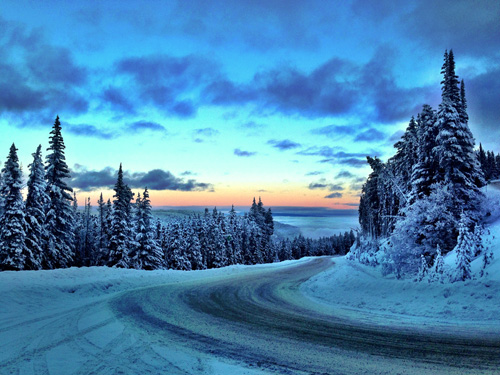 We spent the bulk of our Christmas holiday skiing on our local hill. For five of the days, we had the kids enrolled in lessons to up their skills and it was less dramatic than their very first time on skis last Christmas break. Less dramatic, but not drama-free. Oh, no. Miss Emily is known to be dramatic on a good day and her main complaint about everything from her socks to her boots to her hair (It doesn't FEEL right) saw me walking away while Mr. Matt and his calm manner made it all work. Then, on Thursday morning as he and I were on the chair to start our third run of the day, we got a call from the ski patrol that Nathan was in the First Aid room. I've never made it down the hill that fast, ever.
He had taken a jump, then caught his ski on a root, and face-planted. His collarbone was wounded, so we went to the ER. Again. (He hurt his collarbone back in October and, long story short, it was much worse that time.) His collarbone isn't broken, nor was it last time, and by the next day, he could raise his arm above his shoulder. We took the morning off of skiing and in the afternoon he asked to try the bunny hill. Then he asked if we could go up the triple chair and ski down, and he rocked it. Come Saturday, he skied with Matthew and I for the morning, then rejoined his class for the afternoon and was back doing all of his tricks. He still likes to wear the sling at night (He is a future Man Cold Champion) but we're pretty thankful that not only is his collarbone not broken, it is far less damaged than it was the last time he jammed it.
We spent Sunday resting and ignoring the fact that Monday was coming. It came, we faced it, and we conquered. The kids were happy to be back at school with their friends and teachers and I joined Jennifer for the first of our thrice-weekly runs we plan for 2013. The Okanagan has been under a snow warning for a few days now and the amount of snow that we're all dealing with is beyond ridiculous. We clipped Trax to our runners, trudged through three feet of snow to get to the road, and ran 6K. We did it.
I took two weeks off from everything and wondered if being back home and immersing myself back into life below the clouds would be a hard adjustment, but it's not. I'm home, we're home, and we're so happy to be here. We're also planning to get above the clouds as much as we possibly can. Happy New Year, friends.
comment via Facebook
comments