Nathan is turning nine (!) this coming Sunday and, no, I don't believe it either. He's a little bit excited about it and has been counting down the days for a few weeks now. He has told me what he wants for meals on the day of his birth, multiple times. He's also told his meal plan to anyone who is willing to listen.
For breakfast, I want waffles and bacon.
For lunch, I want French toast. And bacon.
For dinner, I want Murray's pizza.
For dessert, I want chocolate cake.
So, he basically wants a heart attack for his birthday.
Two nights ago he presented me with the list of items that he wants for his birthday gifts. Our kids know that the list is for suggestions, and that they won't receive everything on the list, but they are given the freedom to dream. I was making dinner when he gave me the list, so I told him that we'd go over it as a family when we sat down to eat.
Here's The List: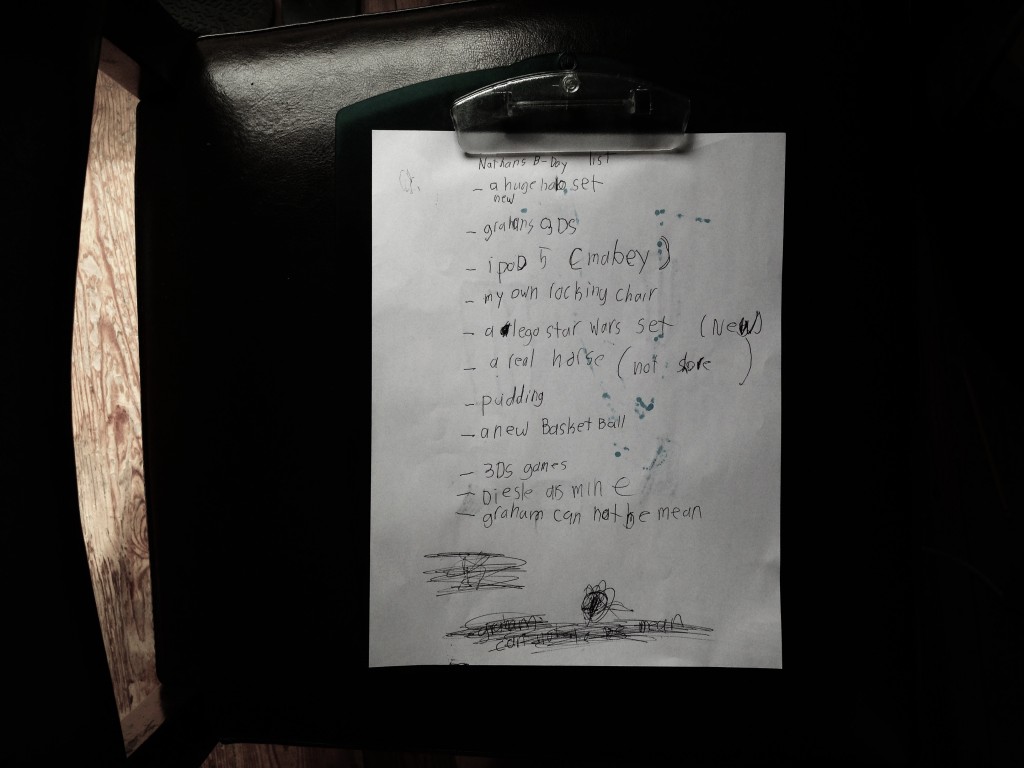 I'm pretty sure that it's the best list ever. His own rocking chair! A real horse (Not shore)! Diesel as his own!
And the request that made it the Best List Ever …
Pudding!
We asked about the items and got further details. He'd like a rocking chair to sit on (Because who doesn't?), he wants to have a pet to call his own (He suggested a Guinea Pig instead of Diesel, but no rodents allowed)(He's now in charge of scooping up the piles of Diesel's steaming poop)(He may be regretting that request), and he wants his brother to be nice to him (even when he's the instigator).
He really likes the Jello pudding cups that Grandma Shona bought him two summers ago. Pudding. Pudding! Chocolate or vanilla will suffice.
(He also likes parenthesis, just like his Mom.)
I love that kid so much. He with the hugs and the toothy grin and the heart so big it tears easily. How I've been entrusted with him, I'll never know. But I'll take every second of it. Because PUDDING.
comment via Facebook
comments