It's not news to tell you guys that I run three days a week — one of them being 10K — and that I ran my first half marathon last month. Running is a big part of my life and while completing that half marathon was the most amazing feeling, I plan to stick to 10K races, mostly because my knees hated me after 21.1K. 10K is easy (for me) and I had fully planned to race the BMO 10K in Kelowna (the same one I ran last year) until about a month ago. Instead, I signed up for my very first 5K race. I run a minimum of 5K when I run, but had never actually been in a 5K race. Why did I sign up for the 5K? Because of this guy.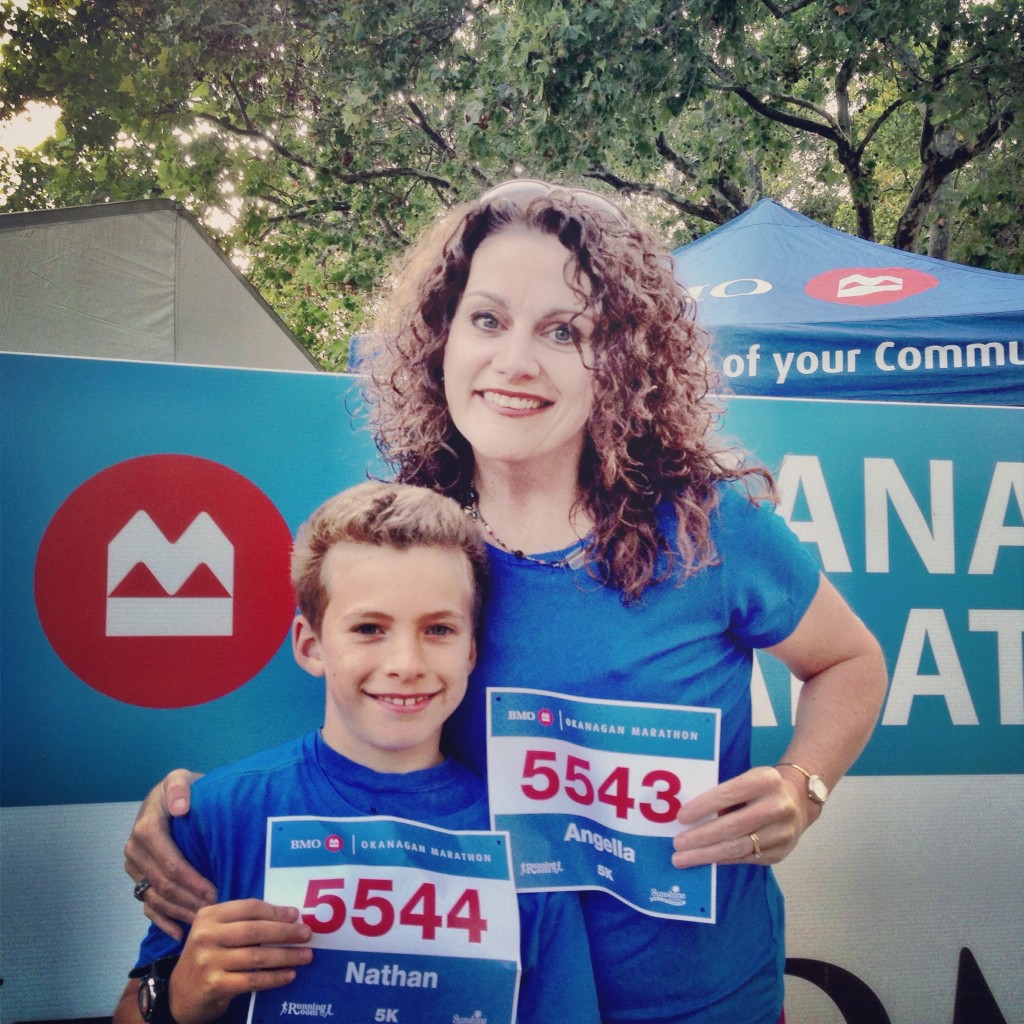 Nathan has a love of running (and skiing and soccer and basketball, etc.). He ran the 5K Giant's Head run in June and the 5K Peachland run in July. I ran the 10K in both of those races and we both celebrated at the end of them. When he learned that all finishers of the Kelowna race got a medal (A MEDAL), he wanted to do the 5K race. As Kelowna is a big city and he doesn't know it very well, he asked if I would run with him so that he could get a MEDAL. I said yes, of course, because how could I not? We'd get to run together — and get a MEDAL — and he has been counting down the days ever since I signed us up. A few weeks ago I was talking to a friend who was running the half marathon, and he chimed in. On October 12th I'm getting a medal!
Medals are worth more than gold for this kid.
The kids and I had driven to Kelowna on Friday afternoon to get our race packets (see above photo), and we all headed back to the race site on Saturday morning. Nathan and I worked our way to the start line while the rest of our family found seats in the stands. As we were waiting, a reporter from the Kelowna Courier introduced himself and asked if we were Mother and son. He then interviewed us and took our photo. The photo didn't make the front page of the paper, but our interview did.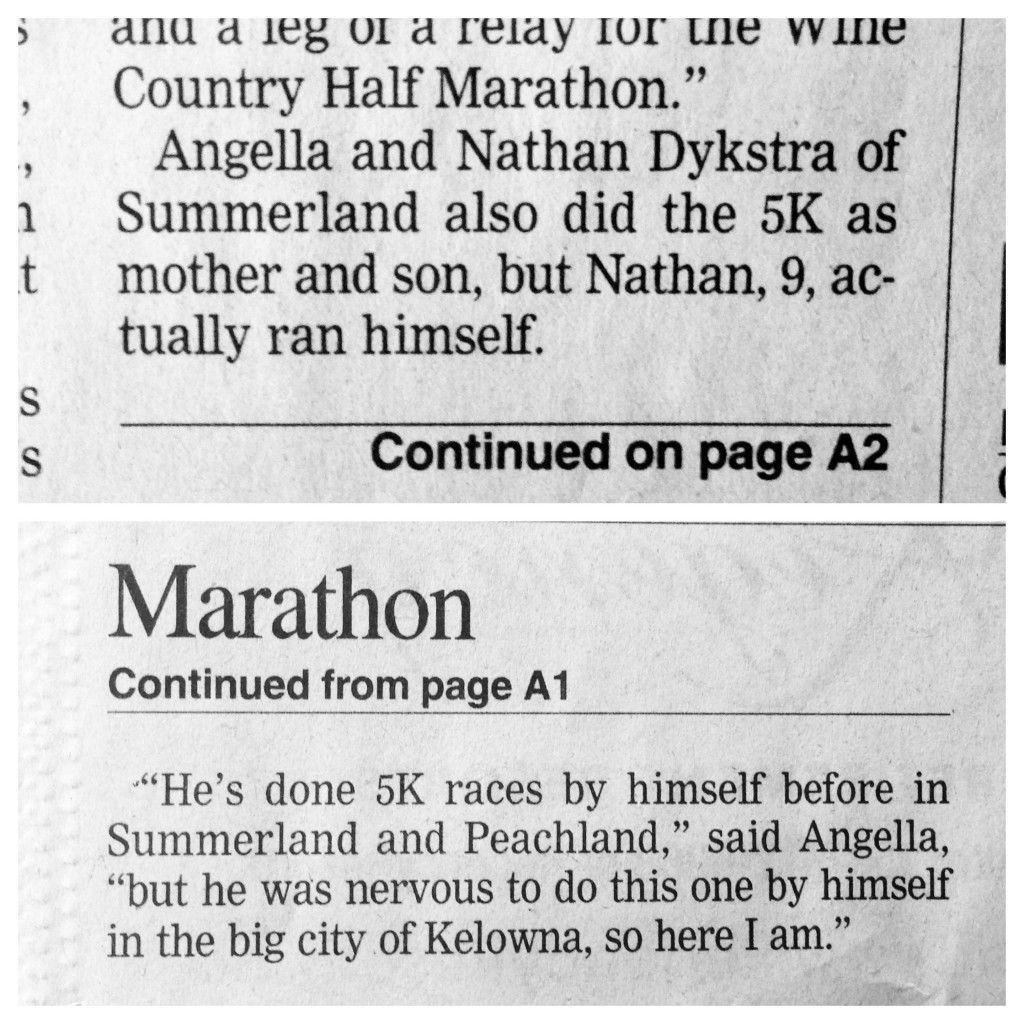 Back to the race.
Nathan always starts off sprinting and I had to reign him in. We were still going at a pretty fast clip and I was prepared to book it for the race, but about half way through he asked if we could slow the pace down. We did, and were still making good time. It was a beautiful day, and many other families were running together. Nathan and I would chat intermittently and I would keep telling him how well he was doing. At one point we were running next to the highway, with backed-up traffic, and all of the people were smiling at this kid of mine, running his heart out.
When we hit the 4km mark, he laughed and said, "Soon I'm going to get my medal!"
He asked if he had to run down the chute at the finish line. I explained that he didn't have to, but when he got there, he'd want to. And he did. He took off at a speed only nine-year-old boys can run. Spectators who lined the chute were cheering him on — Way to go, buddy! — and he crossed the finish line at 29:21.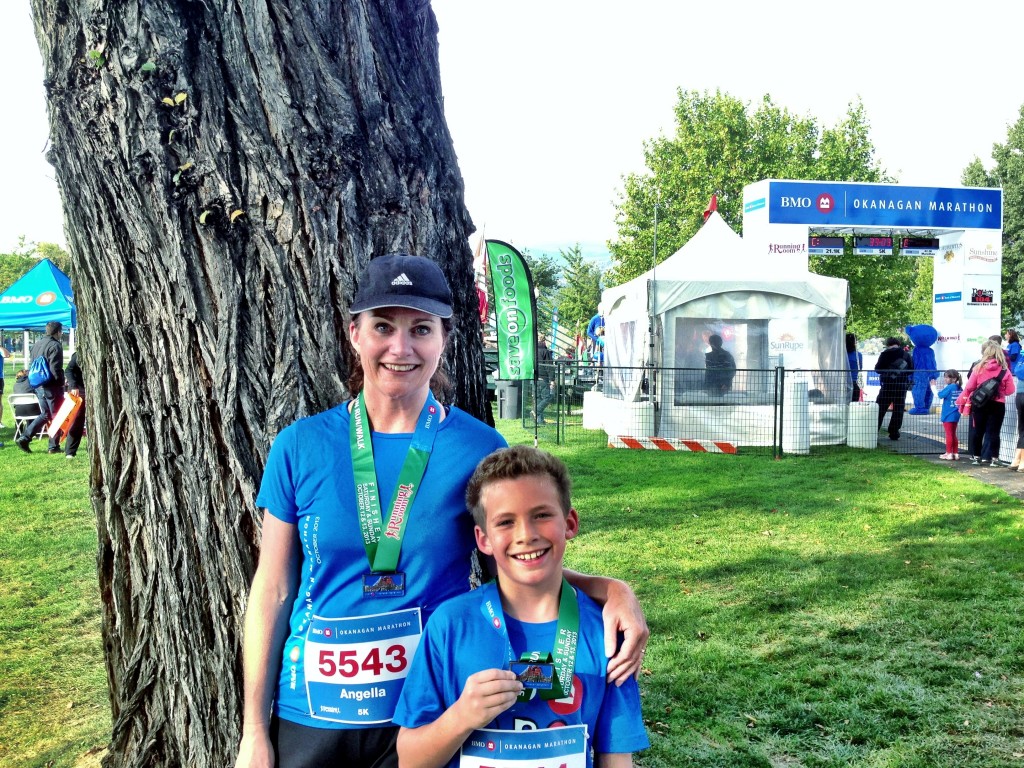 (My frozen smile courtesy of Matthew taking five minutes to hit the shutter button. He's forgiven, because he also took the one below.)

I'm so, so proud of Nathan. And I love that even though he looks absolutely nothing like me, we have the love of running to share.
(He's been wearing the medal all day, every day. And he packed the newspaper article in his backpack to bring to school. I love it.)
comment via Facebook
comments