I know that it wasn't Thanksgiving weekend up here in the Great White North, but reading so many thankful sentiments from my American friends put me into the thankful mood. Anyone who is a regular around these parts knows that I had about a month (OK, two) where I was having a rough go of it. I tried my best to pray my way out of it, to talk my way out of it, to write my way out of it. Some of it was season related, some of it was work related, some of it was not-for-posting-on-the-Internet related. I walked around with a dark cloud around my head and a heavy weight on my heart. Nothing I did seemed to shake whatever it was that had grabbed a hold of me.
I cried. A lot.
I also laughed a lot, which helped me make it through each day.
I'm in a far better place that I was in such a short while ago and I am thankful for that. The work-related stress has been downgraded from a code red to a code whatever-the-code-is-that-means-busy-but-will-not-induce-cardiac-arrest. Other issues have been dealt with and put to bed, some with restraints. I've been able to step away from my computer and soak in some of the good that comes from being a part of this family (OF AWESOME) that I belong to. This past weekend was no exception.
Our small town (Population: 11,443)(Yes, really) hosts a Festival of Lights on the last Friday of November. Main Street is closed to vehicle traffic, all of the merchants stay open late and there are vendors selling their wares in booths that are set up on the street. We always beeline it to the Mini donuts because, well, why wouldn't you? The family sat on the curb to enjoy said donuts and I thought I should capture them in action.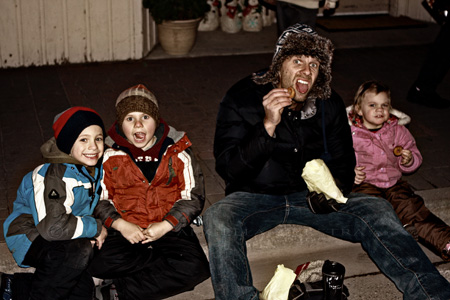 Thanks, Honey. Just for that, I'm posting this on the Internet.
I snapped a photo of the kids in their winter gear before we left and got this.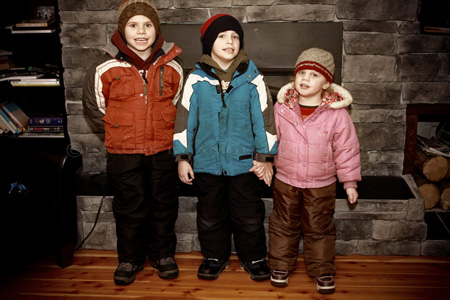 I asked them to turn the cheese down a notch and got this.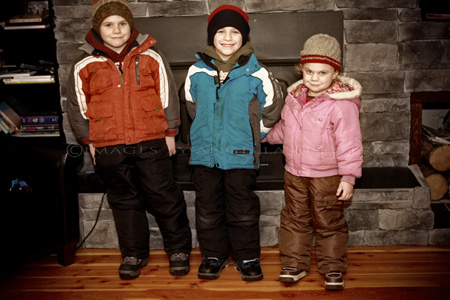 Much better.
The premise of the Festival of Lights (Or Light Up, as us locals call it) is that there is a countdown to 7pm. All of the Christmas lights are turned on, the crowd ooh's and ahh's and then I head for home with my family in tow because my fingertips have turned blue. I'm not even kidding – I hate to run my hands under hot water for a few minutes when we got home in order to thaw them out. I should probably get that looked at.
Saturday morning is when Emily has ballet class. Saturdays are also my heaviest workload. Rock? Hard place? You know each other intimately, don't you? Matthew has been taking Emily quite frequently, but on Saturday she said that she wanted me to take her. I am pretty much never the first choice for our kids (Matthew is the favorite, complete with angels singing and a choir in the background) so I simply could not say no to her request. Besides, I get to see her dance (She's awesome) and I get to take photos of my little ballerina.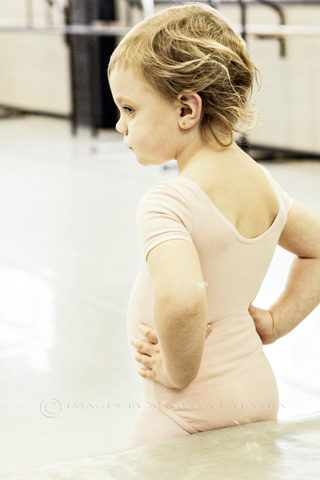 No complaints, really.
Saturday night the dudes went to a hockey game for boys' club and after Emily went to bed I decided to quit working for the day and help my husband out a bit. You see, he refuses to allow me to put up Christmas decorations until after Light Up. With ballet and the hockey game (And everything else we have going on) the chances of him stringing the lights on the tree this weekend were pretty much non-existent. I thought would spend a bit of time on Saturday night stringing lights and then sit down with a good book.
Except it took me almost THREE HOURS to string the lights and I wasn't even finished when they got home. I wasn't too worked up about it as I had the old school Amy Grant "Home For Christmas" album on repeat and some time to myself surrounded by pretty white lights. It could have been much worse.
The dudes could not be bothered, but Emily helped me finish decorating the tree on Sunday evening.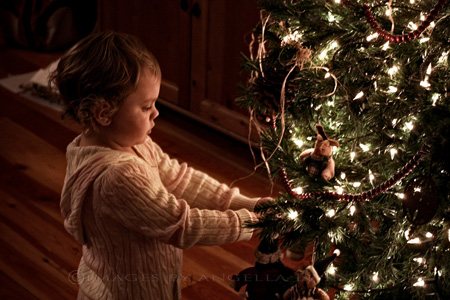 While I've been decorating our tree the exact same way for nine years now, it still makes me happy every time I plug in the lights and look at it.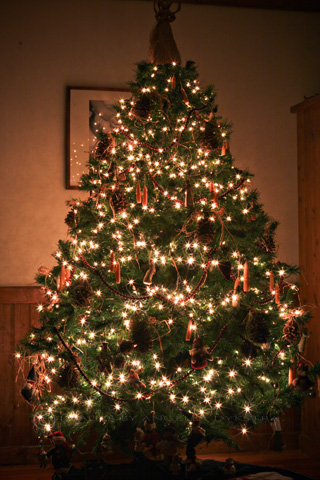 However. I may have to change my surname to Griswold.
Back to Emily. You may not see it so much in the full shot, but she had her own technique of "decoration placement."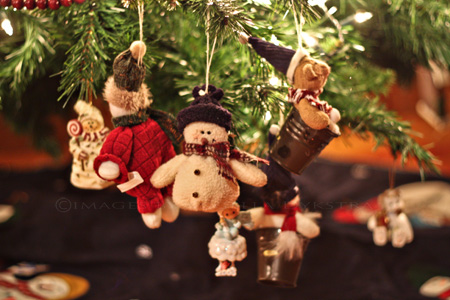 As a woman who spends an inordinate amount of time making sure that her decorations are placed just so, this would normally cause a lot of internal turmoil. Three kids and a dose of perspective later, I found it quite cute. I even left it that way after she went to bed. Go me.
So, yeah. I'm happy and I'm drenched in the love of family and friends (including many of you who smothered me with the affection I so needed).
It feels good to be out of the fog.
comment via Facebook
comments