As I mentioned last week, I went to New York City for my fifth BlogHer conference. I went to San Francisco in 2008, Chicago in 2009, New York in 2010, San Diego last year, and back to NYC this year. I was on the fence about this year, honestly, because my 'home base' crew (the people I would text and run to if I found myself alone anywhere) weren't coming. But, I have my Canadian/Blissdom Canada 'home base' crew, who were all there, and who I knew I could run to if I ever found myself alone. And I did exactly that. I also sat with them for the Voices of The Year readings and it was pretty much the perfect group share that experience with.
I don't even know where to begin to sum up this most recent conference experience. BlogHer '08 was epic (overused term, yes, but appropriate) because it was my first time meeting the friends I made on via my computer. BlogHer '09 was fantastic because I wasn't a newbie, and because I got to explore the city (I was a photographer in '08, so I barely left the hotel). BlogHer '10 was a mixed bag. It was my first time in NEW YORK CITY, and I flew in on the Monday to take in the sights with my cousin who lives in Boston. The conference itself felt … disjointed. The number of people attending had taken a big leap and I felt like I didn't get enough face time with enough people. San Diego was awesome, between the fact that it was my first extended stay in San Diego, it was Amanda's first BlogHer, and I saw everyone I wanted to see.
This year was also awesome, for a number of different reasons. I didn't take many photos this year, because I was too busy talking (and talking and talking).
I had two fantastic roommates:
(Loukia on the left, Maija on the right.)
(Hover over photos for everyone's Twitter handles.)
I had some great chats with the CheeseBurgher ladies, and spent many hours on the dance floor with them.
(Yvonne, Lindsay, Leyna.)
I went on a photo walk through Manhattan and Central Park.
(Katie, Bon, Neil.)
(Photos on Flickr, natch.)
I saw a lot of Miss Ali Martell (photo courtesy of her).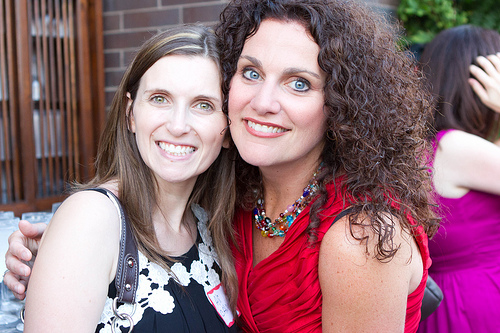 She's awesome, if you didn't know that already. I also met some of her besties (@jenbshaw and @meghangwhine), who are quite lovely people. Not sure how I haven't met them before, but REMEDIED.
I (finally!) met a few people I'd always wanted to meet (Karen Gerwin being one of them). Jen and I ate lobster mashed potatoes for the first time courtesy of Jim. I sat in a deli after Sparklecorn with Kate, Jon, and Aiden and it was the best way to end a great evening. Adam was good enough to introduce me to people when I first arrived, nervous and being an introverted extrovert. I had coffee with Nataly, I went for cupcakes with Ali, Jen, and Loukia, I saw @TwoBusy EVERYWHERE I WENT, I had ballroom dancing lessons from Doug (to Top 40 music, no less), I danced with girlfriends for hours and hours and hours. I had lunch with Rhi, I ran into Elaine a few times, I sat in on Elan's panel (the only one I attended.
I closed the weekend by singing karaoke with Lisa Stone, her honey Chris, Faiqa, the Muskrat and his bride, Kristabella, Heather B., Amy, Andy, and so many others. Sir Muskrat and I sang 'Don't Stop Believing' as a duet (with everyone in the room singing far louder than we were) and sadly (or thankfully), there is no video evidence of my sweeping arm gestures.
There is so much more. There is something about throwing a bunch of weirdos who WRITE ABOUT THERE LIVES ON THE INTERNET that is a whole different dynamic. Especially since the Internet weirdos who I hung out with are in it for writing and community. We have that. Writing and community. And a billion different bonding moments sprinkled and smashed into a three-day weekend.
I'll be there next year for sure.
(I am too lazy/busy to link to everyone. If I met you/hung out with you this weekend, leave a comment/your URL in the comments so that I can come say 'Hi!' when I feel like I can breathe again. And so my regular readers can come say 'Hi!', too. If I didn't mention you, please don't be offended. I barely slept, because I was too busy talking to ALL THE PEOPLE.)
comment via Facebook
comments