This coming May it will be a year since I bowed out of the two-and-a-half years I spent back working in an office environment. I was away from home for a minimum of ten hours a day, I was working one city over which meant that I couldn't duck out to help with kid-related activities, and with other commitments there were some days where I didn't even see my kids.
There were some days where I didn't even see my kids.
This was unacceptable. I like being a Mom and I like hanging out with my kids and I like doing things like cooking dinner and I like driving home after school and debriefing the day. (I hate packing school lunches, but I know that I'm not alone in this.) I have three of the greatest children ever to exist and I missed so much when I wasn't here. I missed so, so much.
Once I went back to being self-employed, my world righted itself. One huge factor what that I started volunteering again to help out with school-related activities. I made dirt cake with Emily's Kindergarten class in the spring, I've accompanied her class for three skating days, and I help with journals every Monday and Friday that I can. Journals are the BEST and if your kids' class does them, you need to help, even if you have to fake a cough and take a "sick day." They write a sentence or five and draw a photo to accompany the story and it is fifty shades of awesome. There are boys in her class whose entries vary between 'I have hockey this weekend' and 'I had hockey this weekend' and one kid who writes about his XBox 360 for EVERY entry and one friend of Emily's whose entry was 'My Mom was supposed to bring my show and tell and she forgot.' The picture that she drew was a 'sad face.' So much funny, every time.
I've helped out in the boys' classes too, to a lesser extent, because they don't need as much parental help as the younger ones do. I helped carve pumpkins with Nathan's class for Halloween and I'm currently helping with his class as it's their turn to skate. While his anxiety is pretty much under control, new things still bring on The Worries. We got onto the ice, and the crocodile tears started. He "couldn't skate" (he was playing hockey last year) and he didn't want to and I had to pull out the big guns (empty threats)(don't judge) to get him back on the ice. We spent the time holding hands and by the end of the hour, he was asking to skate when I stopped to talk to a friend. He then skated on his own when it was time to leave. WINNING.
Graham's even older, being in fifth grade, so they don't need help with printing or crafts or even skating (aside from helping to tie up the skates). The fifth grade teachers planned a day trip to a camp up in the mountains and he asked if I could volunteer to help. Of course I could. We boarded the school bus (First time since I was a kid!) and made the forty-five minute drive to Silver Lake camp. My friend Christine and I were in charge of the snow show station and it was so much fun. It was my first time being on snow shoes, but walking on a frozen lake and through a forest of snowy trees was pretty magical.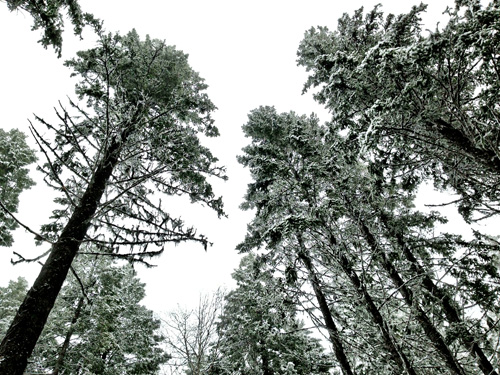 The fresh dump of snow last night made it more of a workout and despite wails from the peanut gallery, they were all grinning from ear-to-ear. Graham included.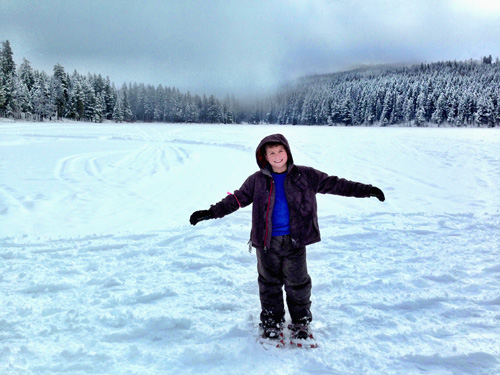 The live snakes also had them all grinning ear-to-ear.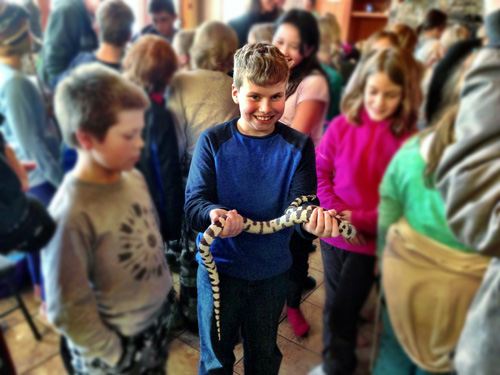 (I kept my distance.)
I could work in an office and make much more money that I do now, but it's just not worth it to me. I get paid in hugs and kisses and snowball fights on the walk to the van after school and my eldest child asking to sit with me on the bus ride home from a day excursion. I may not know what I want to be when I grow up, but I do know that I am completely content being "just a Mom" right here, right now.
comment via Facebook
comments