I don't write about my kids in great detail like I did when they were younger. I created this space as a place where I could share stories and photos about my kids and I did exactly that. I used to write posts about diaper blowouts, epic tantrums, potty training, passing swim levels, and all the minutiae of our daily lives. Part of the reason I don't share as much anymore is because they are older now, and I want to balance their privacy with my need to share the part of their story that intertwines with mine. I would hate for kids to Google them and have cause to pick on them, you know? (Though this is a small town, and all of us parents are a united force, so if anyone picked on one of my kids, their Moms would set them straight.)(We really do live in a great community.)
The kids know that I have a blog, and that I 'post things on the Internet.' If they do or say something funny and I laugh, they'll ask if I'm going to post it on Facebook or 'The Twitter.' They often ask me to post it. Heck, Graham even started his own blog this summer. The posts are password-protected, but STILL. I have a child who has a blog and who is writing his own stories on the Internet.
This wasn't in my copy of 'What To Expect When You're Expecting' ten years ago.
The other reason that I haven't shared the stories and the little things is because I spent two-and-a-half years working in an office thirty minutes away and missed so many of the little things. There were some days where I didn't even see my kids. I would leave before they woke up and would arrive home after they were in bed and it was the antithesis of what I wanted and what I had ever hoped for. I did it because it was for the greater good of the family (we like to have a place to sleep and food to eat) and as soon as it was viable enough for me to escape, I did just that. Escape. To home. May 1, 2012 was the day I got my happy back.
When I returned to being self-employed in May, I had initially thought that I would write so much more about the things and the memories and the stuff. Reality (bites, and) kicked in and I had to adjust to a whole new routine. When I finally found my groove, BAM! Summer vacation. Trips to camp, to the Coast with my girl, to Cannon Beach and to New York. (I documented the BIG THINGS, but the smaller things were still missing.) Matthew and I trying to find a way to balance our workloads and hanging out with the kids. Many trips to the beach (LOADING and UNLOADING the van more times than I dare count). Celebrating friends' birthdays and getting families together for potluck meals.
There are so many little things that I want to capture, because a year will pass and I'll forget them. I don't want to forget them for they make me smile every day. Trying to capture them all is futile, for I'd spend all my time documenting and no time experiencing. I merely want to capture some of it, so that when I read the memories they will trigger other, hazy, memories and we'll remember this time in our lives. This time where we're out of the diaper/nap stage and haven't entered the hormonal/heartbreaking crush stage. This time where my kids will climb into my lap and walk up to me to give me a hug and will ask me one hundred questions because they think I know the answers and are just this. Here. Right now. In the space between hard and really hard.
I want to remember how Emily says 'anember' for 'remember.'
I want to remember how Nathan's face lights up when you ask for a hug and he jumps onto you, all arms and legs and big 'adult' teeth.
I want to remember how Graham will throw random 'facts' out when we're talking about a subject and I'll ask him 'Are you just making stuff up?' The answer is always yes.
I want to remember how Emily says 'naybe' for 'maybe' and 'someping' for 'something.'
I want to remember how Nathan loves the cover of 'Everything' by Colton and will sing it, full of emotion, while looking outside of the van window.
I want to remember how Graham likes to play on his own, Spiderman figurine in hand, while he imagines stories in his head.
I want to remember how I wake Emily up while singing 'Sleepy Girl" to the tune of 'Smelly Cat' and how if she wakes up before I go into her room, she's quite indignant that I didn't sing the song. I love how when she finally makes it downstairs, she will wait on the second step until I pick her up and she wraps her arms and legs around me and buries her head in my neck.
I love how Nathan loves his little sister so much that he will play Barbies with her. And that she loves Nathan so much that she will play Hot Wheels with him.
I love how Graham is on that outer crust of childhood, where he will want to be part of adult conversations. We will eventually send him to do kid stuff, but I love his commentary, and that he's trying.
I love the potty humor that makes us all laugh and the chair dancing/singing in the van to Top 40 music and the fact that if the kids are having a bad attitude, I can simply state 'Stop being a Weenis' and they say 'Okay.' And they stop being Weenises. (Weenii?)
I could go on and on, but I won't. I'll just get better at doing what I love to do.
September is nigh, and the kids start school again on Tuesday. While it BLOWS MY MIND that Graham is in fifth grade (Highest grade in the school!) and Nathan is in third grade (He gets to be a big buddy to a kindergartener this year!) and Emily is in first grade (HOLD ME), I'm looking forward to the routine of school so I can get the bulk of my pesky work done while they're away, and then can take time in the evenings to share stories. My stories. Their stories. Our stories.
Because these three are worth telling stories about.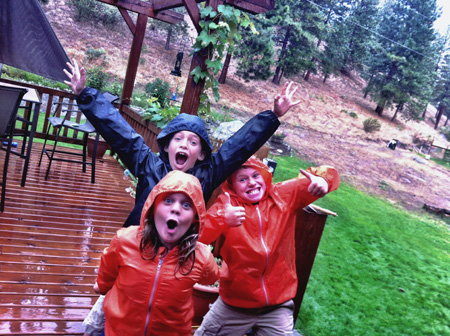 comment via Facebook
comments