When I moved in with my Dad and Step-mom at the age of thirteen, I was given a room and introduced to the washer and dryer. This was how they worked and if I wanted to have clean clothes, it was up to me to make that happen. I was also responsible for cleaning up after dinner, sweeping the floors, and making sure that "my" bathroom was cleaned once per week. I was responsible for packing my lunch for school and cleaning my room once a week. Lest you think that my Step-mom was evil, she was (is) most certainly not. She taught me how to clean and how to cook and I received an allowance when my duties were fulfilled.
My husband, on the other hand, had a pretty good go of it when he was in high school. His Mom cooked every meal, packed all of his lunches, and made his bed/cleaned his room. Logic would have it that he would have no idea how to do it once he lived on his own, but the opposite is true. He can cook anything (though he hates to cook, and I love to, so it's my deal). He is, and anyone who knows him (Including him) will attest to this, a bit of a clean freak. Heck, when people know that he's going to deliver our chicken eggs, they make sure that they've cleaned the area that he will see in his short visit.
When it comes to our kids, we want to make sure that they know what it takes to run a household of five (Or one). We have always had them help us set the table, pack lunches, put away laundry, practice piano, etc. It started to feel like we were becoming nagging voices and so we decided to make up a chore chart. There is so much that is not included in it (Setting the table, putting away laundry, and so much more) but with cementing it on paper we didn't want to overwhelm everyone. More will be added as we move along, but we're keeping in simple (stupid).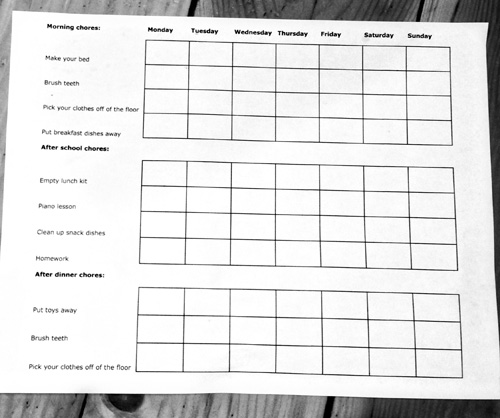 The great thing about it all is that there is no nagging. None. NONE. They know what is expected of them and they run to make it happen so that they can make a measly $5.00 per week.
When we instituted it a few weeks ago, Graham's teacher pulled me aside after school to tell me that she'd heard about his new chore chart.
Him: I woke up early this morning to get my chores done.
Her: What kind of chores? (Thinking it had something to do with our chickens and collecting eggs.)
Him: Well, I had to make my bed.
Her: Oh yeah?
Him: And then I had to pick my clothes up off of the floor.
Her: Oh.
Him: Then I had to brush my teeth.
Her: It sounds like you have it really rough. Wow.
(I love her.)
We talked some more and she thought that having a chore list is a great idea for eliminating the nagging factor. We're three weeks in and it's been pretty amazing. "Are your chores done?" is all I have to say and they are off to make sure they can check each task. They do so much more on top of that rudimentary list and it seems as though those extra requests are met with no resistance because they know that they are part of the whole deal.
We plan to add more "required" items as we go along and because they're doing them already it shouldn't be an issue. We spend the bulk of our weekends skiing/at church/having some down time, so Matthew and I tend to do things like cleaning the bathrooms and vacuuming and purging garbage during school hours. We plan to have the kids join the (deep cleaning) party once ski season is over. A friend shared their technique: Slips of paper in a jar with ten-minute options. Some are cleaning-related, some are down time-related and all are only TEN MINUTES. I love this idea so much.
I know that there is a Great Debate about tying allowance to chores but I get paid for work I do and I think my kids will only benefit from that teaching. It's how life works.
comment via Facebook
comments