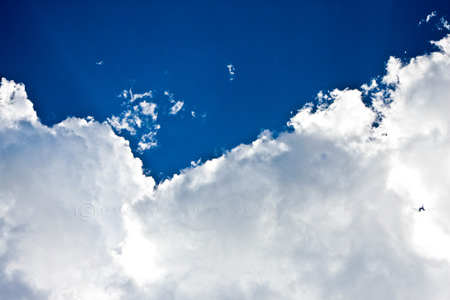 If you live here in the Okanagan, or are a Twitter/Facebook friend of mine, you know that summer has ARRIVED. I may be busy with work, but every second that I can spare I am outside soaking up the sun. I have new freckles on my nose and shoulders and my skin is no longer translucent. Some may scold me for being so blase (How do I get the accent aigu on blase? Maybe I should Google it) about skin damage but seriously? I have spent the last EIGHT MONTHS freezing my arse off. I deserve a little sunshine.
I have an entire category dedicated to California, for the love of all things summer.
As for my kids, I slather them with SPF 60. Do as I say, not as I do…
On Saturday we hooked up the sprinkler. The kids could hardly wait for the fun to commence.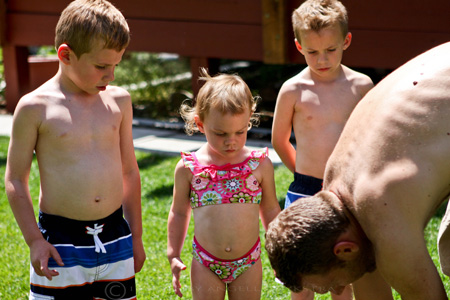 I asked Emily to model her (other) new bikini for me.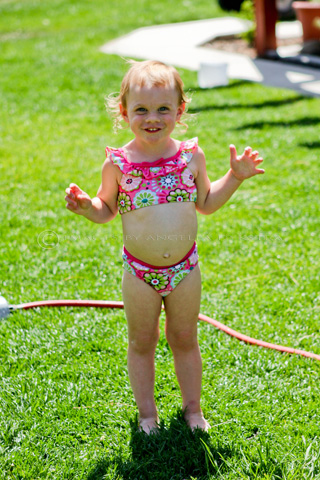 Can I just state for the record that her curls SLAY ME?
The kids waited for the water to come forth.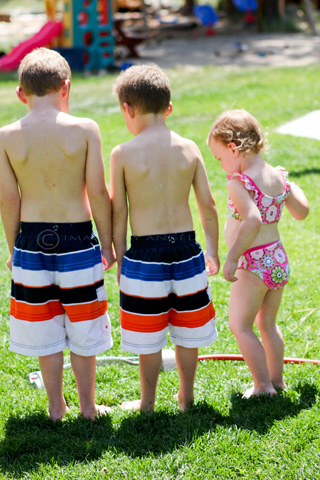 Aaaaand…here we go!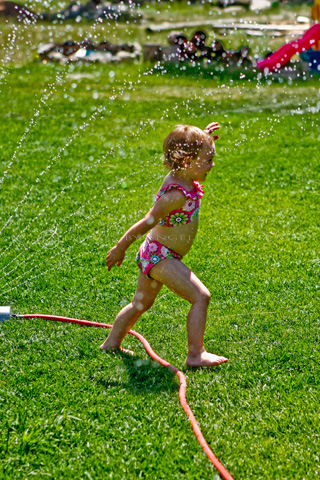 For those who have never been to our place, our property goes to the end of that brick wall in the upper left of this photo. The brick wall surrounds our garden.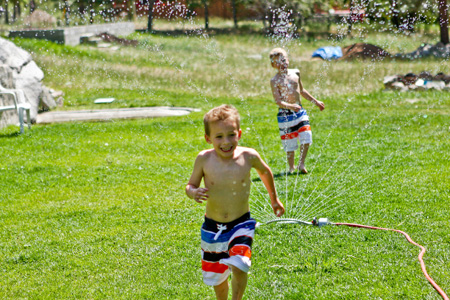 The grey circle in the foreground (to the left of Nathan's head) is a fish pond. With goldfish in it. That the dog likes to bark at.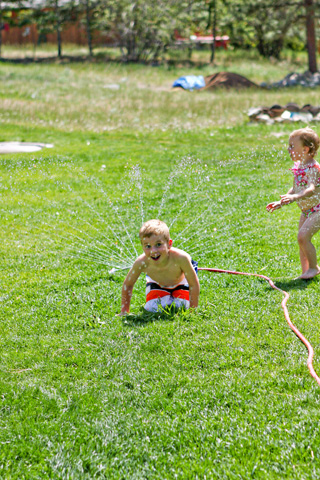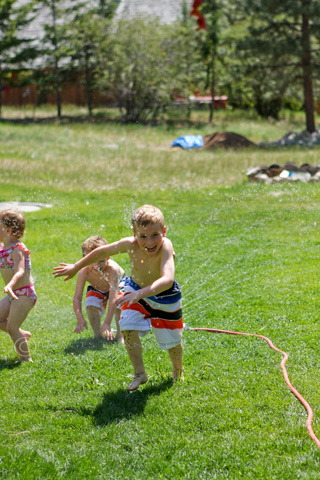 You might be thinking to yourself, "Hey, speaking of that dog, why isn't he in any of these photos?"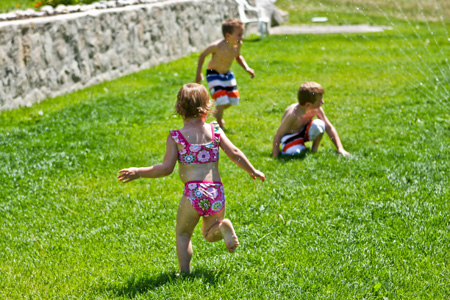 Sometimes he gets tuckered out and he hides downstairs in his crate. It's nice and cool down there too. Shortly after I put the camera away he reappeared and chased the kids through the sprinkler.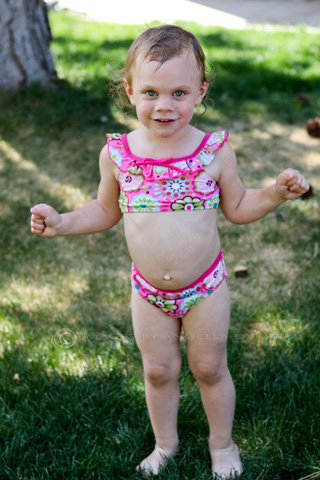 This is the point in my post where I should say that I am sorry for the barrage of photo that I am posting. But, whatever. My Mom (Hi, Mom!) does not Flickr or Facebook, but by some crazy miracle (and a three-hour over-the-phone tutorial from my sister) she knows how to check my site. If she is the only one who cares to see these, that is perfectly fine by me.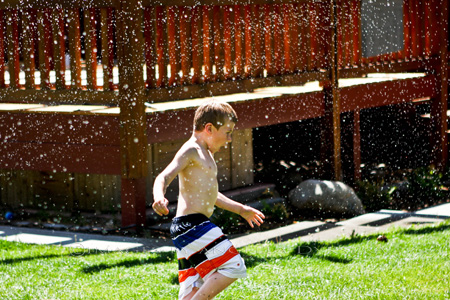 That's our deck, where you will often find me sitting with a book and some kind of cold beverage (when I'm not running through the sprinkler). The kids were at it for close to an hour.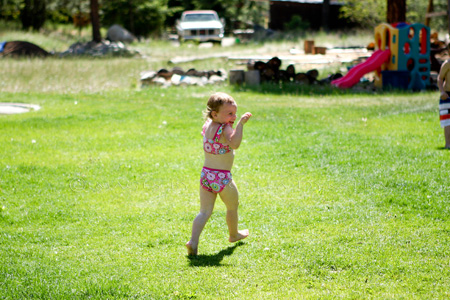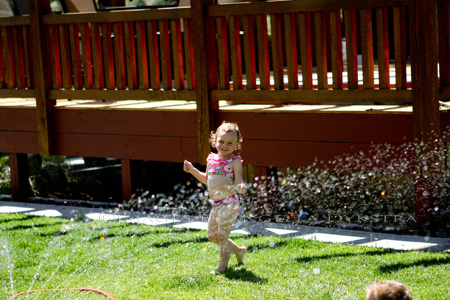 More of the curls.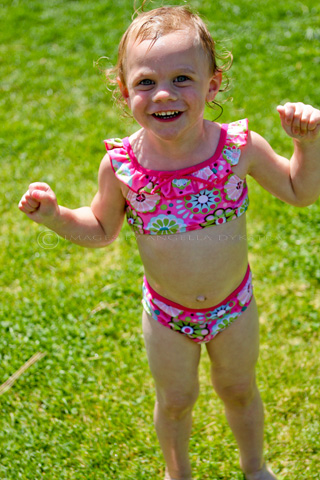 And her outtie.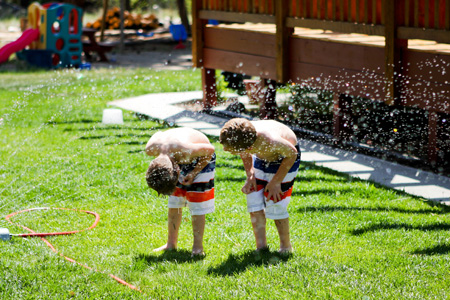 The dudes were having just as much fun.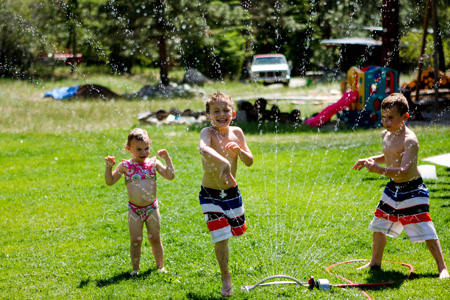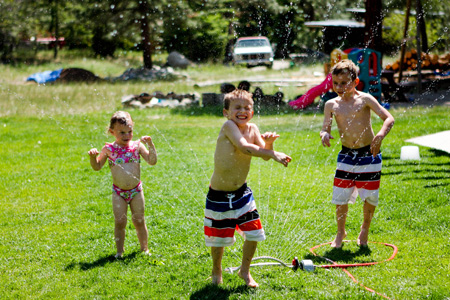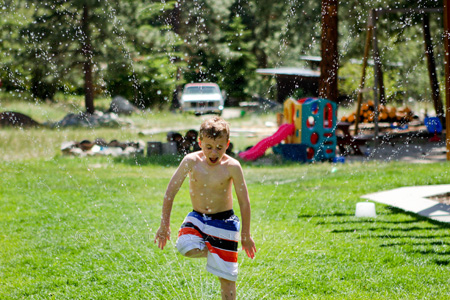 This weather is making me start to think that there is no way that I can possibly survive another forty (or however many years I live) winters living here. In the meantime, I will continue to capture as much sunshine as I can in digital format to hold onto it as tight as I can.
***
Sarah posted this song yesterday and I have been playing it repeatedly. Go. Listen. Love.
***
We finally met the ever-lovely Jen Wilson today. Post to follow when all of our visiting is done (and Graham is finished with his love of Kaylie). Look over here for a photo she shot of my girl and I.
***
Janssen won my care package:
I love that she broke the odds with being comment #8 of 77. I'll be emailing you for your address, fair lady.
comment via Facebook
comments