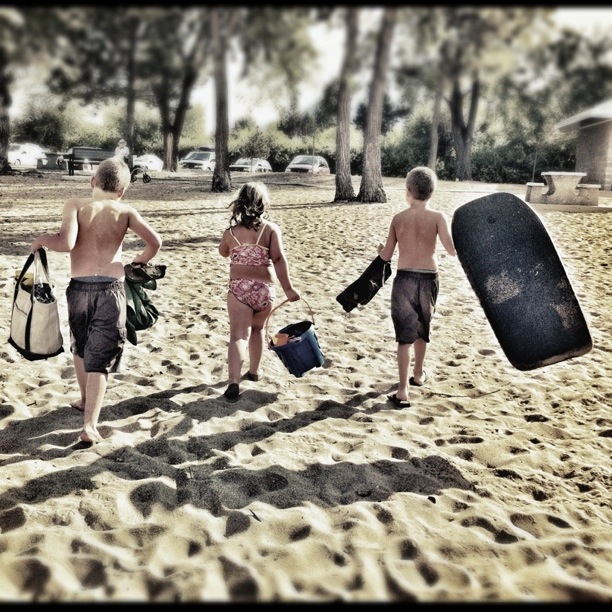 If you know me at all, then you know that I love Summer. And that I hate Winter. And that Fall isn't always my favorite because it is the gateway to hell Winter. As for Spring, well, it's all downhill to Summer from there, so Spring is pretty cool.
You might also know that I struggle with the seasons because I can often get that undercurrent of melancholy when the days are short (and grey) and my fingers turn white and I have to wear twenty layers of clothes in order to walk from the parking lot to my office. The first wave of it usually happens in August when I notice that the sun is sitting lower in the sky and that the mornings are cooler than they used to be. I bounced back from it, though, because the September weather has been phenomenal and the September return to school/ballet/etc. has kept me too busy to really dwell on it.
Speaking of the weather, we've had weather far warmer than most Septembers past. Family Camp was even more fun, thanks to the heat and we've been outside/at the beach a lot. This past Saturday saw temperatures in the 30's (Celsius)/in the high 80's (Fahrenheit), so I packed up the kids and headed to the beach. On September 24th!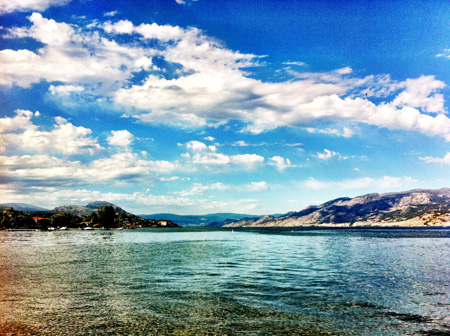 The weather forecast told us that the weather would turn on Sunday, and it did. It was still warm, but cloudy and windy. Monday saw dark storm clouds, rain, and cold, blustery winds. In years past, this would have sent me into a tailspin of sadness because SUMMER IS DEAD and WINTER IS COMING and I WILL NEVER SURVIVE. It would have included self-flagellation because I am an "upbeat" person and being moody is like I am LYING about WHO I AM.
Yesterday was more of a "Boy, I'd love to lay in bed reading but I have to work and then go to Boot Camp and I'll feel better when I exercise."
This is not to say that I don't have those melancholy moments, or that I don't expect them to happen again, but I've figured out a few things that help me to balance out.
Exercise. I know that a lot of people hate to exercise but I love to run and to jump and to kick. If you've ever met me then you know that I am a little bit high-energy and have a little (or a lot of) extra energy to burn. It hasn't cured my hand-talking (yet), but I keep hoping.
Vitamin D. I took this every day last year and I noticed a huge difference. I've replenished my stock for this winter.
Prayer. I know that many of you don't believe what I do, but talking to God about what I'm struggling with gives me an inner peace.
"Sunshine." I know that people recommend those lamps but I already get up at a really early hour to get the kids off to catch the school bus and get myself off to work. I would sneak in a tanning appointment once in awhile if I had time on my lunch hour. Don't judge me.
Real sunshine to look forward to. Last Winter, it was Disneyland (The big reveal video here). This year, we're hoping to join good friends of ours (our kids are good friends as well) in Hawaii. HAWAII. We've never been and I have always wanted to go and IT WOULD BE SO GREAT. Go, go, gadget crazy flight deals!
Skiing! Matthew and I took the kids to the local ski swap this past Sunday because we've decided to take up skiing as a family. I skied sporadically in my teens and twenties but Matthew has NEVER skied, nor have the kids. They are now all at an age where they can take lessons/join clubs and we're excited to do this together. We walked in not knowing where to start and were introduced to the guy who owns the Bike Barn. He's the same guy who owns the ski shop up at the ski hill. He took the time to size all of the kids' feet and find them boots and skis. He found skis for Matthew and I (New! One season old! And thus, cheaper!) and recommended that we buy new boots for ourselves as we'd be wearing them for years. He was such a great, great guy and if you're local, I recommend him and his company.
Throw in all of the canning and cooking I've been doing with our garden haul and afternoon family (and dog) walks we've started up now that we won't pass out from the heat and I think that I'm going to be OK.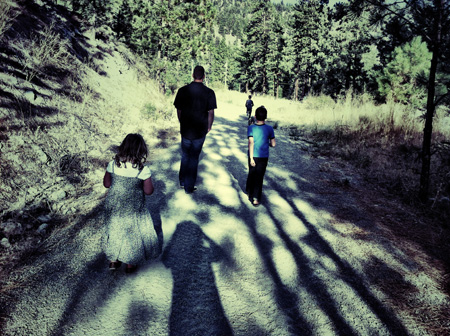 I know I will be.
comment via Facebook
comments