As some of you know, my sister-in-law (Hi, Jennifer!) and I decided to run a 10K together while visiting over Easter dinner. There was wine involved with dinner but libations aside, we are runners. We both run 5K when we run and thought we could easily pull off a 10K run. We could probably get away with it without even training! What's an extra 5K? LET'S DO THIS.
When they went home that night I thought that maybe I would train. I mean, why not finish in a decent time, without feeling like I was going to vomit out my lungs? I used the Couch to 5K app last fall to morph my boot camp stamina to a running routine and I found the Bridge to 10K app and downloaded it that very night. While I was doing so, Matthew asked if I still had the running book he had bought me ten years ago when we had first moved here and I had taken up running. I did, and I read up on everything from nutrition to training tips to making sure you had the right shoes. I went out that next week to a running store and got fitted for shoes that seriously make me feel like I'm running on air.
I started telling friends and family that I was going to run a 10K and was a little surprised by the "WOW" comments. I mean, I have friends who have run full marathons, which is 42K. 10K seemed so wimpy compared to 42K. And then I started training. This was no walk (Ha!) in the park. The App lengthens the running times between one-minute walking intervals and I would come back and tell Matthew my distance. I ran 7K! I ran 8K! I ran 9K!
Jennifer and I thought we should do a training run together and so a week ago Sunday she came out here with her big dog, I grabbed my big dog, and we ran down the trail. We soon found that we had the same stride and pace (SLOW) and "Slow and steady wins the race" became our mantra. She thought we should do 11K just to make sure that we could do it. AND WE DID. ELEVEN KILOMETERS. It didn't register how far that was until Matthew told me that it's 9K from here to the church. A ten-minute DRIVE away. Woah.
Saturday morning we hit the ActionFest parade with the kids and then we decided to drive the race route to see what it would look like. As we drove along the kids kept asking "And you'll STILL be running?" I had a good case of the butterflies all day (the run was at 6 p.m.) as the course has a lot of hills (it runs around the base of Giant's Head Mountain) and summer has arrived – it's HOT. I posted this:
I'll be running around the base of this bad boy, starting at 6 p.m.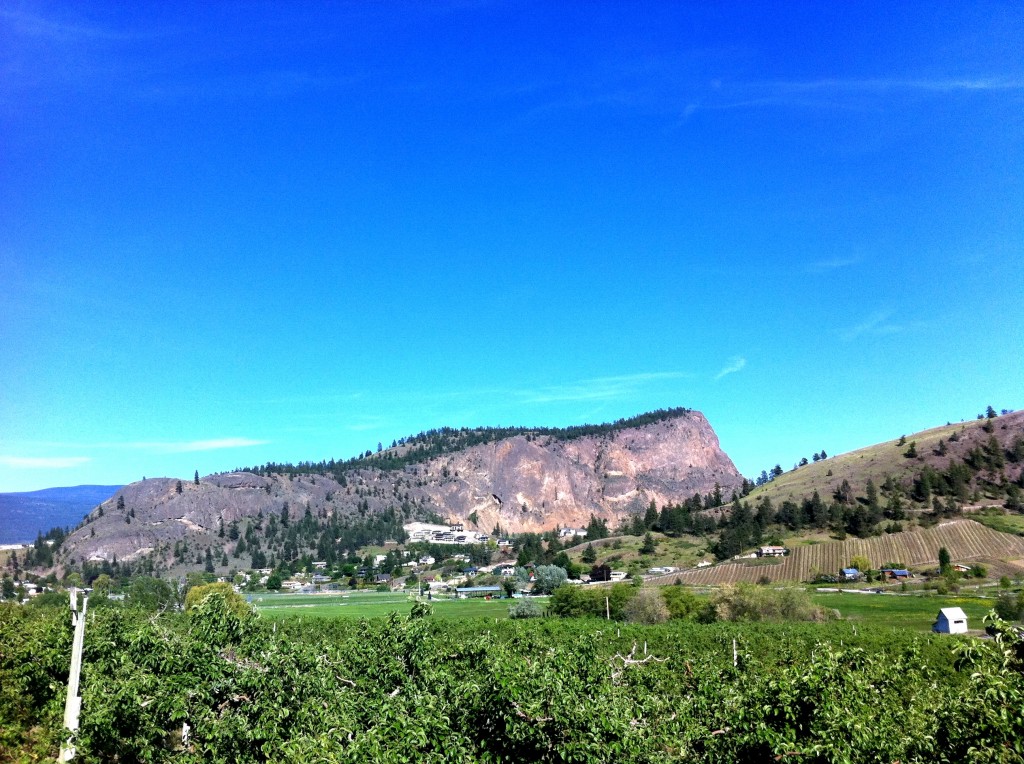 I had so much encouragement from a lot of you on Facebook/Twitter/Instagram and it helped. A LOT. Thank you.
(Side note: I had asked Matthew to take start and finish photos with the point-and-shoot, but he wanted to use my big camera (Canon 7D). We had a little refresher course before we left and my only request was that he not take photos of us running uphill. There's no need to document that.)
We went early for the warm-up and then it was time to line up for the race with the rest of the crowd.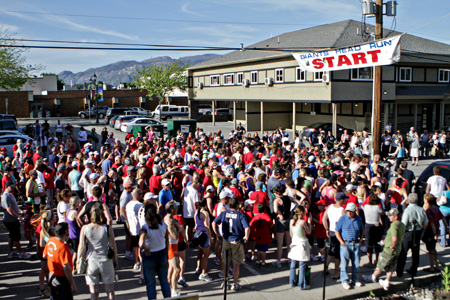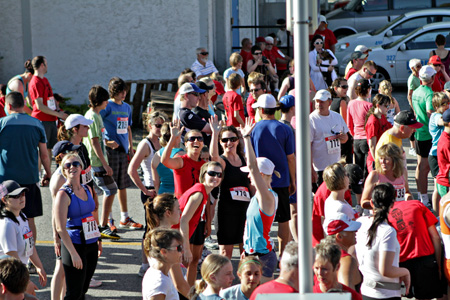 Jennifer and I ran with a friend that she's had since first grade. Ilea was a great running mate.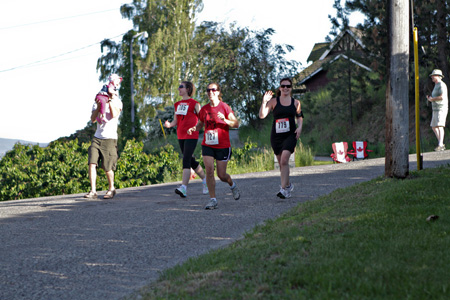 That's her husband and one-year-old baby girl, who met us halfway to encourage us. Photo taken by Matthew who, along with our kids, came to cheer us on as well. My three even ran with us for a few minutes and, dang, I need to get them into the running club at school.
Matthew and the kids surprised us by waiting for us at the 8K mark.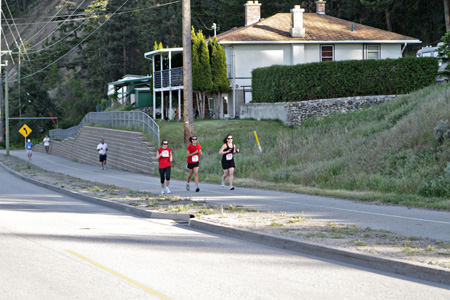 He blatantly ignored my request for no UPHILL running photos, but they were THERE and it was AWESOME.
Before we knew it, we were in the final stretch.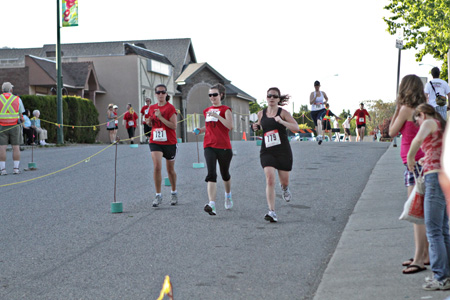 Yes, I ran in a running skort. My running capris would have been too hot and I don't have running shorts. I love the skort. Don't judge me.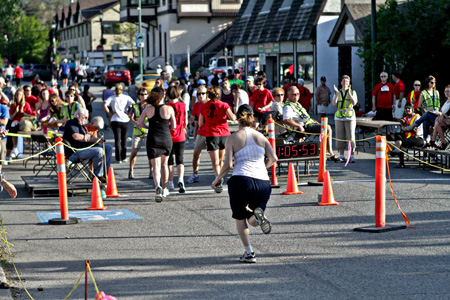 So, that was my time. 1:05. I didn't win any time awards, and didn't expect to. I am not a fast runner. But I did it. I didn't stop running once (Have you tried to drink a cup of water while running? It interferes with BREATHING) and I finished the course. As an added bonus, my step-mom read a study that said if someone my age can run a 10K in around an hour, the benefits to my heart twenty years from now are AMAZING. That's not a bad thing.
Thanks to Jennifer for spurning me on and encouraging me and for being a pretty rad sister-in-law and friend and Auntie.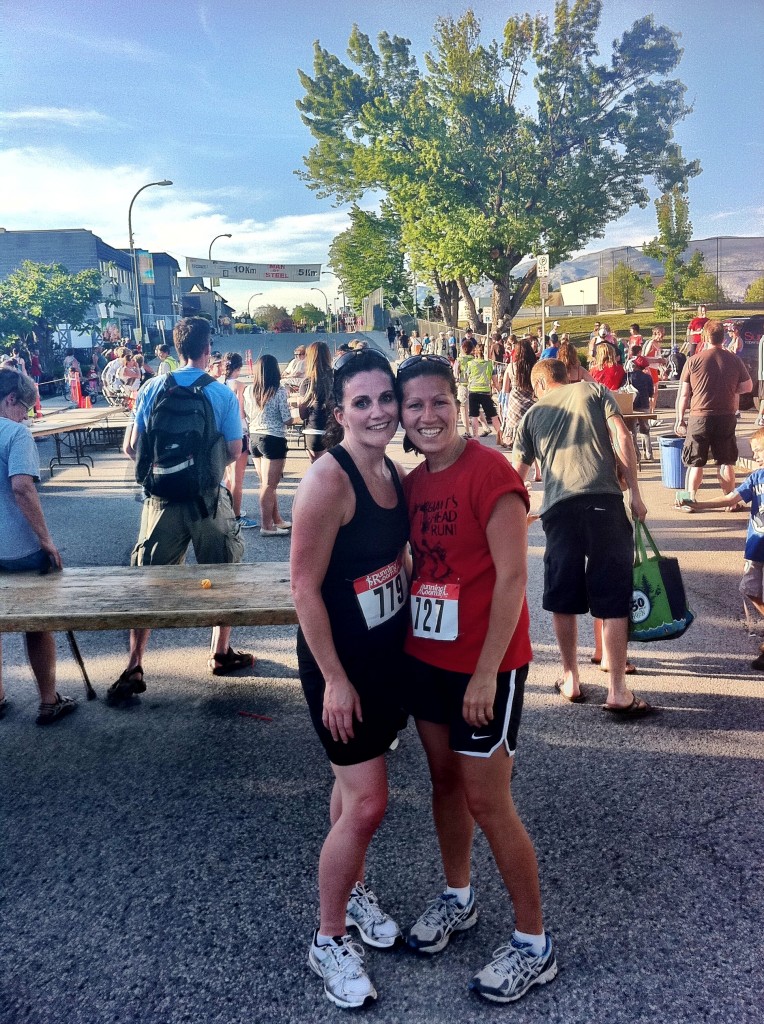 Here's to our next race!
comment via Facebook
comments