My Dad drove up Tuesday morning with my sister Courtney for a quick one-night visit. Dad and his wife Gail are retiring next summer and in preparation, they went and bought themselves a motor home. The original plan was to store it here until they retire, but a friend closer to their Vancouver location offered to keep it on his acreage, so our acreage wasn't needed. Dad still wanted to see this batch of his grandchildren, his wife told him to drive up on his days off anyway, my sister has the same days off as Dad, and so they came.
I am my father's daughter in a lot of ways. I make friends easily, I have a dry wit, I make groan-worthy puns, and I have the same dark, curly hair. I have the 'Moran build' (broad shoulders and hips, build muscle quickly), I laugh easily (and loudly), and I love to tell stories. That is the point on which my Dad and I have connected the most since I started writing my stories here seven years ago, I think. He is a tour bus driver and spends his days both telling stories and taking in new ones. He reads my site faithfully, and will often pick up the phone (or sometimes comment, ALL IN CAPS LOCK, because he doesn't know any other way) when something resonates with him.
When people ask me why I started blogging, I state the reason that I started in the first place, and why I continue to this day: To share photos and stories about me and my family, for those we love who are far away. Over the years, 'those we love' has grown to be more than just family and close friends, and is now a larger community of so many people who know and love us, both online and off.
While visiting with my Dad while he was here, it hit me that another reason that I tell our stories is because if I didn't, I wouldn't remember them.
He told stories of his Mom and Dad (my Grandma and Grandpa) and stories of his Grandma (Emily looks exactly like her). He also told random stories of different conversations and connections from forty years ago. FORTY YEARS AGO. I can't even remember that funny thing that Graham said yesterday, because I didn't write it down.
(I can also watch a movie fifty times (See: The Avengers) and not be able to remember a single quote. Well, except for the one that Matthew keeps quoting because he loves it so.)
(You people are so PETTY. And TINY. ~ THOR)
Speaking of petty, and tiny, while watching The Avengers with Courtney after the kids went to bed, I received the following comment on a post:
I can't follow you anymore.  I just can't.  I could write your posts.  I'm sad, I'm happy, winter sucks, skiing is great, my kids are awesome, blah, blah.  It's been a good run.  Good luck.
I literally laughed out loud. I was getting lambasted for … writing about my life? Like I've done for seven years? And because my kids are awesome?
The thing is, my kids are awesome. They are so awesome that I want to document their awesomeness because they need to hear it. Who doesn't want to hear about their good qualities and the good times? I don't have my dad's ability to dig into his cognitive vault and tell stories from my childhood that I had forgotten about. I am so glad that the kids and I can scroll through old posts and laugh and smile and say, Oh! Remember when we did that?
It may be boring, and it may not interest you, and maybe you could write the exact same stories. I honestly don't care. I do this for me, because if I didn't force myself to sit here a few days a week to document our memories, they would fade away. I also do this for them.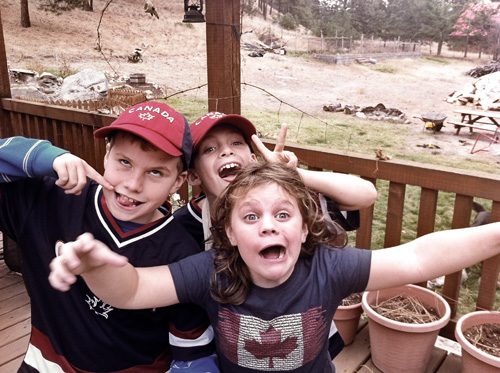 Because they are not only awesome, they rule the Universe.
comment via Facebook
comments