This past Saturday, I rolled into work at seven in the a.m. as I am wont to do. I plowed through the files on my desk, shared a work-sponsored lunch with co-workers that started out in eerie silence and ended with an entire vat of TMI, then powered off my computer in the early afternoon so that I could meet my family for a joint haircut (And color, for me) excursion.
It was the last Saturday that I will be required to work until next year. (Almost everyone else will be working next weekend but I am headed to Vancouver, so. It was my last Saturday.)
This is a cause for celebration, yes, but also a cause for reflection. I seem to be in a perpetual cycle of MY WORK IS INSANELY BUSY and SOON IT WILL ALL BE OK followed by I HAD FIVE SECONDS OF REST AND NOW I AM RIDICULOUSLY BUSY AGAIN. Thanks, folks. I'll be playing this gig on repeat FOR THE REST OF MY LIFE.
This cycle is set to start yet again. My office hours are being cut back to normal so I've taken on some extra freelance work. I KNOW. I mean, it won't take as many hours and it's stuff that I'm (gag) passionate about and it doesn't feel like work at all and it's part of my Grand Master Plan…but still. It's also part of the vicious cycle that I always find/put myself in.
I've been analyzing this all in true Angella style and I know that it all stems from my Type A personality and such, but I think that there's more to it. There's the need to do it and do it well, yes. There's the desire to provide for my family (and myself). There's that whole Grand Master Plan…
Sometimes I am honest with myself and admit that maybe I take on so much because I'm afraid of failing. There are Things I Want To Do that are part of my Grand Master Plan but they fall outside of my training and experience. If I make the time to pursue them, and fail, then what? Then I'm a failure, that's what. So I take little steps in the general direction of where I want to go, hesitating with every movement. I fill my time with things that are great and fine and fun and that allow me to use them as an excuse to not risk failing. I fail often enough to know that I don't like it.
I'm also being honest with myself and admitting that this is nothing new. I analyze myself, I talk about it and I change nothing. (OK fine, I change some things, but not enough for my liking.) I'd like to say that this time will be different, but I don't know that it will. I'm not sure what it's going to take for me to stop being a pansy but I hope it's something inspiring rather than devastating. Or maybe I just need to remind myself of all that I have done in order to encourage myself to get of my duff and just do it already.
*Takes a time out from writing this to send an email that both frightened me and exhilarated me. DEEP BREATH.*
Lest you think that I spend all of my free time bouncing around my own head and navel gazing, I should tell you that I did far more than that on this fair weekend. I knew that going from working full-time as a self-employed person to full-time as an employee would be a good change around here. When I'm done at the office, I walk away and don't think about it until I return. Yes, there is the freelance stuff, but I fit that in on lunch hours/when the kids are in bed. When I'm away from the office I am fully engaged in life at home. It's about damn time.
Saturday afternoon consisted of the above-mentioned haircuts, then dinner out as a family. We pretty much never eat out, so this was a treat. We came home to have our regular dance party, followed by a wrestle-fest, then tickle-a-thon and then bed. Sweet, sweet BED.
Sunday's weather was GLORIOUS. We came home after church, scarfed down lunch, then spent the remainder of the afternoon playing street hockey (I beat Nathan! Yes, he's five, but he has more athleticism in his pinky than I have in my entire body), we (Matthew) planted potatoes in the garden, we (Emily and I) sat on lawn chairs and read books while sitting in the sun. I decided to give Matthew a break from all of the parenting he does, and to give the kids a treat for all of the awesomeness they exude, and took them out for milkshakes.
I also attempted to take a quick photo of the kids with their new 'dos. This is the best that the dudes could muster.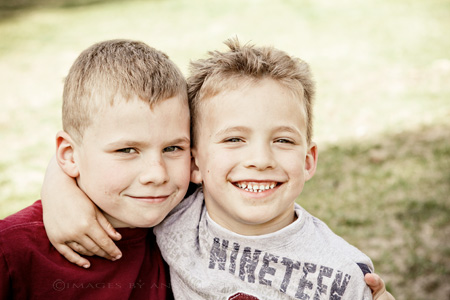 Oh, Graham.
Emily wasn't up for a photo, but I caught her when she snuck up onto the couch for a nap.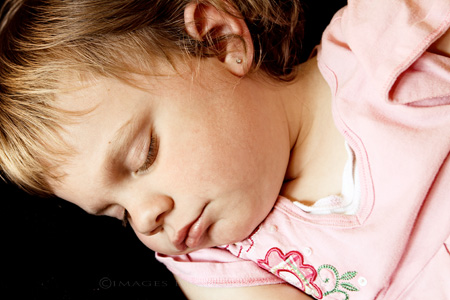 Widow's peak, be gone!
While I think that analyzing myself is fine and good and needed, I also know that the rest of the time I just need to enjoy the here and now. It's all about balancing yourself somewhere in the middle and so far, I'm still standing upright.
comment via Facebook
comments