It is now September.
While the calendar tells me that it is still summer, the feeling of the atmosphere outside has turned.
The sun is lower in the sky. The air is crisper.  The scent of autumn is starting to waft through our home.
The past weekend was the Labour Day weekend.  It is a completely appropriate name as we spent much of the weekend labouring.  Matthew worked on building a fence, I worked on cleaning and organizing our home.
While sorting clothes and scrubbing toilets I got a little misty.  The urine streaks were enough to draw tears, but that was not the entire picture.  I pondered as to what it was that made me so emotional.
Part of it is that I do not do well with change.  Change is good, yes, but it always causes issues for me.  Whether the change is good or bad I consistently have a hard time with it all.  I get a little angry, a little weepy, a little out of sorts.  All it usually takes is a good cry and I can move forward.
Why the drama over the seasons?  They are completely and utterly out of my hand.  Nothing I say or do will cause them to stop, to stay, to reverse themselves.
I think that I go through a small period of mourning.
Summer, in all of her glory, is fading. Fast.  She is facing her twilight and is on the door of her demise.  Autumn is a baby in the belly of Nature.  She is in her fortieth week of pregnancy. She is ready to birth, ready to arrive, ready to begin.  She just needs for Summer to breathe her last so that she can spring forth with leaves of gold, crisps of apples, mugs of cocoa.
Summer is holding on.  She is not ready to let go quite yet.  She gives you afternoons of sunshine and of warmth.  She gives you glimpses of all of the splendor and glory she bathed you in only a few short weeks ago.
It is not the same.  You know it is diminishing and you need to brace yourself for her end.
This season's change coincides with the fact that Graham, my oldest child, started Grade One this week.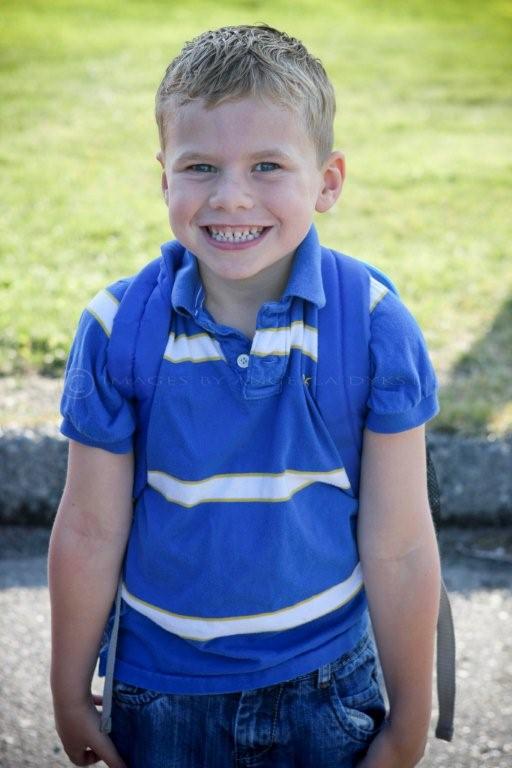 He will be in school full time.  He will spend thirty hours a week at school.  Away from home. Away from his brother and sister. Away from me.
I have made jokes all summer about how I have been waiting for this day.  Thirty hours of kid-free time.  Was there some way I could send the younger two as well?  That would be awesome.
Now that the day is here, however, my feelings are a mixed bag.  I want him to go.  I do. He is a social creature who loves to learn, who loves his friends, who loves his school.  He has been looking forward to the start of this school year ever since he finished Kindergarten in June.
Part of me is sad for all that I will miss.  That he will miss.
I will not know every minute detail if his day.  Of the words that are said, the games that are played, the memories that are made.
He will not be party to all of my outings. Of trips to run errands, of play dates with friends, of memories that are made.
This little man who once lived in my womb is no longer attached to my physically. He grows taller, bigger, smarter.  He runs faster, thinks quicker, loves more deeply.
The cord was cut almost six years ago, but the bond will never be broken.
Ever.
comment via Facebook
comments