A few weeks ago my friend Kami posted photos of herself in a bikini. I have known Kami for years (She is a work colleague in addition to being a friend) and she she has always been petite. Now she is also ROCK SOLID.
The next week Linda posted photos of herself in a bikini over at Bodies in Motivation (I would kill for her thighs.  Well, not her thighs, but for mine to look like hers do.)
That same week Catherine from Her Bad Mother posted photos of her belly, and shared her thoughts on it.
(Are you sensing a theme here? And yet I still had no desire to bare my belly.)
Then my friend Loralee did post showing her belly. Loralee had her gall bladder removed and also had gastric bypass surgery. She has a scar that runs from her belly button North. Looking at her belly made me sit back and blink. For I, too, have a large scar on my stomach that looks much like hers.  We messaged back and forth that night and she encouraged me to tell my story.
So. Here I am.
What I am about to tell you is what I remember from the stories that my mother and my father have told me.
When I was a newborn baby and but a few days old I was vomiting. A lot. It was vomiting of the projectile variety and it apparently flung six feet out of my wee baby mouth. My parents went to see their family doctor where the nurse told them I "had the flu" and just needed "a little brandy." The Seventies were SO AWESOME.
At three weeks of age I was laying on the floor at my Nana and Papa's house. My belly was distended and rock-hard. I was spewing milk across the room. I was listless and my Papa told my parents to get me to the ER, and to make it quick. My parents brought me in and I was admitted immediately. My parents were sent home (as was the custom back then) and told to return the next morning.
My mother arrived at the hospital in the morning, walked into my room and…I was not there. The bed was made and there was no sign of her baby. She didn't know what to think. I talked to her this past weekend and as she told me this we both burst into tears. I simply cannot imagine what emotions must have washed over her at that moment.
The doctors knew that what I had was more than the flu and had rushed me to a bigger hospital and into surgery. I had a condition called pyloric stenosis. The doctors told my parents that if they had not performed surgery that very night, I would have died. It was that close. If my Mom and Dad had not listened to my Papa I would not be sitting here typing these words right now.
(I cannot help but cry as I type those words. For if I had not made it there would be no Graham, Nathan, Emily…)
The incision from the surgery starts at my belly button and runs four inches North. If you put this into the context of a three-week-old baby, my entire belly was sliced open. While I had always thought this was a little scary, now that I have children of my own I have cannot imagine the fear that my parents must have dealt with. If I even try to fathom it I am a mess of tears and snot.
I survived the surgery (obviously) and had no complications. All I was left with was a scar that starts at my belly button and runs North for four inches.
The scar is something that always bothered me. It started at my belly button and looked like a deep crevasse on the landscape of my belly. If I wore a fitted shirt you could see the dent. Some people mistook it for me being "cut" but that was so not the case. I was a good thirty to forty pounds heavier than I am now.
In my early twenties I was single and living in Vancouver. I would often gripe to my roommate Jasmine about how much I disliked the scar.  I was too uncomfortable in my chubby body to wear a bikini so it was not as though anybody was going to see it.  While I was thankful for the reminder that I was alive, I was horribly self-conscious about the look of the scar. One day she turned to me and stated matter-of-factly, "If it bothers you so much, get it fixed."
So I did.  My doctor referred me to a plastic surgeon who basically took both sides of the valley that was my scar and sewed them together. Four hundred dollars later I was a woman who still had a scar, but it was so much better than it had been. I don't regret it at all, though saying the words, "I had plastic surgery" still sounds weird to me.
Without further adieu, my belly.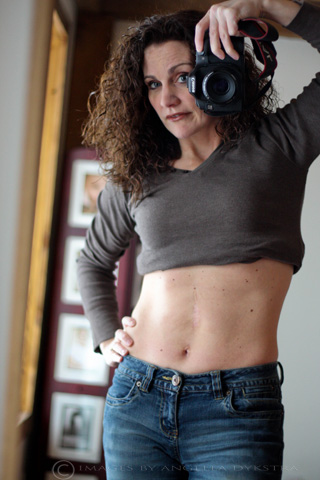 (I thought of wearing my bikini top but that much exposure to my pasty winter skin would have most definitely blinded you.)
It could probably be more toned, like others' bellies are.  However. I work out every day as it is.  Boot Camp twice a week and the 30 Day Shred/Wii Fit the other five days (After five months straight of Jillian I am a little tired of her; home workout DVD recommendations would be swell).  I could cut out the Friday Night "eat-whatever-I-want-with-no-guilt" dinners or the hourly daily occasional glass of wine/cocktail, but THAT WOULD BE NO FUN.  I also know that the scar will prevent me from ever having a six-pack no matter how hard I work at it.  Here is where I confess that I am pretty content with the state of my belly (My thighs, however, are a whole 'nother story).
My belly has been stretched to its limit with three different babies and left me nary a stretch mark (If only my ta-tas could say the same thing). While I can sometimes obsess over the extra little pouches on the side, I am not willing to sacrifice my minor indulgences to get rid of them. It's all about balance, you know?
So.  How about you? Care to join the Belly Brigade?
* I am kind of liking the double entendre of the title.
comment via Facebook
comments