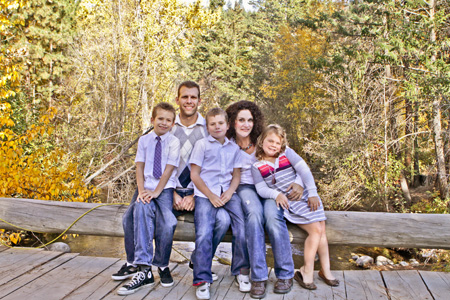 Before we even started trying to get pregnant and have kids, Matthew and I would discuss the names that we wanted for our future children. If our first child was a boy, I wanted to name him Graham. My Step Mom was instrumental in my decision to become a Christian, her maiden name was Graham, and if I had not made that decision I would not be married to Matthew, so. It seemed perfect. He agreed.
If our first child was a girl, she would be named Naomi. We like traditional names and Naomi is both traditional and pretty, in our opinions.
As for that first child's middle name, I share a middle name with my Mom and thought that I would share my middle name with my first daughter, should the opportunity arise. I suggested that our firstborn son share Matthew's middle name, in keeping with that theme. He thought it was a great idea.
While waiting to see who came forth from our first full-term pregnancy, we would wither be meeting a Graham Jonathon or a Naomi Dian.
We met Graham Jonathon on December 29th, 2002.
During our second pregnancy, we struggled with boys' names until the very end. We had our girl's name lined up, but what were we going to call this baby should it be a boy? I suggested that the middle name be Matthew, so that if there were two boys, each boy would have one of his Dad's names. Matthew's response was a teary, "Really?" Yes, really. It was mere days before we had our next baby that we decided on a first name for a boy. We really liked Nathaniel but we (didn't know if it was too long of a name, and) hate shortened names. We settled on Nathan.
Nathan Matthew was born on August 25th, 2004.
We had two babies, twenty months apart, and wondered if we might be done. Two kids so wee, with all of the feedings and diapers and naps and all of the insanity made us think that our first vision of Three Kids might be ridiculous. We knew it was not the time to take drastic actions and when Sir Nathan was around a year old I said that I thought that I might want to have one more baby. Just one more, boy or girl.
Matthew had been feeling the same way and so we embarked on a third pregnancy.
We were back in the names discussion and decided that Naomi was off the table for a girl; it sounded too close to Nathan. (I still mourn the loss of the name. I love it so.) What first name would we use if we should have a girl? We loved Emily but it was the number one name in our province which meant…nothing. We loved it and we would use it. Amen.
As for the name if we were to have a third boy, our discussions/debates were never ending. Matthew's siblings kept having boys, too, which meant that traditional names that we loved were being knocked out of the running. At the eleventh hour we decided that if this baby were a boy, he would be named David Christopher.
Emily Dian was born on October 11th, 2006.
Names are important to me; this is obvious. I do not like to shorten names, except in certain circumstances. Graham is Graham. Nathan is Nathan. Emily is Emily. Matthew is Matthew (except at the church, where he is Mr. Matt). My name is Angella, Ange if you are a friend of mine, Angie if you have a death wish.
While thinking about this yesterday, I came to a startling realization. I know where my middle name comes from but I have no idea why my name has two L's. I love it, it is me and it is the perfect fit. I cannot imagine going by any other name. I now need to find out how my name came to be.
comment via Facebook
comments