Two weeks ago, I stopped to check the mail and there was a key to one of the drop boxes. I wasn't expecting any packages, so opened the drop box and found a pleasant surprise. A new book! From Ruth Lepp! Her husband is an author and you might remember these books he sent us a few years ago. Those books are still in our weekly rotation, four years later.
Royden has written a new book, in a totally different genre. Ruth thought that my kids might like it, so she sent along a copy for us to read and keep.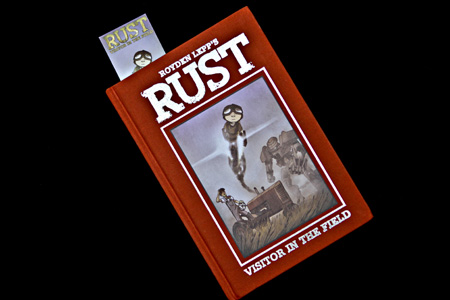 It just so happened that I had planned to park near the school to read for a bit before school let out, and I consumed Rust in less that thirty minutes. It is written in comic strip form, and there are a lot of graphics.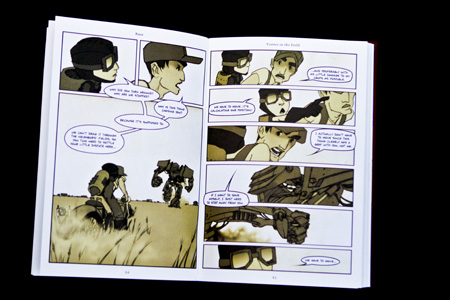 I seriously cannot wait for the next book, which comes out this fall.
My boys cannot wait, either. Graham chose Rust as his book to read when he went to bed the same night we got it, and finished it before lights out. Nathan finished it the next day and loves it just as much. Emily isn't usually into robots (unless they are Transformers), but I read it to her and she loved it too. Ruth had also included this lovely painting of a ballerina for Emily because (Ruth is so thoughtful, and) she wasn't sure if Rust would appeal to girls.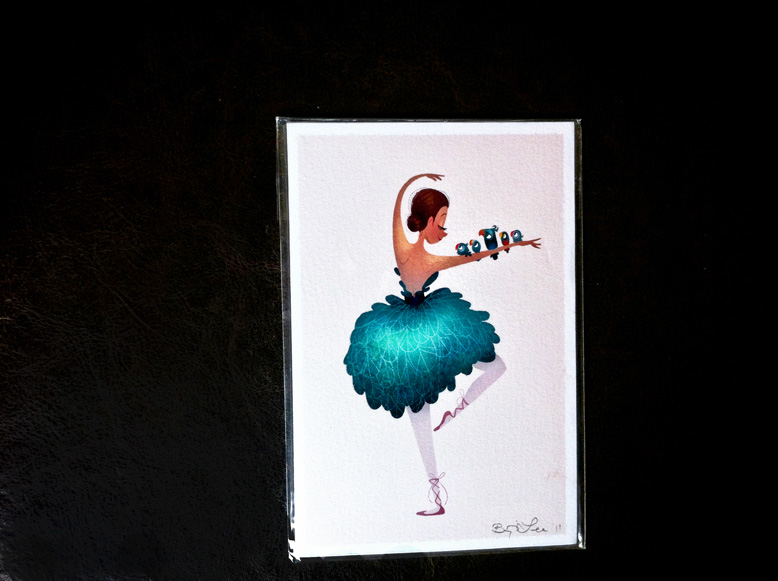 It was made by a friend of theirs who is an animator for Disney, which means that Emily has it framed and placed up front and center on her dresser. Because, DISNEY ANIMATOR.
There is talk of the book being made into a movie, and they've even met Stan Lee. (Of Spiderman fame!) Nothing is official or even happening, but they got to meet STAN LEE.
I asked Ruth for some links, and she was do great to provide some:
Here's a link to some more stuff about Brittney Lee the Disney girl.
http://strictlypaper.com/blog/2011/02/the-little-mermaid-a-layered-paper-illustration-by-brittney-lee/
You can find her stuff on etsy too.  So cute!
Press release:
http://www.slashfilm.com/fox-buys-graphic-rust-adventure-story-jet-pack/
http://www.facebook.com/roydenlepprust
Rust: Visitor in the Field is the first of a four book series published by Archaia.  It is available at bookstores EVERYWHERE.  So your local bookstore should be able to order it in as should your local comic shop.  It is also available on amazon.ca and amazon.com:
http://www.amazon.ca/s/ref=nb_sb_noss_1?url=search-alias%3Daps&field-keywords=royden+lepp&x=0&y=0
Interviews:
http://rationsmag.com/2012/03/05/q-and-a-with-royden-lepp-creator-of-rust/
http://blog.vfs.com/2011/10/04/royden-lepp-travels-from-animation-to-games-to-comics-to-film/
Video interview:
http://www.youtube.com/watch?v=BgzgH0mT7P4&feature=relmfu
You guys know me, and know that I rarely do sponsored content. This isn't even sponsored content; it's just a book sent to me by a long-time reader. We all loved it and I'd love to give away the second copy of the book that she sent me.
Shipping's on my dime, which means that it's open to every single one of you. If you want a copy, simply leave a comment.
And if you don't win, buy it. It's that good.
Good luck!
(I'll pick the winner next week sometime. Summer holidays, etc.)
comment via Facebook
comments