I still remember the very first time we came to look at the house we now live in. It was in the week between Christmas and New Year's, 2000, while we were up here spending the holidays with Matthew's family. We knew that we wanted to move here the following spring and would look at the real estate boards every time we came to town. The poster for our house intrigued us and we went inside to ask the Realtor and when she told us the area it was in, an entire ten minutes out of town, we hesitated. We then said we might as well go look and we hopped in the Realtor's SUV and I remember driving up the driveway and thinking, "I could live here." We had the tour, saw the potential, talked to our bank, bumped the people with "subject to sale of their house" clauses (one of the tensest 24-hour periods OF MY LIFE)(childbirth not included) and three months later we were handed the keys to our new home.
We've done a lot of work on our place in the ten years that we've been here. It's about 90% where we'd like it to be, and that other ten percent will likely not happen until the next decade of home ownership is done, but that's really OK. I may give my husband a hard time about the fact that we are sleeping on a mattress on the floor (and have been for over FOUR YEARS NOW) but he likes to build things and he always blows me away with what he creates, so I will wait. Impatiently, yes, but I will wait.
The thing about our home that is far greater than all of the handiwork and the craftsmanship and the warmth of it is our access to the outdoors. We have an acreage that backs onto Crown (government)(though I could pretend we're close to the Royals) land and you could stand on my deck and sing, "Wide Open Spaces" and none of our neighbors would hear you. Well, unless you shriek – that sound carries down the valley.
We have a huge garden and flowerbeds galore and chickens (More arrive next week!) and a tree fort and a sand box and a swing set and a basketball hoop and hockey nets and bikes and ATV's and a sledding hill in the winter and, oh. My kids spend HOURS outside and whenever friends or family come over with their kids, said kids cry that they have to leave and ask if they can sleep over. It's a little piece of Heaven and we know it. So do those who come to visit.
As if our place alone weren't enough to make us feel spoiled, living ten minutes out of town affords us other benefits. We are a five-minute walk to the Trans-Canada trail, which runs along a creek. We go down there on family walks and Matthew and I take the dog for runs along it. The kids love to throw rocks in the water and pluck wildflowers and whatnot. We really do live in the sticks.
This past Sunday afternoon Matthew asked if I was up for a bit of an adventure. Did I want to load the kids and the dog in the truck and take an old logging road/current ATV trail to a place further down the trail? OF COURSE I did. It was a beautiful day and it was a perfect time to go exploring and have some family time.
Ten or so minutes later, we were driving down a narrow ATV trail.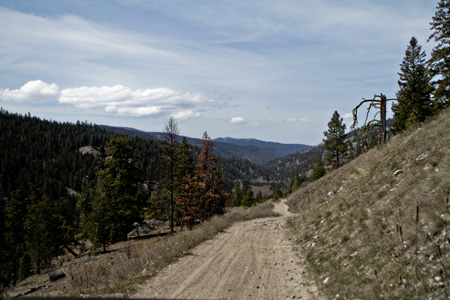 You can be thankful that I didn't take a shot to the left: mountainside, steep drop-off, deep ravine, etc. It was rocky and slow going but we had some great conversations and shared some of the kids' Easter candy that we brought along and before we knew it, we were at the bottom.
We were back on the Trans-Canada trail, along the same creek, with a few Provincial campsites in view. We walked to the creek so the dogs could get some water and the boys could master their creek-jumping skills.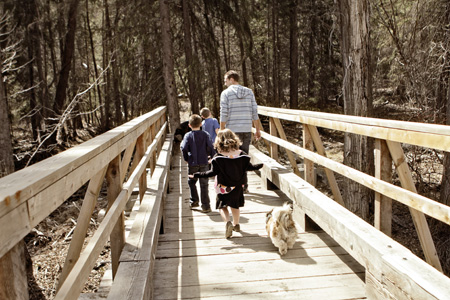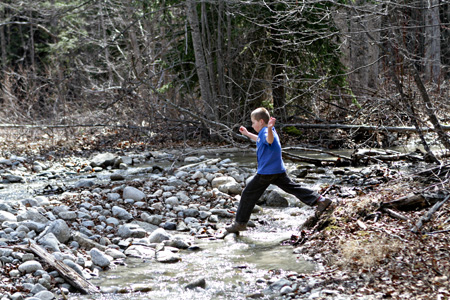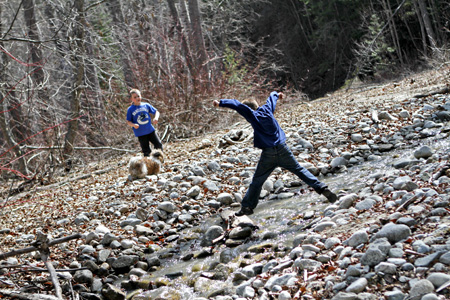 We went a bit inland to the campground that has been set up over the years with plank walkways across the creek and a campfire-fueled hot tub and an outhouse and the kids opened doors and snooped around and asked questions and were just kids, you know?
Graham really wanted to go to his "favorite place" and so we made our way back to where we had parked and took the path back the way we had driven down. There are two concrete foundations, from a sawmill that existed there in the 1940's and we answered questions about what a sawmill was and what they did and how they moved the wood (train, which used to run where the trail now exists) and why the mill and the train no longer existed. Zombies, man. They ruin EVERYTHING. (I kid!)
So, yeah. It was one of the days where nothing had to be done and we just got to hang out and the sun was shining and everyone was on a sugar high happy and we just played out outside as we like to do.
As we were walking back to the truck, the kids were running ahead and Matthew grabbed my hand.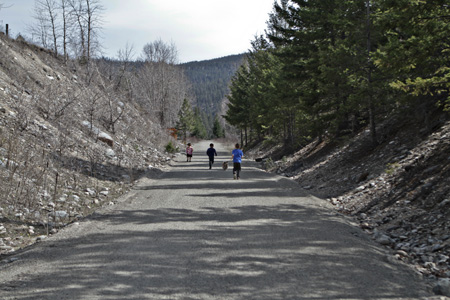 Didn't we just meet? I mean, I'm pretty sure it was just last week that I invited you over for lasagna and we planned our next few dates. How did we get here?
I don't know. I mean, I do…but I don't. I only know that I wouldn't have it any other way. This is where we are supposed to be.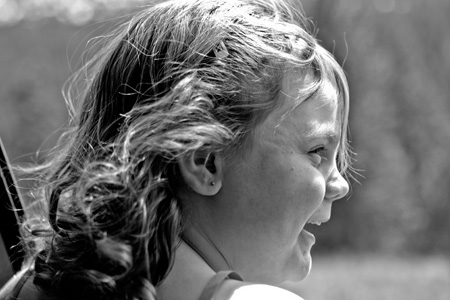 comment via Facebook
comments