As I mentioned in my last post, I signed up for another 10K this past Sunday. I ran my very first 10K race last year with my sister-in-law Jennifer (who is my running partner on Tuesdays and Thursdays) and I was so happy that I finished without having to crawl across the finish line. This year, I wanted to beat that time (1:05) in that exact same race and set out to do exactly that.
Jen had a back injury, and I was nervous to run the course by myself, but I had Matthew and Emily (and half of Summerland) cheering me on. Despite that blasted infected ankle, I managed to meet my goal and beat my previous personal record. I came in at 1:03, two minutes faster than last year's race. True story.
I do not push myself unless I sign up for races and continue to train, so I signed up for another 10K on July 1st. I was nervous, again, because it was a new course to me, and because my family couldn't be there to cheer me on. Thankfully, my friend Kim signed up and helped me reach my goal of cracking the one-hour mark. I completed that course in 59:08, which ended up being tenth place in my age bracket. YES. (When I told Matthew, he asked "But tenth out of how many women?" Sometimes he's not so good with the ladies.)
This Sunday's race saw me more nervous than I've ever been before. Matthew had to be at work at the church, so the kids were with him too. I had no running partner as it was Thanksgiving weekend and people I knew couldn't make it. I had a bit of a meltdown the night before.
Why am I even DOING this? What's the point? I shouldn't have signed up.
Matthew (is an active guy himself, and) reminded me that I had trained for this. He told me that I could do it, and that I would do it, and I would be so happy that I did.
I woke up at 6 a.m. on Sunday, ate breakfast, packed water and snacks, and was out the door by 6:30. I spent the hour-long drive listening to loud music and watching the sun rise. I found parking not too far from the race area and made my way over. There was a chill in the air, but this sunny weather has been so amazing that I knew it would be perfect running weather. I spent about fifteen minutes cheering on the marathon racers as they wound around the park and then joined the crowd who was waiting for the 10K to start. The announcer pointed out the 'race bunnies' and suggested that we get behind the time we were aiming for. I wanted to crack (my personal best, and) an hour, so I got behind the '1:00 bunny.'
I knew that I wanted to be in front of her, and once we got out of the gate and the crowd thinned, I started making strides to do just that. I have been re-reading the race chapters in the running book Matthew bought me when I first started running eleven years ago and it said that if you're running solo, to find someone to use as your own 'pace bunny.' There were two girls with the same build and height as me (And were brunettes, even!) and who had a quicker pace that I wanted to do. I ran behind them for the first 3 km or so, and then one took off and one dropped back. I kept up the pace and at about the 5K mark there was a woman who was taller than me, but who had a pace I wanted to keep. I passed her, she passed me, and then we ran at the same pace until about the 9K mark.
I was feeling a bit winded (and nervous!) and slowed my pace a bit. I knew that I would beat my last time, but if I even thought about that, I would get butterflies in my stomach. Instead, I focused on the fact that I was still ahead of the 1:00 pace bunny, and breaking the hour mark would be an accomplishment in and of itself. And then, I was in the final chute and booked it down the home stretch. I heard a family from our church cheering my name (they were there to root for other family members of theirs) and it made me run even harder. I crossed the finish line, hit the Stop button on my RunKeeper app, accepted the completion medal and completely teared up.
It took me a few moments to stop the app, but even with the delay, I had a new personal record. 58:02.
My eyes scanned the crowd for a friendly face whom I could ask to take my photo for me. I saw the tall woman I had run with, tapped her on the shoulder, and thanked her. I told her that I had paced myself with her and she laughed. She had been pacing herself with me. I love it. She took my photo and I fired it into the ether with this caption:
I ran 10K in 58:02! A new PR! More than a minute faster than my last PR! Now I'm going home to cook Thanksgiving dinner! And eat ALL THE THINGS. #BMO10K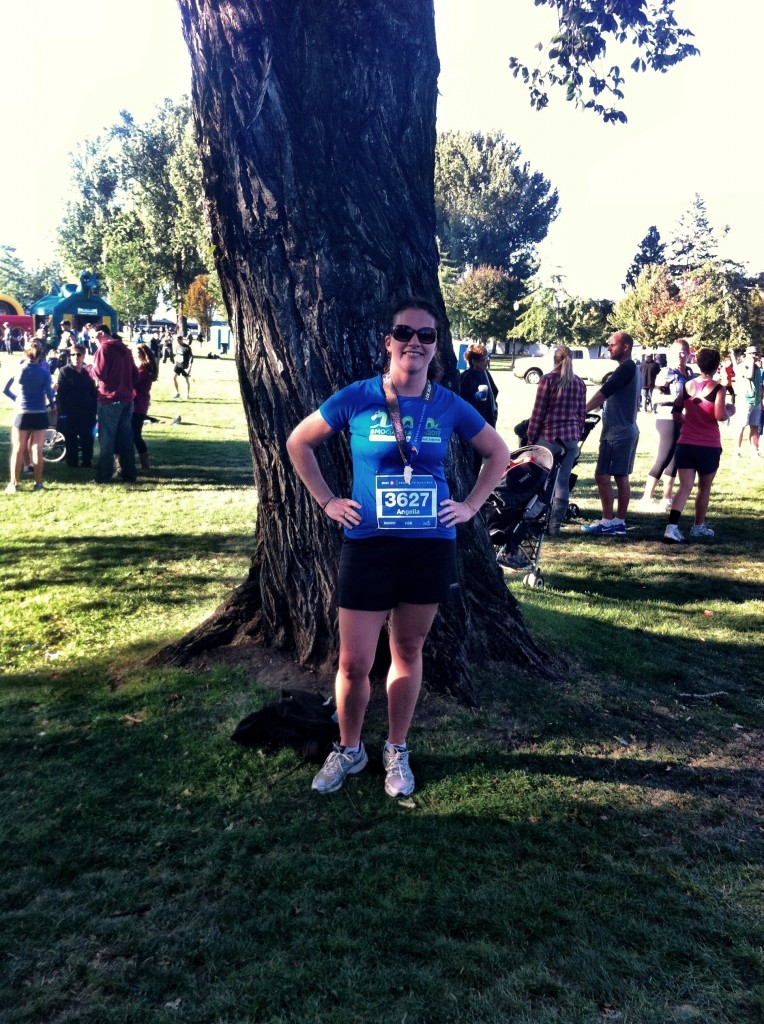 (Totally unflattering photo, but whatever. I had just finished running 10K and the nice lady who took it for me didn't need to take fifty photos of me so that I could master my pose.)
We hosted a great Thanksgiving dinner with family and friends, had our first hot tub soak of the season, and then I crawled into bed and slept harder than I have in a long time.
Sunday saw me (limping and wincing, and)(You need to watch this clip) taking it easy. Matthew and the kids and I drove down a forest road to the ski hill. It was so weird to see the runs without any snow on them.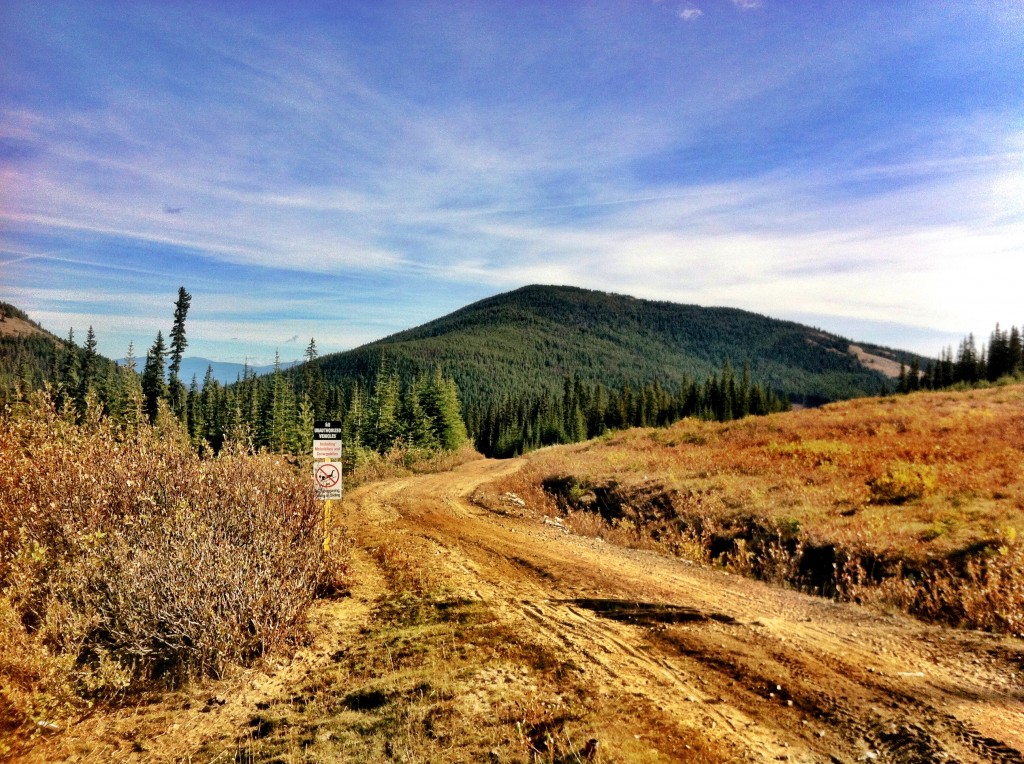 I started working on this post, and thought I should check my official chip time.
57.55. FIFTY-SEVEN FIFTY-FIVE.
(My family can verify that I did the most awkward/hilarious victory dance EVER.)
comment via Facebook
comments