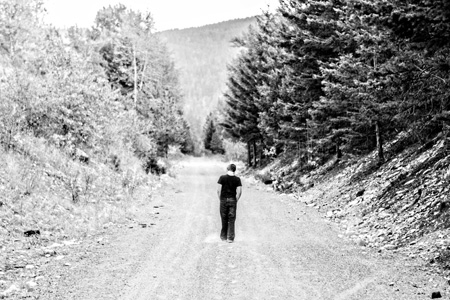 I took the above photo this past weekend, when the five of us (and our two dogs) crammed into the 4Runner to drive fifteen minutes up the (gravel) highway in order to make a left and wind down a narrow logging road. At the bottom of the road is yet another section of the Trans Canada Trail, with a trail head poster board and an abandoned campsite and a creek that has abandoned its former creek bed since we've been there last, in favor of winding down a new route that used to be a hiking trail. Nature is fascinating.
Graham is also fascinating to me, and the moment I snapped that photo my spirit sighed because I captured him. Not all of him, no, but the part of him that has been niggling at me. He and I are wired so similarly on so many levels. We're both the eldest child, we both love to read and to write, and we both like to do word and math puzzles for fun. We both like to talk A LOT, but we also both like to retreat into our heads and explore our imaginations for hours on end.
I know that's what he's doing above — in addition to being pre-pre-teen angsty — but I feel like we're turning a corner and I'm not sure if I know how to relate to him as his Mom. I totally get him on the 'you are wired EXACTLY LIKE ME' level, but I never had a Mom who 'got' me, so I'm not sure if I'm doing it right. In the meantime, I simply tell him that I get it, that I was the same as him when I was his age, and that sometimes he's a weenis and need to have a better attitude.
He really is such an amazing human being. He hangs out with kids who are new to school, or are feeling left out. He finds such JOY in so many little things. He loves to entertain toddlers who belong to my friends and make them laugh. He's been learning how to cook because he wants to, he's been learning how to clean up because he has to. He doesn't need as much sleep as he used to. He loves to be a part of adult conversations, to the point where we have to shoo him away. He starts every conversation with 'Can I tell you something?'
He needs a lot of down time — more than I do, even — and I respect that. I just don't want him to shut me out completely. I don't know that he will, but I know that we'll definitely have moments where he walks his own road, while kicking up the dirt.
comment via Facebook
comments