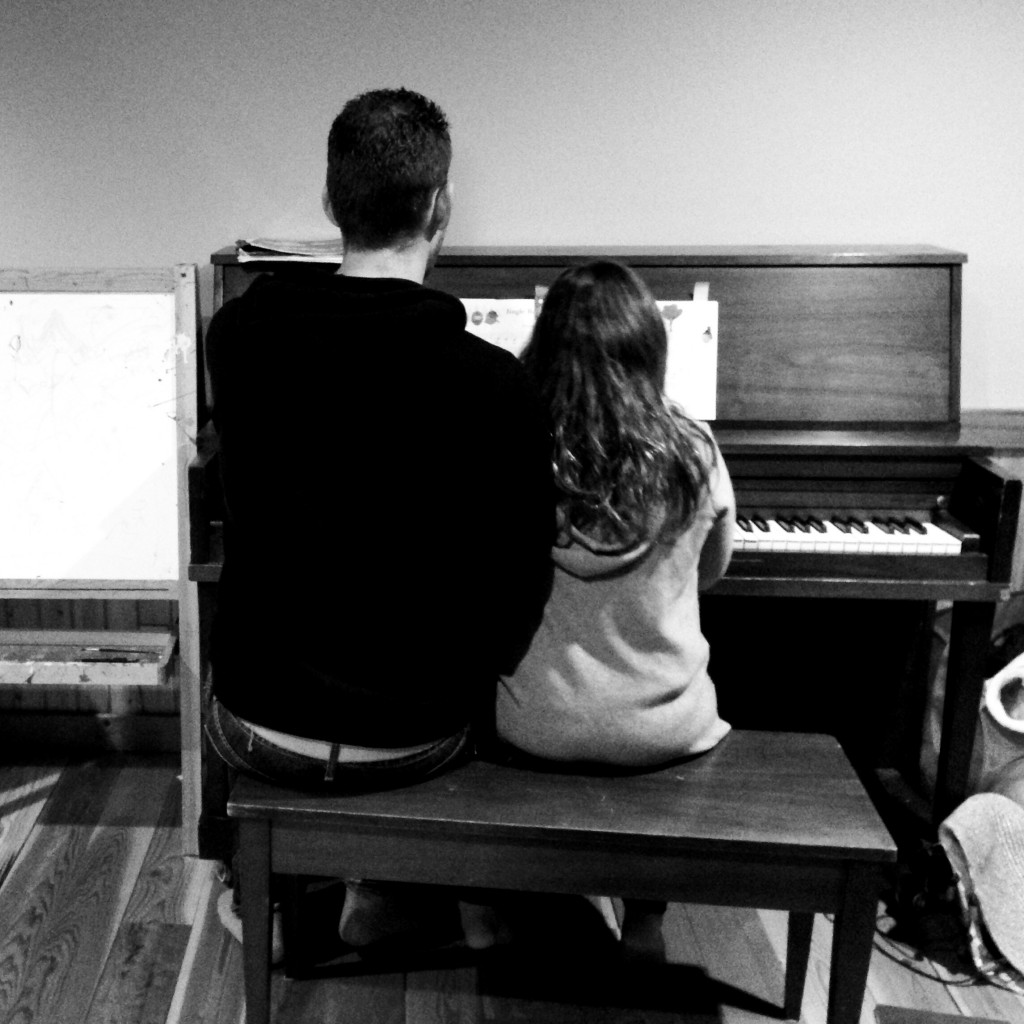 I love music. I love to sing along with it in the car, or while scrubbing poop off of chicken eggs. I love to dance to it after dinner with the kids, or while driving when I have a preteen in the chair next to me who is slithering down as far as he can go. Embarrassing my kids every once in awhile is an earned right in parenthood and I have claimed that right.
I do not come from a musical family, and I never took any music lessons while growing up. I did sing in the school choir (It was nothing like GLEE), and I rocked the recorder and the ukulele in Fifth Grade music class. My parents didn't play instruments, and I probably didn't express an interest for lessons, so they never happened. Taking music lessons simply wasn't a part of my life.
In my early twenties, I really wanted to learn how to play guitar. I had a friend who was musical and had a degree in music, and we made a barter exchange. He (helped me buy a guitar, and) taught me the basics (including the Circle of Fifths) and I taught him how to ride a motorcycle. Trade for a trade. I soon met Matthew and never kept up with playing my guitar and fourteen years (and three kids) later, I cannot play the guitar to save my life.
I wanted my kids to have the opportunity to learn how to play the piano and a year and a bit ago, they started lessons. It's been fascinating to watch their talents emerge as they play. Graham is studious, and gets frustrated when he can't get it perfect, but he plays so well. So well. Nathan has that elusive "ear" and can hear a piece of music and then sit down and play it. Not perfectly, no, but it's pretty amazing. He recently mastered Maroon 5's "Love Somebody", and when he plays it at the school talent show the few ladies who do not already swoon over him will be swayed. Emily has that ear, too, but it's different. She will sit down at the piano and play something that is beautiful. I'll ask her what song that was and she'll reply, "I don't know. I just made it up."
There have been times where the kids have been frustrated and want to quit. They are tired, or just don't want to practice. They only need to practice ten minutes a day and some days they are the longest ten minutes of my day. But then there are the other days where they sit down and play just because they want to and it makes my heart so happy.
On the bad days, I tell my kids stories of our friends who wanted to quit when they were young but are thankful that they stuck with it. I also remind them of how far they've come and how they can read music (I can't) and how much I love to hear them play. I also tell them that once their ability to read music is solid, they can change instruments. They don't have to play piano forever, but they need to play something. They each have the ability, and the gift, and it would be a shame to let it go to waste. If my kids were angry and raging and miserable, quitting would be something we'd discuss. But pushing yourself on the few bad days to have many more good days is what growing is about.
Last night Emily finished her lesson, and then her Daddy played Christmas carols (he took lessons last year, but can play by ear). She sang along and danced and laughed and had the best time being her musical self. Music lessons may not be for everyone, but they have given us more happy moments than frustrated moments, and they're here to stay. Well, until I have a surly/emo teenager. Then we may have to reevaluate.
comment via Facebook
comments