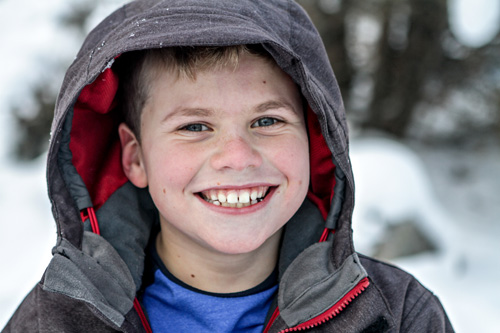 Canada has two official languages: English and French. All of our food and merchandise packages are in both languages (Did you know that The Smurfs is Les Schtroumpfs in French? The more you know!) and any time you call a government or large business line, the first of the many menu selections that you make are whether you want to hear the prompts in English or French.
When I was growing up, we started taking French classes in grade eight and if my aging memory is correct, the first two or three years were mandatory and then it became an elective. I took the advanced track and completed grade eight and nine French in one year. (I was smart back then.)(I also skipped third grade!) I took French right through until graduation and by the end of it I could write fluently in French. I couldn't speak it very well, but I could read it and write it and I thought that was pretty fantastic. I've lost the majority of it now, but it's still buried there in my subconscious somewhere.
I believe that the French part of the middle/high school regular program is somewhat similar to my experience, but our town's school system has another option: French immersion. The program starts in sixth grade and is held at the same middle school that the non-French-immersion kids attend. I've always thought that being in a French immersion program would be a great experience for my kids (Speaking French!) but it's a more labor-intensive program and they'd have to be up for the challenge. Graham, being the eldest, was the first up to bat and he really wanted to be in the program. We've talked about how it would give you more opportunities later in life, and he's always been fascinated with different languages. Ever since he was little and found out that Matthew's grandparents came from Holland, he's lamented the fact that they didn't teach their children and grandchildren how to speak the language.
The only glitch in his excitement about attending the French immersion program is that the demand from the kids is greater than the amount of seats available. He and I attended the information meeting and they explained how it worked, what kind of time commitment was involved, and how they chose students based on a lottery system. Siblings of current students were guaranteed a spot, but everyone else had their name put into a hat for the lottery. We would find out by February 28th whether our child had made the program, or whether they were on the waiting list. Those who made the cut would receive a letter in the mail confirming their seat and including registration forms.
Graham was a bundle of nerves last week, waiting to hear. He wants to be in the program SO BAD and the suspense was driving him a little bit crazy. On Wednesday, he heard from some of his friends that they had been contacted and told that they were on the waiting list. We hadn't been contacted, so maybe that was a good sign? Or not?
Thursday afternoon, I stopped at the mail boxes on my way to pick the kids up from school and one of the letters had the school district's return address. I tore the envelope open, read the acceptance letter, threw my hand inthe air and let out a hearty "WOOHOO!" I drove to the school, bee lined it to Graham's classroom and handed him the letter. Best. Day. EVER.
I may not be French-Canadian, but a good education is important to me and having French is just one more (amazing) thing in your arsenal after you leave high school. Plus, thanks to the sibling clause, neither Nathan nor Emily will have to wait on pins and needles to hear if they made it (they both want to be in it, too). I'm just SO EXCITED.
I'm also so proud of my big boy who works so hard to get good grades, who takes on leadership responsibilities at both school and church, who is a great friend to his peers, and who is just such a good kid.
comment via Facebook
comments