Back when I was newly pregnant, I did what any crazy person expectant parent does – I bought books and books and books on how to be pregnant, how to give birth, how to survive the first year. I was going to ROCK THIS. Then I lost my first baby, even though the books barely touched on that topic and made it sound like it was a rarity. (The chances are 25-50%, according to my doctor). I waited a full cycle before trying again and was soon pregnant with Graham.
I still turned to the books for guidance when it came to pregnancy and delivery and even though my birth experience was anything but "textbook" (9 lb., 12 oz. baby (ON HIS DUE DATE), episiotomy, suction extractor, full spinal because the OR team was waiting to take me for a C-Section, forceps, ginormous baby, 4th degree tear)(The nurses would come to check me out and make That Face – the "I'M SO SORRY" face). I don't remember reading any of that in the books I bought.
In the first year of Graham's life, I would turn to the books to see if I was doing it "right". Was he sleeping enough? Too much? When should I introduce solids? Was he eating enough? Too much? I spent so much time reading and charting and MAKING MYSELF CRAZY that when Nathan came along…I didn't crack a single page. Heck, I'd kept one kid alive for twenty months before Nathan appeared on the scene; surely I could keep two alive. And so I did.
Keeping two human beings alive apparently gave me enough confidence to make a third baby and just over two years after Nathan arrived, we had Miss Emily. Three kids in under four years – who had time to read? I was doing all that I could to make it out of the house fully clothed and in my right mind. I sometimes failed at doing so, but that's a story for another day.
Fast forward four years and I've come to realize that I have no idea what I'm doing. And that maybe "winging it" is a far better option that trying to follow some rules that may have worked for somebody else but won't necessarily work for your family.
Please and Thank You are required in our house. If you hurt someone, even by accident, you say Sorry. When you're done your meal, you clean up after yourself and put your dishes in the sink (I'm particular about how my dishwasher is loaded). If you are having a Bad Attitude, you get to go to your room and think about whether you want to keep that attitude or ditch it in favor of spending time with the rest of your family. You're welcome to spread out coloring sheets/Play Doh/crafts on the kitchen table, but when you're done you clean it up. When supper is being made, you get to help by setting the table/filling water glasses/putting condiments out. We don't call each other mean names. EVER.
Sometimes I feel like a bit of a tyrant in that I say, "No" and "What do you say?" and "Go to your room and think about that" many times in a day. But then I remember that I say, "Yes" and "I love you" and "You make me so happy to be your Mom" a hundred times more. Those moments of struggle are worth the many more moments where I'm genuinely happy to be in the company of these little people who make me laugh all day long.
Examples. I have them.
***
Matthew went on a fishing trip this past weekend and like I any good wife, I was getting ready for his return. Dude is a clean freak and so to woo him upon his return, I spent all morning cleaning the house with the aid of the kids. They cleaned up toys, tidied their rooms and even helped me clean the bathrooms. I KNOW.
They were so thorough and helpful that I also thought I'd surprise them by giving them each $3. I called them all upstairs and asked them to put their hands out. All three of them s l o w l y raised their hands like they were being held up at gunpoint.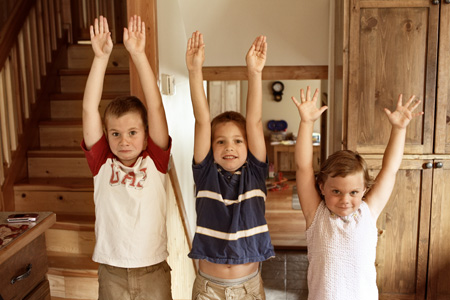 I said, "Put your hands OUT", not "Put your hands UP". After I stopped laughing (and gave them their loot), I asked them for a reenactment. A little overdone, but I wanted to document this. (It appears I AM a tyrant.)
***
Diesel gets kibbles a few times a day, often with whatever leftover meat we have. When he gets plain kibbles, he is none too pleased. I asked Graham to feed the dog and he came back inside with this tidbit:

I gave Diesel his kibbles and he looked at me and was all, "Dude. You have GOT to be kidding me."
He's seven going on seventeen.
***
Where am I going with this? I don't even know. I sat down with the intent of writing about how my oldest son will be turning eight (EIGHT) in a few months and that I have no idea what I'm doing, but all of the above came tumbling out. The teenage years will likely be a different story, but for now it appears that we might be doing all right, just flying by the seat of our pants.
comment via Facebook
comments