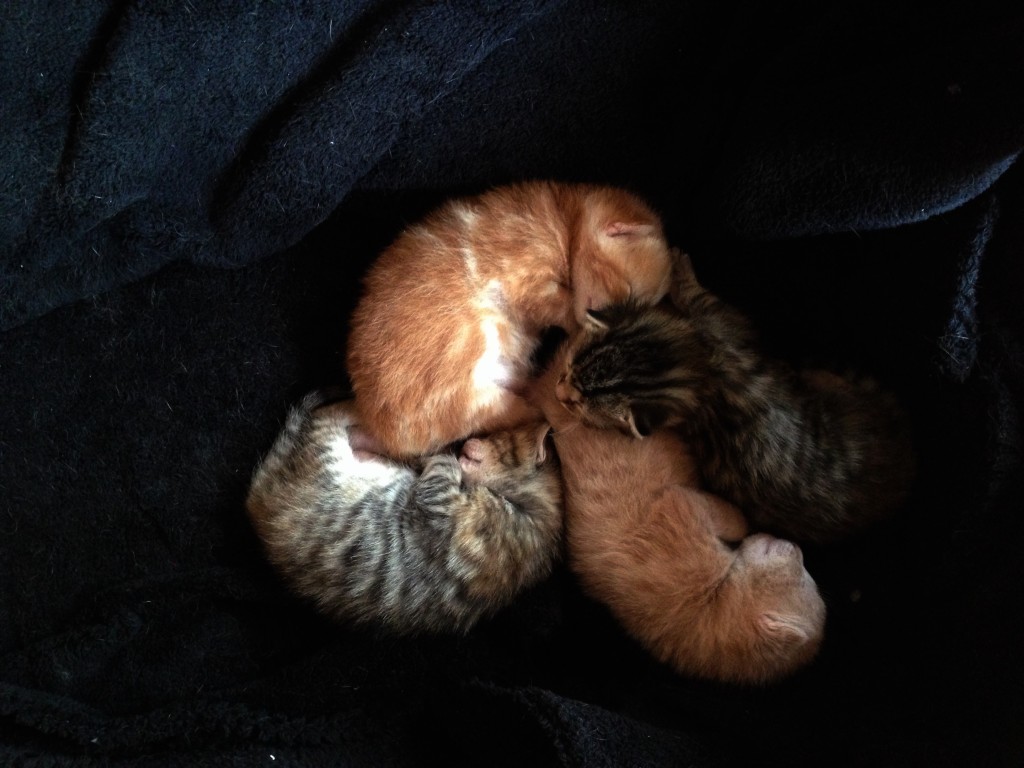 As much as I was/am excited to have kittens, I worried that there would be some backlash because letting your cat have kittens isn't the "responsible thing to do." I addressed that angle in a post over at YMC and while I've had only a few negative comments online and offline, the overwhelming response has been positive. Because KITTENS.
I didn't grow up on a farm and my family never had cats who had kittens. This is an entirely new experience for me and I love that I get to share my wide-eyed wonder with my kids. We watched Lucy give birth, we watched the kittens take their first breath, and we've watched Lucy mother her babies. She's such a good Mom.
Call me a Cat Lady if you will (and you should), but she amazes me with her love for her babies. She purrs while feeding them, she hugs them when they are sleeping around her, and she leaps into the basket the moment one of the kittens cries. When they are all fed and sleepy, she will leave the basket and lay within earshot. She's ventured outside again in the past few days, but she'll dart inside to listen for them and then go outside for more fresh air. As a Mom should.
The kittens are getting fluffy and chubby and the orange one has opened his eyes. I've never wanted a male cat because of their tendency to spray, but he's so fluffy and soft and orange that I'm willing to take the risk. A friend who grew up on a farm was here today and gave me some tips to keep the spraying at bay. Getting him fixed as soon as we can and having a male dog in the house (Diesel!) should help him keep his urine to the litter box and outside.
As for naming him, he was first called Garfield by the kids, but I said we needed an original name. I like Hunter, Graham suggested Cheddar, and we had about thirty other suggestions on FB. Julius is another favorite, for sure. It's become rather humorous because he is called any one of those names, or others as we go along. He is the cat of many names, which is kind of perfect because we all know that cats never come when you call their name. They come when they are good and ready to. I think we may each decide on the name we love for him and call him by that name. Or by someone else's favorite name.
I should have done this with my kids.
The friend from the farm lifted up the tails of all four cats and confirmed what Tia commented. The orange tabbies are boys (Ball sacs were a dead giveaway), and the striped kittens are girls. They are fluffy and cute and if we scratch their backs they come back for more. They're being loved, and socialized, and another friend came by tonight to see them and claimed one of the girls.
That means Marv and Katie are up for grabs, and I'm pretty sure they'll be spoken for long before they are ready to be away from Lucy.
I'm smitten with my kittens and I'm okay with that.