Adventure #1
I live in the fair land of Canada where there are vast mountain ranges, plentiful forests and more bacon (and beer) than anyone could ever hope for. The one thing we lack up here is the access to a lot of American online shopping. Luckily for Matthew and I, we live a mere hour from the border and from a stateside store that will accept packages on your behalf. We usually just send packages to Kerri and have her send them on to us but Matthew was SO EXCITED about getting his new hunting paraphernalia (scope and range finder) that he couldn't wait until our trip to Oregon next week. And he thinks I'm impatient.
A lot of people from around here will make the trip not just for packages shipped from the U.S., but in order to buy things like cheese and gas and meat and alcohol because items such as those (and others) are infinitely cheaper once you cross the border. In nine years of living here, we had never made that trip and thought that it was high time we did so. We even decided to drive an extra hour south in order to check out Omak, which I'm pretty sure means, "Armpit of Washington State". We made sure to document this moment for posterity.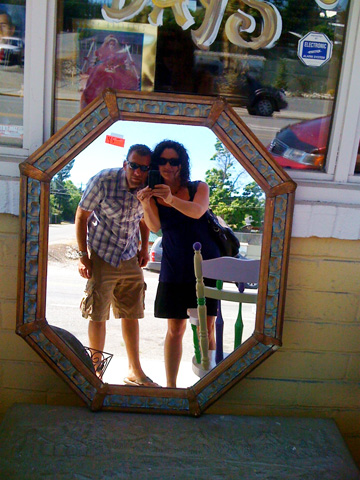 The trip wasn't exciting, really, but it was a nice day for a drive and it gave us something to do for the day while the kids were away. I even managed to score a pair of Columbia hiking boots for $60 at Prince's. We ended the day by eating dinner on the upper deck at one of our favorite restaurants. A pretty decent day all around.
Adventure #2
I mentioned above that Matthew had ordered hunting gear that we had gone to pick up. He took up hunting last fall, complete with a course and a license and a BIG BOW AND ARROW. He has since procured a gun with, like, bullets and stuff and hopes to shoot some game that we can eat. I'm not sure how it works in the rest of the world, but in Canada there are open seasons for hunting. In addition, there is a "lottery" in which you put your name in, in the hopes that you can win the chance to hunt certain animals. Matthew put his name in for Mountain Sheep and WON. Our pastor has been putting in for that lottery for fourteen years. Another friend of ours has been putting in for that ticket for NINETEEN YEARS.
Needless to say, Matthew is particularly happy about this hunting opportunity. He wants to make sure that he does it right and is outfitting himself with all of the necessary equipment. Last weekend, while I was driving the kids to Grandma's, he loaded up his ATV and went to scout out the area that he won the ticket for. He rode the ATV as far as he could and then turned back – it wasn't safe to ride and it was getting too late to hike. He thought that maybe we could spend a day while the kids were away and make the two-hour hike to the summit from the point where he had turned back.
And so, that's what we did last Friday.
We drove an hour and half away from here to a sleepy town called Keremeos. We went about five minutes past the town, hung a left and started driving down a back country road. Matthew: "Do you see that mountain top in the center with the rocky cap? That's where we're going."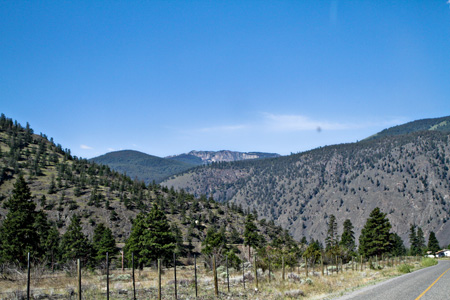 Alrighty then.
We got to the start of the second trail (Matthew had taken the second trail and wanted to stick with what he knew), unloaded the ATV and started up the trail.
About a half an hour into our ride we stopped at a mountain meadow. The ATV engine was getting a little hot in the blazing sun and Matthew thought I might like to take a few photos.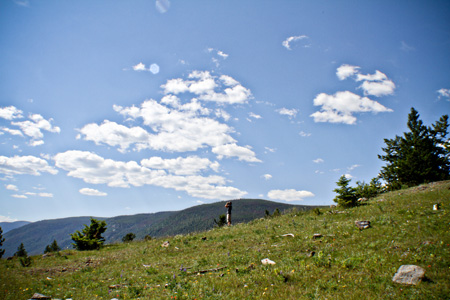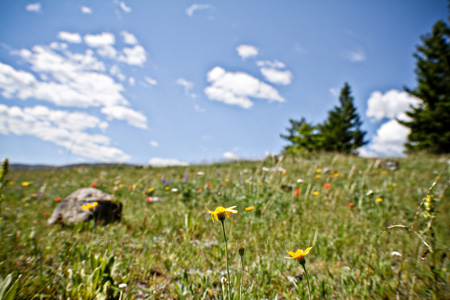 He thought right.
We carried on to the place where we would park the ATV, ate our lunch, and used said ATV as a tripod in order to take a photo of the two of us in case we perished before we set off on our hike.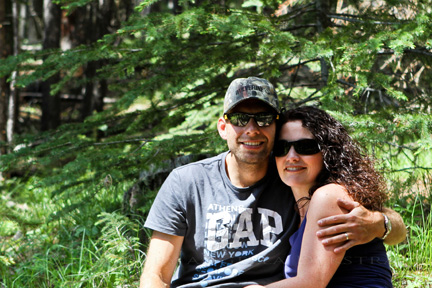 We started walking (uphill) and chatting about how great it was that we were doing this and before we knew it, we came to a fence that was a dead end. To the left? Insurmountable fences, trees and whatnot. To the right? This: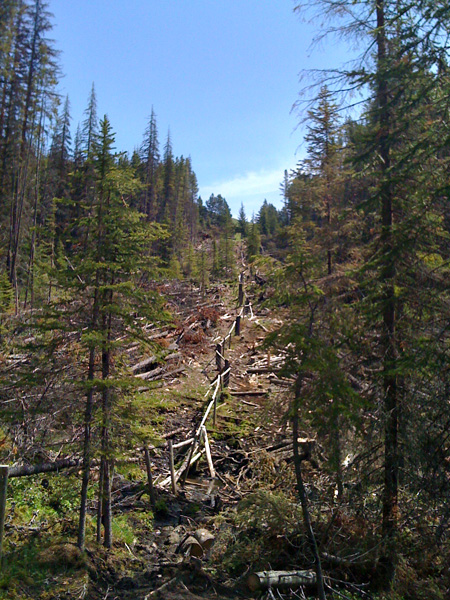 We assumed this was the path.
We started walking through the mud and the creek and the logs and all of a sudden I had a gash on the back of my thigh.
Me: "Honey! I'm bleeding!" Him: "I thought you brought Band-Aids?" Me: "No…I said that I was going to bring some but you said that you had packed the First Aid Kit." Him: "Oh, right. I left that back at the quad."
Nothing a little bit of toilet paper and a whole lot of pressure couldn't deal with. Me, and him.
We carried on, following the fence line and once we reached a gate, we crossed over. The peak was far to the left but we kind of weaved upwards, at a very vertical angle, for a good hour or more, until we found ourselves on another ATV path. Path #1, it seems, goes right to the summit. Oh well, we had wanted a workout anyway.
A few minutes into our walk along the trail we saw a bunch of mountain sheep. Approximately twenty or so on the hillside and two directly in our path. We kept inching forward and every time they looked up I snapped a photo and this is as close as we got and Mr. Hunter was a little giddy about it all.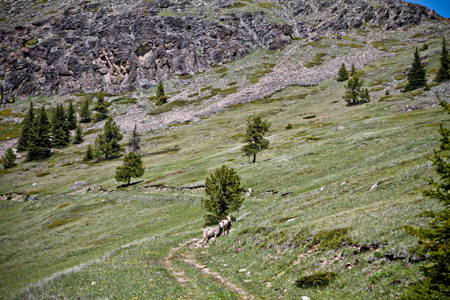 He got out his scope and range finder and I took photos of the view.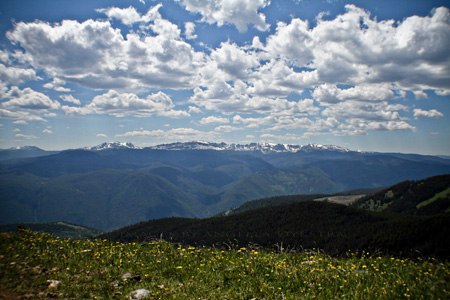 "The bowl":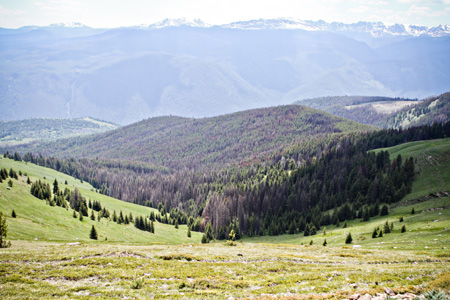 The sheep scurried off and we carried along. I made a joke that it didn't look very far away, kind of like when you were in Vegas and the next hotel didn't look very far away.
I was right in my estimation – it took about a half hour to get to the summit. We stopped for a quick snack and a quick use of the scope.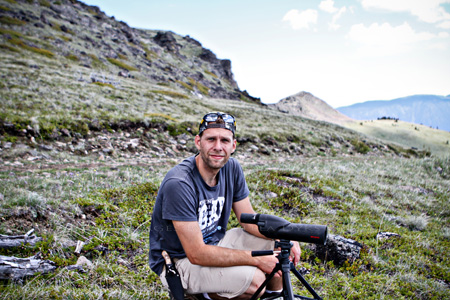 I also asked that he take a photo of me in order to document the whole, "I CLIMBED A MOUNTAIN" thing.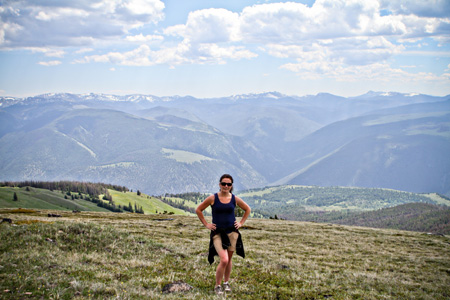 Here is where it all got interesting. Mr. Wilderness deduced that if we cut down through the bowl instead of going back the way we came, we'd cut a load of time off of our return trip. It had taken us two hours to get to the top; it would probably take an hour to get back down through this new route. I was a little skeptical. I mean, I have to chant, "Never Eat Shredded Wheat" every time I need to figure out N/E/S/W and, well. Would cutting down through the bowl really work? Or would we be lost FOREVER? He assured me that it would work. Added bonus: We'd get to go past the lone patch of snow still on the mountain.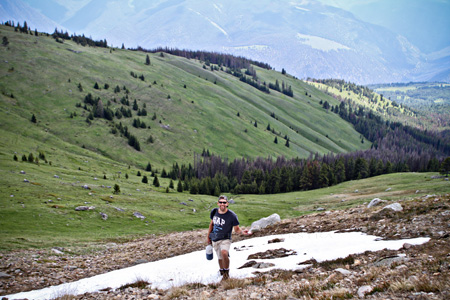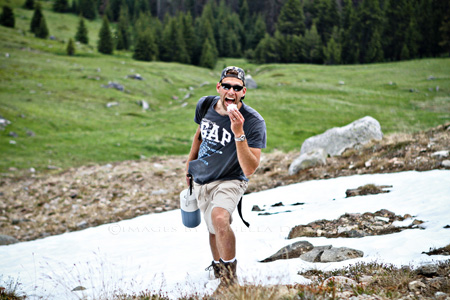 Here's what we soon discovered: the bowl was awash in underground water. What thrives in underground water? MOSQUITOES, THAT'S WHAT.
We had sprayed each other many times over (what with the sweating and all)(Sweat + bug repellent = I was smelling MIGHTY FINE) and the bugs weren't biting, per se, but they were swarming and the high-pitched whine in my ear and feeling them all around me led me to run like a crazy woman with her hands in a perpetual windmill motion. Until…we came across a field of pretty wildflowers.


I whipped out the camera, snapped a few photos and then set off running again. My backpack wasn't even locked and loaded and I was yelling, "Go, go, GO!" I whimpered once or twice about my sore feet and my aching knees but there was no way on God's green Earth that I was going to stop for a rest. When we finally made it to the fence I looked back and, lo. There was the snow patch all teeny in the distance.
We made it back the the ATV, swatting mosquitoes the whole way, and packed up as quickly as possible so that we could start riding down the hill and escape the swarms. We hopped on the quad, started to make our way down the trail and about ten minutes in we heard a strange sound.
Tha-THUNK.
Oh, SNAP.
All four bolts on the tire had mysteriously disappeared and there was nothing to hold it in place.
Might I add that we were a forty-minute ride from the base of the mountain?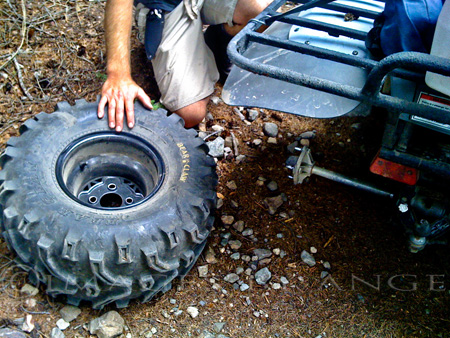 My ingenious husband took two bolts from the other back tire and we limped our way down the hill. An hour or so later we saw our truck and trailer and said, "We made it!" in unison. He loaded the ATV into the trailer while I sat in the air-conditioned cab and freed my feet from their confinement. But, eh. We were going HOME. We turned ourselves around, drove approximately TWO MINUTES and came across this sight: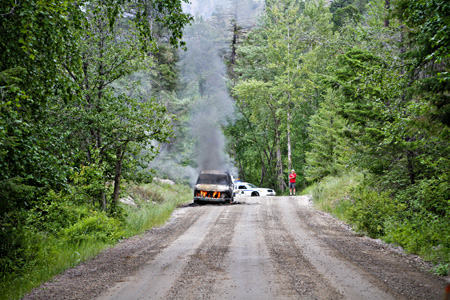 Why, YES, that is a truck that is ON FIRE. In the middle of a COUNTRY ROAD of which there is NO ALTERNATE ROUTE. We ended up sitting there for AN HOUR AND A HALF until the gas talk had dissipated enough so that the forestry guy said that they did not "recommend" driving through but as long as we "accepted the liability" we were free to go. And go we did, for we had kids to meet up with.
I took a shot as we sailed by.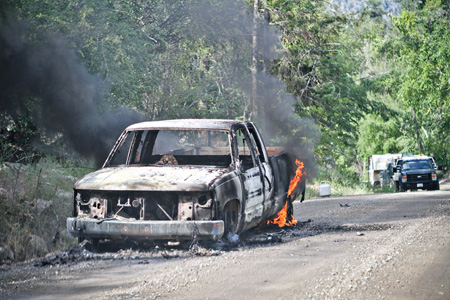 Stupid truck.
Photos and stories aside, this day will stand out as one of my most favorite days. Ever. I work out almost every day but climbing a mountain is kind of a big deal to me. I did it without fatigue, without complaining (except for those darned MOSQUITOES) and without injury. I expected to wake up the next morning with muscles that were screaming at me but, no. I just felt more invigorated. If that even makes sense.
Sometimes I get a little tired of the daily exercise regime and the fact that it makes me bulkier than I used to be but then I CLIMBED A MOUNTAIN and realized that maybe strength is greater than your dress size. Literally and figuratively.
comment via Facebook
comments