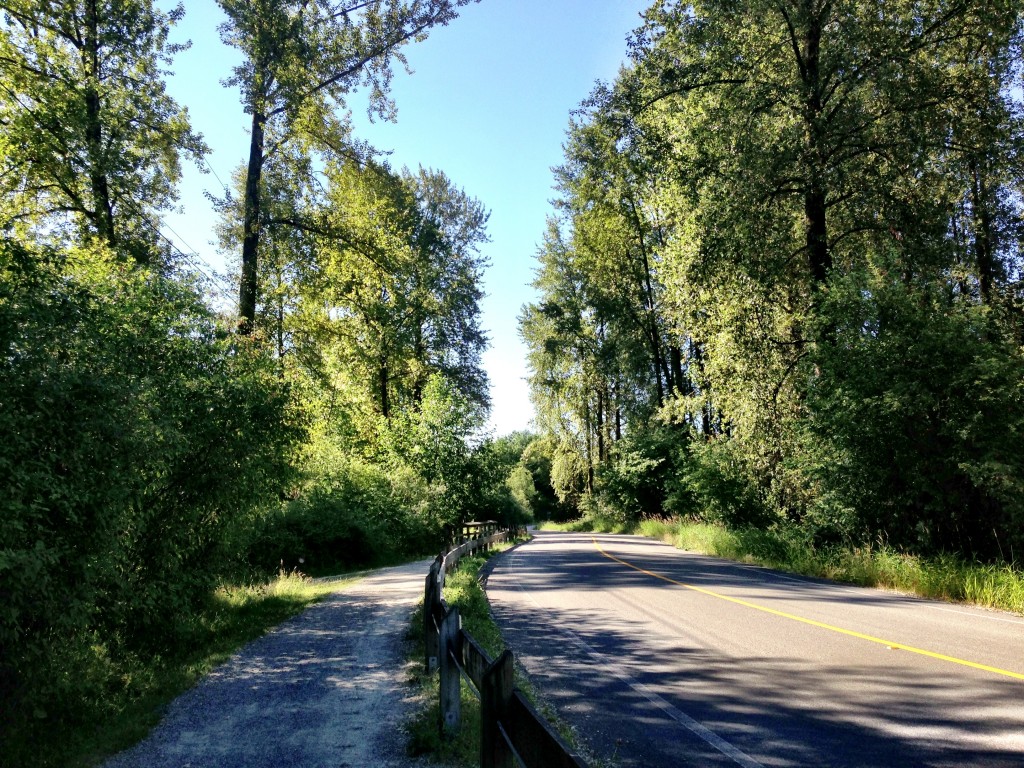 Our family is in the Lower Mainland this week for a family vacation, thanks to a family friend who was willing (and able) to house/dog/cat/chicken sit for us (Chicken sit. Ha!). I flew down on the Saturday to attend a course on Sunday, and the family drove down on Monday to join me. They didn't arrive until dinnertime, which meant that I had plenty of time to get a long run in on Monday morning.
It had been a little over two weeks since that horrible 10K race, and while I've continued to run between 7-10K three times per week, I hadn't attempted another longer run since the 13K I ran a few days before the race. My schedule had me running another 13K this past Saturday morning but we were getting ready to go, me especially, and I opted to run 8K and bump the longer run to Monday when I had no commitments other than swimming in my sister-in-law's pool.
They live in an area full of country roads that are flat, for the most part. There is a lot of shade from the trees, a breeze off of the river, and best of all; they're at sea level. The ocean air does something good for my lungs and despite being a little anxious about doing another 13K run, I headed out. Before I knew it, I was in my groove, plodding along, and really enjoying myself. Yes, enjoying myself. I got to the 6.5K mark where I should turn around to get my 13 K done and I was feeling so good that I decided to run another 1K before turning around, which would get me to 15K by the time I returned. It was not what I planned, and it made me a bit nervous, but I told myself that I could always finish the 13K as a run and walk the rest of the way if need be.
It was a really great run. I was a few km from being done and I knew that if I could do this, I could totally run a half marathon, and I still have seven weeks until race day. I did start to suck wind a bit for the last 2 km because I hadn't planned to run that far — fuel-wise — and it was getting hot to boot, but I did it. I did it! And I didn't even have to do it, for training. I walked up the driveway with the biggest grin on my face.
(And then I quickly changed into my bathing suit and dove into the pool before I spontaneously combusted.)
I had a few anxious moments, sure, but I breathed through them and thought of all of you who keep encouraging me and cheering me on and telling me that I can do this. I can so do this.
Thanks to all of you, online and offline — and those who fall into both categories — for being your bad selves and inspiring me to do better in all areas of life, including the one that leaves me with missing toenails and the opportunity to talk with strangers about my bowel movements.
comment via Facebook
comments