As most of you know (Or do you?), I am going to the BlogHer conference in San Francisco this July. Which would be…NEXT MONTH.
Last June, I met Kristin for the first time. She told me about a contest that was happening in which I could win a trip for two to BlogHer '07. I designed a Scrapblog, and asked everyone to click. Each and every click equaled one entry into the contest.
My friend Brenda at Secret Agent Josephine asked her readers to click. My other friend Leah at A Girl And A Boy asked her readers to click. We clicked, and we clicked, AND WE CLICKED.
The contest deadline came and…I did not win. I used a bunch of photos of my kids making faces to parlay my disappointment. (CLICK ON THE LINK. You won't be sorry. Their expressions crack me up a year later.)
At first? I would not let the dream die. There was an opportunity to volunteer, so I thought I might still go. Common friends introduced me to Heather B., who needed a roommate. Alas, the airfare at the last minute would have cost me my firstborn child. While tempting, I decided to stay home. I vowed, however, that next year (THIS YEAR), I would BE THERE.
The original plan was to travel and room with my friend Amanda. She had to then go and get herself knocked up again, so I was on my own. Miss Heather B. and I thought that fate had decided to allow us round 2, and we are betrothed to be roommates come July.
I have been giddy beyond all get-out that six weeks from today? I will be attending my very first BlogHer conference. Woo!
I have been promoting it as much as I can, and talking to blog buddies about it. I had asked one such friend if she was coming and she gave me an honest answer. She told me that she did not feel that she was a "big" blogger (Um, HI!) and was not sure she would fit in. I told her to stop fretting and assured her that all would be fine.
I hit "send" and then came to this startling conclusion: HOW do I know it will be fine? I HAVE NEVER BEEN.
While chatting with Heather B. on IM the other day we were laughing at the fact that we would be "sleeping together", even though we had never me. Ha!
Ha…ha…ha?
Add to the fact that I have been having a conversation along a common theme with casual acquaintances (teachers, parents in the park, etc.) as of late. With the end of the school year coming up, we get to the topic of summer plans. We chat about days at the beach and basking in the sun. I ask them if they are going anywhere and I hear about trips planned to go camping and such. Then the conversations turns to my plans.
I tell them that I am going to San Francisco. For five days. ALONE. Then they ask that clutch question.
THEM: "Wow! What are you going there for?"
ME: "An, um, blogging convention".
**Crickets**
Really LOUD crickets.
I *think* it will be fine. The only "blogging" friend I have met before is Kristin (twice now) and she is even more amazing than I could have ever expected. Really. She is like liquid sunshine, wrapped in an aura of wonder. And also? She's hot.
Everyone else? I have never met. What if they are WACKOS? What if they think I am a wacko (I AM, but STILL)? What if I do not recognize someone based on their Flickr/Twitter thumbnail and they think I am a big snob? I am not a snob! I am just clueless all most of the time!
I am pretty sure it will be awesome.
Right?
I sure hope so, because SAJ designed me these sweet cards to hand out while I attend the conference.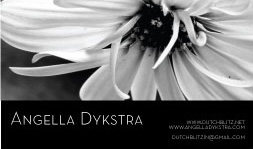 I will give you one, if you will be there.
Unless you think I am a wacko.
Then I will sit in the corner counting my pretty cards and pretending I am cool.  I do have a great imagination, you know.
comment via Facebook
comments