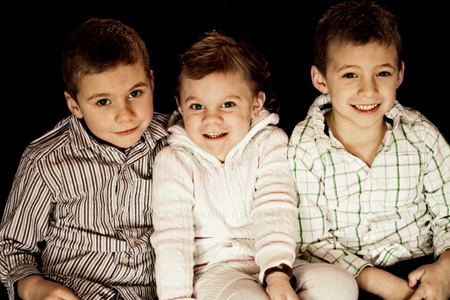 I feel like I have spent a lot of time (The term "waxing poetic" comes to mind but then I started to wonder what it actually means. I have waxed certain body parts and there is absolutely nothing poetic about it. Besides, the term doesn't quite fit, so) writing about all of my mixed emotions with me returning to work full-time in an office. I miss out on ten hours a day of home life while my husband holds it all together. Upon my arrival home we have dinner, make lunches for the next day, get homework done, watch American Idol. I am engaged from the minute I get home until the moment the kids are laying there with those imaginary "Zzzzzz's" above their heads.
Our weekends are full to the brim with togetherness. I wanted to give Matthew a break from parenting on Saturday so that he could have some time to get stuff done. I ended up carting them around for NINE HOURS between groceries, ballet, a trip to the mall (We lived to tell about it!) and a trip to my friend's home salon to get my hair done. Sunday consisted of church and hosting some family members for dinner. We've been immersed in togetherness over here. While the weekends are a little, shall we say, chaotic they are good and fun and a good balance to the weekdays where I'm gone during the day.
The "working mom" guilt has eased up a bit. The kids are adjusting to me being gone and I'm getting used to my new routine. They're still super excited when I walk in the door but leaving in the morning has been a little less heart wrenching. We're getting into the groove of it all. This means, of course, that I have to go and throw a wrench into the works.
If you've been around here for any length of time, you know that I abhor winter with the fierceness normally reserved for things like social injustice or skinny jeans. Last winter was a particularly long one and my husband ordered me to get myself down to California to soak up some sun. I did, and we all had such a great time that we decided to make Desperate Bloggers an annual event. I booked my plane tickets months ago…long before I knew I would be returning to work full-time at the office.
I've been vacillating between sheer excitement to see (the sun, and) my friends and feeling like a Bad Mom for going away for the weekend. Thankfully for me, I have a husband who will more than fill my void when I'm gone and who has told me to GO and HAVE FUN. Heck, he even told me to treat myself to a hotel for half of my stay (The other two nights will be split between couches belonging to Sarah and Brenda) so that I could have some alone time. He pointed out that I will soon be working overtime and have no plans to go away again until New York (for BlogHer) in August. He's also planning a few snowmobiling weekends away, which means that we'll be even on the solo-parenting front.
So, I'm going to go on my trip (Today!) without any guilt. I'm going to miss my family terribly, yes, but I'm also going enjoy just being me for a couple of days. I'm going to soak up the sun, take hundreds of photos and spend time with some particularly rad people. Then I'll return home refreshed and ready to jump back into this (hectic, yet) fabulous life with my family.
Have a great weekend, folks. I know I'm sure going to.
comment via Facebook
comments