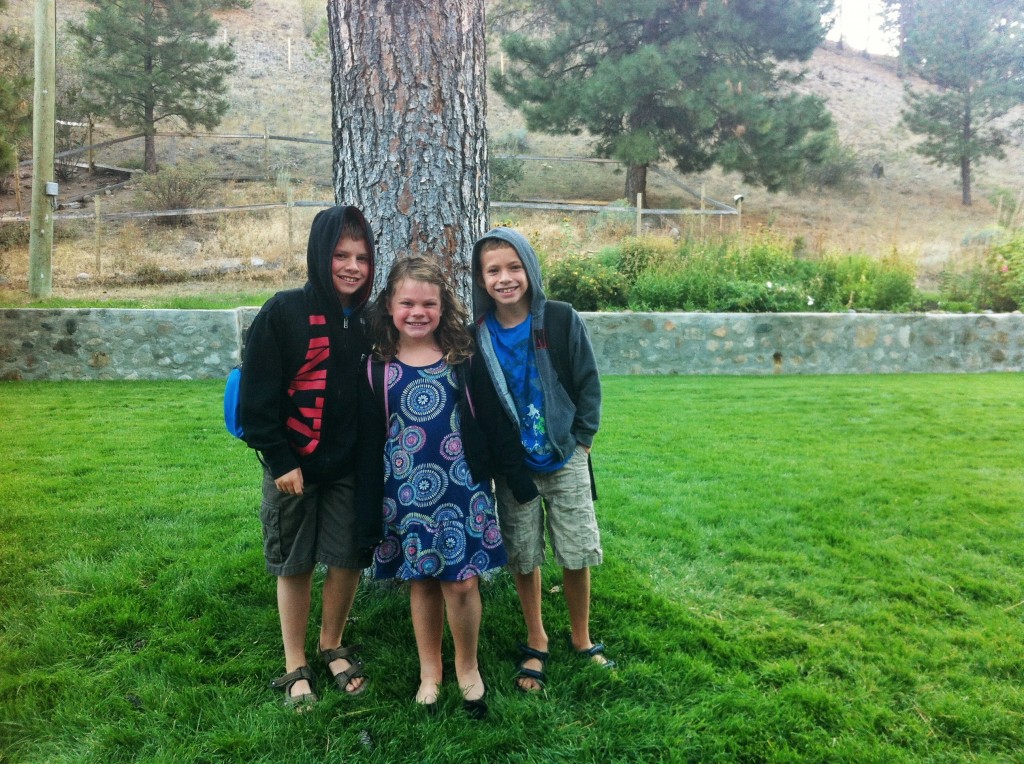 On this past Monday night as we were winding down and getting ready for bed, the excitement about school! starting! tomorrow! faded a bit and the kids talked about being a bit nervous. They haven't seen most of their friends during the summer, as everyone is so busy between camps and camping, beaching it and vacation, company coming and the need to stay home and just be anti-social for one day. Two, if you're lucky.
They were also nervous to find out which of their friends would be in their classroom with them (each grade has at least two classes) and who their teachers would be. Our school is full of amazing teachers; half of them we know personally and the other half we've heard rave reviews about. (We do live in a small town, after all.) The school is so great that the teacher who Graham had in Kindergarten was finally granted a permanent job with the union (after nine years of floating between schools) and chose our school over any other school.
You can request teachers at the school if you'd like, but we've only done that three times. A good friend of ours is a Kindergarten teacher (and is amazing at her job), so we requested her for Nathan and Emily. The last time we requested a teacher was when Nathan was entering second grade. Graham had had a teacher in second grade who we love so much that we requested her and got her. Another parent described her this way: "Every child should have the chance to have a teacher like Ms. S." That about sums her up. She's magical. She was Nathan's teacher this past year as we were dealing with his anxiety and we couldn't have asked for a better teacher in that situation. She called a meeting with the other teachers for insights, she worked with us as we worked with him, she cried with me in the hallway when we were all at a loss at how to make it better. I heard through the grapevine this summer that she was moving up to third grade and was wishing I had heard about it during the school year, so I could request her. But teachers get a say, too, as to who is in their class and I held out hope that she would have Nathan follow her to third grade.
Nathan was hoping as well, but we assured him that if for some reason it didn't work out that way, he would be fine. He would have friends in his class, and we'd get to know the new teacher. Graham wasn't too worried about his teacher situation, as he knows and likes both fifth grade teachers (though he did have a favorite), but he did have four friends that he really hoped would be in his class, one of them his best buddy who hasn't been in the same class with him since second grade. Emily was also okay with getting either first grade teacher, but hoped at least a couple of her good Kindergarten friends would be with her. She also hoped that her cousin would be in her class this year as they get along famously and he was in the other class last year.
Yesterday morning, the dudes wanted to take the bus, so I told them that Emily and I would meet them at the school to bring their heavy school supplies and find out who they had. We loaded up the van half an hour later and headed to the school.
Graham came running over as soon as he saw me. His teacher is Mrs. B! ALL of the friends he hoped would be in his class are in it! OKAYBYEMOMSEEYOULATER.
Nathan was right behind Graham. He got Mrs. S! His BFF is in the class again with him! All of the dudes that he plays soccer/baseball/hockey/etc. with at recess and lunch are in his class! THANKSFORBRINGINGMYSTUFFMOMBYE.
Emily and I found her classroom, and her teacher is a lady from my boot camp class. Two of her closest friends were in her class again and they sat in a row of desks, with her cousin (yay!) and his two buddies in the three desks facing theirs.
I walked away from the school feeling SO HAPPY. Sure, I had hoped that all of Emily's close friends from Kindergarten would be with her, but hey. The classrooms are next to each other and there's always recess and lunch. I think that my kids' school situation is pretty darn close to perfect (for them).
I picked them up from school and each of them nearly shouted when they saw me. "I had a GREAT day!" Three of them, words and stories tripping over each other and completely excited to be in the classes they are in. I gave Nathan's teacher a side hug to tell her how happy I was that he had her again, and she told me that it was for a reason, with a big smile on her face and a twinkle in her eye.
It's going to be a fantastic year for all of us. I just know it.
comment via Facebook
comments