I ran my very first half-marathon on Saturday morning. This is no secret, as I've written many running and training posts, but I'm sitting down to write about it so that I remember the details of my race. And so that when that inevitable (or so I hear) desire to do another one, I'm reminded why I don't want to do another one. Or maybe it will inspire me to sign up again. I'm going to do it again, aren't I? Good grief. I really am crazy. But you knew that.
The race is a new one to our area — and Canada! — and is put on by Destination Races out of the States. They go to wine country areas, people come from around the world to race, and at the end of the race you get a medal and a wine glass and there is a park full of vendors and wineries doing tastings. It's a weekend-long deal and there are many events planned around the race related to wineries. I live here, so I didn't attend any of the winery events. I just came for the race, even though it was never my idea in the first place and it wasn't something I thought I ever needed or wanted to do.
Regular readers know that I have a running partner — Jennifer — and we run together three days a week. Two of our runs are 6-8 km and the third one is a 10K (or more, if we're feeling especially energetic). Running in a half-marathon is on her bucket list and this past winter when we were running (in the SNOW), she told me that we should do a half marathon. We could do it, physically, and we should do it. I mumbled and I grumbled and said fine, because one of the benefits of having a running partner is that they push you to do more than you would on your own. She injured her back — she's fine now, and joins me on my "short" runs — but I decided to sign up for the half marathon anyway. I had it in my head to do it, and I knew in my head that I could do it. As much as I "blamed" Jennifer for signing up, somehow it became something I wanted to do for myself.
The race started at 7 a.m., which is crazy in and of itself. There were shuttles from the hotel at the finish line that took you to the start line at a winery. I had to get up at 4:30 a.m. (barf) to drive to the hotel and catch a shuttle. Jennifer had given me an envelope the day before and told me that I couldn't open it until Saturday morning. I opened it up before I drove to the race and promptly teared up. I need to stop calling her my sister-in-law and just call her my sister. She's one of my best friends, and not just because we share the same last name.
I parked at the hotel, caught the shuttle, then had an hour to kill at the starting line, which I spent walking around because it was raining and I wanted to stay somewhat warm. My friend Kim was racing as well and I kept my eye out for her, to no avail. It was time to line up for the race and I walked to a place right in the middle. My bib had a race chip imbedded and there was no need to get in the way of the record holder who runs the race in 1:03 (!).
A few minutes before the race started, Kim walked by and joined me. I don't know about you other runners, but a familiar face makes a world of difference. We chatted for a bit, and then the race started. We had talked beforehand about not running "together" because we didn't want to pressure each other, but we run at a similar pace and it was nice to have her nearby. She's fast, so it spurred me on to run at her clip. I got ahead of her somehow (No idea), but had to use the facilities at the 10K mark (I had no desire to poop my shorts) and she got ahead of me. I could see her up ahead of me on the straight stretches and it kept me moving on.
I don't know if it's an accountant thing, or if all runners do it, but every time I saw a sign telling me what km we were at, I'd do a fraction in my head. 3km = 1/7 of the way done. 5km = almost 1/4 of the way done. When I saw the 11km sign, I knew that I was more than halfway. For a moment, my brain told me that I still had to run TEN KILOMETRES, but then I told my brain to knock that trash talk off.
It was a perfect day for running, and a perfect course for a half marathon. It drizzled a bit, but then it was just cloudy. The temperature was 15C/60F and I could have run without my (annoying) hydration belt. The first 4km were rolling hills (I ran them!) the next 9km was a steady downhill (I could run forever downhill), and the rest of the course was flat. Completely flat, and the last 5 km was along the lakeshore.
Speaking of the last few km, that was when I (almost) lost it. Kim had told me that the distance from 18-21K was more mental that physical and she was bang on. I was tired, and would focus on a runner ahead of me to help me get my feet moving. My anxiety was better than in the last few races, but it still flared up. I had to walk a few times to settle myself. The conversations in my head were awesome. "This is hard." "There's only 2 km left. YOU CAN DO THIS." "You could walk from here, and you'd still finish. That is your only goal." "This is stupid. Why did I sign up for this?"
(Side note: People were holding up handmade signs at different points in the last 3 km. My favorite: "Just remember: You PAID MONEY to do this.)
At the 20K mark, I walked to get my breath and heart calmed down, and a race volunteer said, "You can do it! You're almost at the finish line!"
Me: "Yeah, but I am DONE."
I started running again and could hear the announcer. I followed the crowd and with .5 km to go, I saw a finisher walking away. His medal was HUGE. It was time to go get mine. I picked up my pace and then I was running down the chute. I scanned the crowd for my family and then there they were, right by the finish line. I crossed it, had my medal placed around my neck, and then started crying. I did it.
I did it.
I ran 21.1 km in 2:10:59. It would have been faster if I hadn't had to walk off some anxiety, sure, but that's a pretty sweet time.
I've since been bombarded with love and congratulations and it's been a really affirming event. The kids are geeked out and keep congratulating me and hugging me and it makes me want to keep doing things that show them that they can do anything the put their mind (or their feet) to. One step at a time.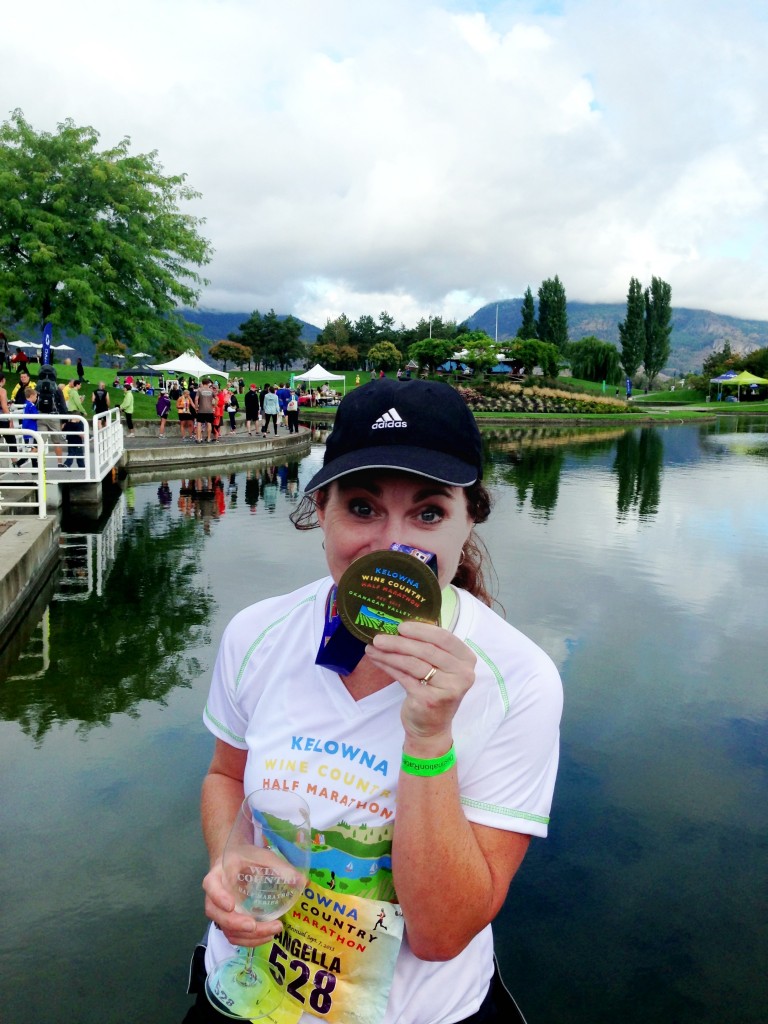 comment via Facebook
comments