A few weeks ago a friend (who also has three children, all teenagers) told me that whenever she reads my site she gets the feeling that I have it all together. (Regarding parenting, I'm assuming. We all know that I've been pretty open with the struggles that I've been dealing with personally). She said that she'd then read Amanda's posts and think, "That is what I remember experiencing."
I laughed and told her that I, too, remember those crazy days when I had three kids under the age of four. I was sleep-deprived; short-tempered and wondering what on Earth I had gotten myself into. There is post upon post of me ranting and venting and sobbing into my Diet Coke. Babies are the hardest. They fuss, they cry, they (Emily) bite their friends, yet have no words with which to tell you what is going on in their wee little heads.
The crying is the worst. Are they tired? Hungry? Sick? Teething, yet again? Seriously. How many teeth does a kid really need?
I'd hate to come across as though I have it all figured out now that my children are so old. You know, with them being three, five and (almost) seven. It's not as though this stage doesn't have its share of challenges.
Like when Graham spent an entire five minutes arguing with me about where Emily was born. He kept telling me that she was born here in Summerland because he "remembered." Dude. You weren't even four at the time and I am the one who pushed her out of my hoo-ha. It happened in Penticton, and I know this for a fact because there were no drugs involved. I was fully coherent for the entire experience (Yes, REALLY) and I know which hospital I birthed in. There is also the fact that Summerland hasn't had a maternity ward since before any of my kids were born. He, however, is still not convinced.
There are times when Nathan pulls one of his classic "WTF?" moves and we ask him why he did it, only to get the response that we fully expect from him: "I don't know." Don't even get me started on the battles we stage to get that kid to eat anything other than bread and butter.
Then there is Miss Emily, who channels her inner Diva on a regular basis. She crosses her arms, sticks out her bottom lip, brings out The Scowl and murmurs an audible "Harrumph."
We're not all sunshine and daisies over here. At least not all of the time.
Aside from these regular bumps in the parenting road, our days are pretty fantastic. Do you want to know why?
My children are wicked.
Not in the watch-out-because-they-might-hurt-you way, but in the holy-crap-they-might-blow-your-mind way.
I spend the bulk of my days amazed by their wit, marveling at their intelligence (Even Nathan! He's "Exceeding" at Science and Math!) and laughing at their quirkiness. We've fallen into a pretty awesome groove where my kids can tell me their hopes and fears, crack jokes that are funny even if (and especially because) they make no sense, and sometimes rip a big fart and know that we'll all laugh (Potty humor is funny. Yo.)
Instead of praying that I'll simply make it through the day, I'm praying that our days will stay as awesome as they are now. I like where we are, relationally. I like my kids, individually. I like our lives together, immensely.
I said it above but it bears repeating again.
My children are wicked.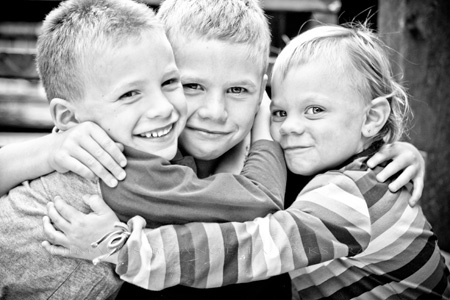 comment via Facebook
comments