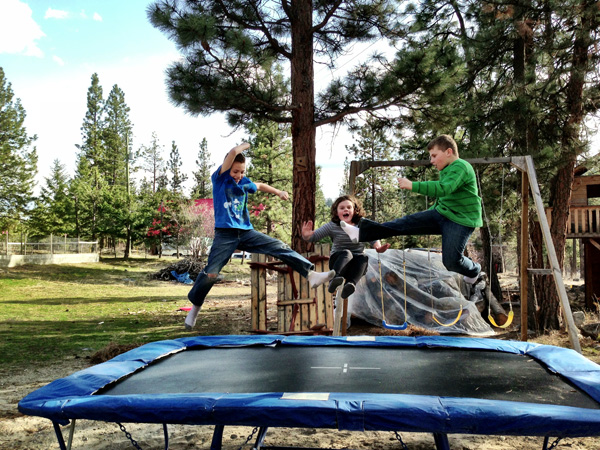 March is such a tease, isn't she? She will you with warm weather (I wore a t-shirt and capris last week!) and then she will randomly dump snow on you when you least expect it (See: almost every morning this week). We're lucky in that we don't have the waist-deep snow drifts that our prairie friends do, nor the incessant grey clouds and rain that our Vancouver friends do. I know this, but I am also spoiled after living in the sunny Okanagan for twelve years.
The kids are on two weeks of spring break and as we peeled off the layers of outerwear  last week, I had great visions of walks down along the lake, hikes with the dogs in the mountains, and just being outside working in the yard while the kids jump on the trampoline that Dad took out of storage for them. (See above.) The kids have continued to jump on the trampoline as the temperature dropped over the past few days, but have to wave the white (Ha!) flag yesterday when the snow that had been falling and melting started accumulating.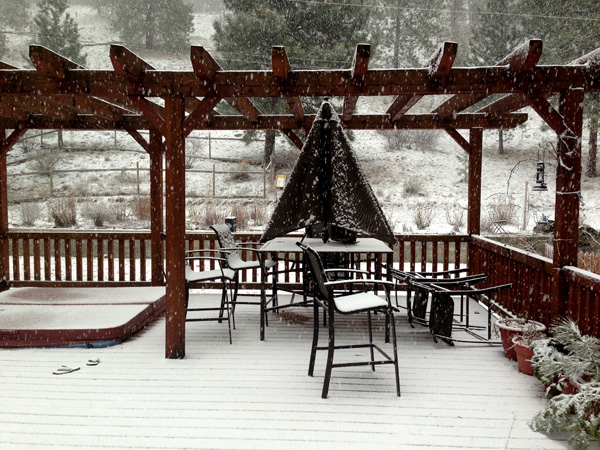 It will melt today, but STILL.
The good news is that there is fresh powder on the ski hill and we plan to take as much advantage of it as we can, because the season is almost over. On the days that we aren't skiing, I'd like to politely request that the snow stop falling. We have thirteen days left of spring break and there are so many episodes of AFV that I can watch with the kids on Netflix before I go insane.
(I hit that limit yesterday, for the record.)
I love my kids, and we have a lot of fun together, and I am one of those weird Moms who enjoys the two weeks of spring break. There are no early-morning routines and no after-school activities and no daily lunches to pack. There are late(r) evenings where we all wedge on the couch to watch a movie and there are impromptu trips to grab milkshakes and there are pancake breakfasts and there are hikes and walks and hours spent on the trampoline.
We just need the sun to win the arm wrestle with the snow for good and it will be a golden two weeks, indeed.
comment via Facebook
comments