I feel like I'm running non-stop these days and have far too many snippets of thoughts and ideas bouncing around in my head to even make any sense of them most of the time. I don't know about you, but when I get mentally constipated the best cure of all is to dump it out (Ha!) in order to remove the blockage. I guess this makes my site the equivalent to a toilet bowl. Awesome.
***
My sister Dayna flew in Saturday morning for an extended visit. Part of the reason for the visit was to see my kidlets for the first time since returning from her two-year stint living in New Zealand. The other reason she has come to visit is so that she can spoil my kids rotten watch said kidlets while Matthew and I jet off to Vegas. We leave Thursday and in order to help prepare for the trip I took all of the suggestions from you guys in that post (and on Twitter) and placed them into a (highly organized) spreadsheet. What?
***
We signed the dudes up for soccer this year (They played softball last year and wanted to try soccer)(We keep extra-curricular sports to a minimum (One per child) because our lives are hectic enough as it is).
Nathan is (the spitting image of his Daddy, and) a natural athlete. His fancy footwork is a sight to behold.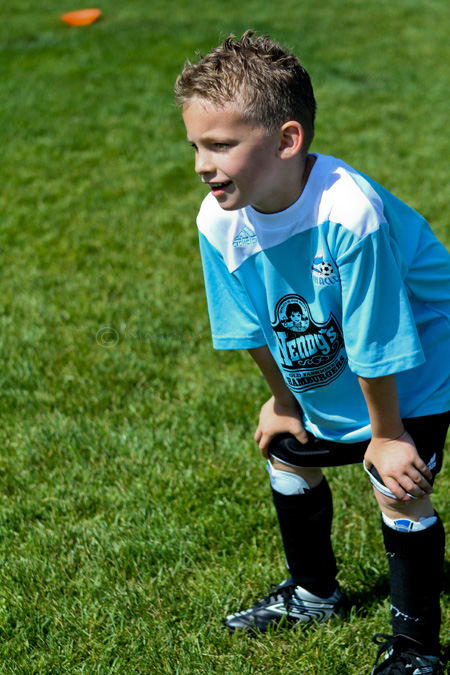 Graham, a.k.a. He Who Builds Lego Masterpieces And Makes Amazing Illustrations, is also doing really well in soccer. He's on a great team with good friends and is really getting the hang of the sport.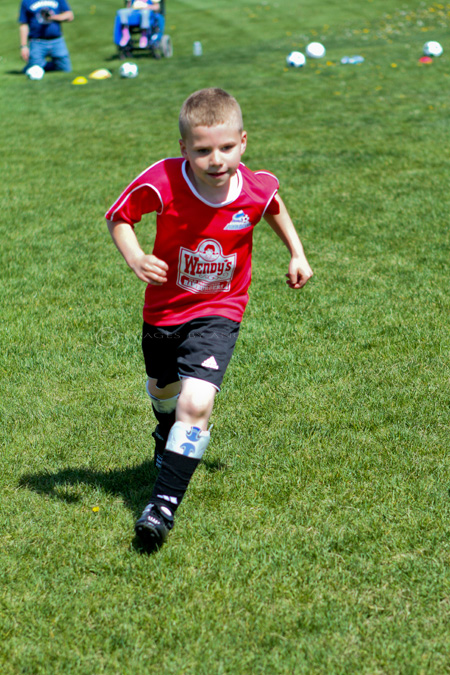 As someone who didn't play sports/exercise until her mid-twenties, I love that my kids are starting so young and enjoying it. I once read a study that if children are not involved in sports/exercise by the time they are ten years of age, the odds of them being physically active in their twenties is pretty minimal – only about 10% of them pick it up later. I'm thankful that I fell into that 10% and I'm thankful that my kids love to be outside and active. I want them to live full (and healthy) lives. Watching them having so much fun doing so makes my heart smile.
***
As I have mentioned previously, Miss Emily's dance recital is scheduled for this coming Thursday. The day we leave for Vegas (BOO). Her class has a full dress rehearsal tonight and I'm hoping that she will miraculously perform, as opposed to any other event where she's on stage and chooses to suck her thumb/scowl/do the limp noodle/thrash about on stage.
This past Saturday was Miss Emily's final class of the season. Us parents got to sit inside the dance room instead of behind the glass and my heart nearly exploded with pride. When her teacher told the class to do the pose of a true ballerina, they all knew what to do.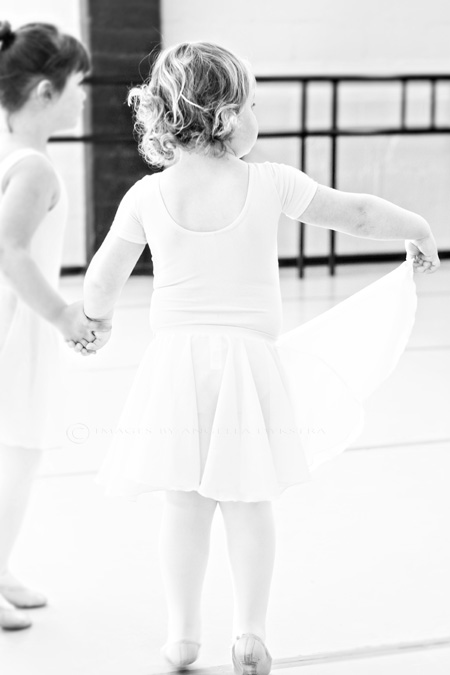 She also quizzed them on various ballet poses and what they were called and these three-year-old little ballerinas knew all of the answers. So, SO adorable.
***
Speaking of Miss Emily, last Thursday was a hard one on her, me and Matthew. He tried to drop her off at preschool, only to encounter clinging and crying and a complete meltdown. He called me at work and said, "I can't do this anymore." I told him to put her on the phone and reiterated what she and I had talked about many times: Mommy and Daddy have to work in order to pay for our house and for food and for clothes and everything and that she needed to be a big girl. She started crying again and replied with:
"I just don't want Daddy to leave."
As a girl with abandonment issues, that cut me to the core. After our conversation was over I closed my office door and had a good (hour-long) cry. I pretty much felt like the worst Mom on the planet. We didn't go through any of this with the boys because I was home. I was working, yes, but I was home. The thing is, she loves preschool. Mere minutes after we're gone she's busy crafting and singing and learning and when we arrive to pick her up she's having a grand ole time. It's just the drop-off that is killing me. Well, more so Matthew, since he's physically there, but still. Summer (and my three-day work week) cannot get here fast enough.
When I asked her why she didn't want to go to preschool she answered, "Because hanging out with grown-ups is so much easier." Good point.
***
In lighter Emily news, she's a total ham for the camera. (Stating the obvious, here.) She was sitting on the deck with Chloe yesterday afternoon and when I mentioned how cute they looked she said, "Do you want to take a picture?"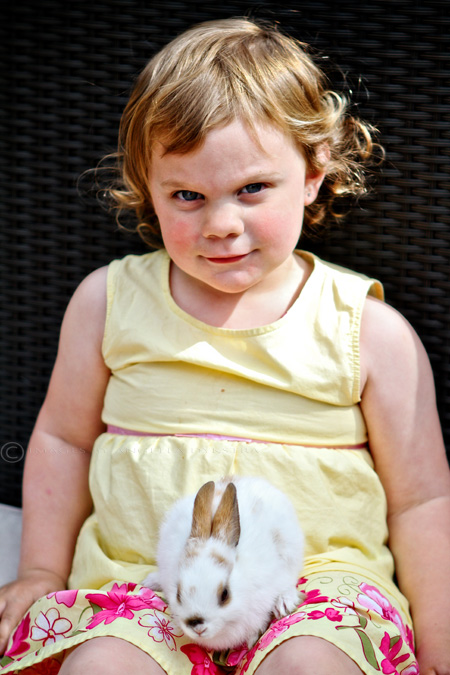 You don't have to ask me twice.
***
Enough about me and my horribly (happily) boring life. What's going on in your life?
comment via Facebook
comments