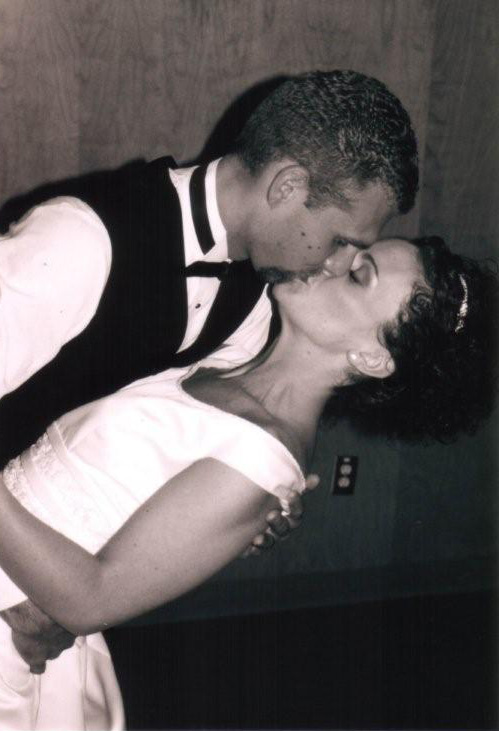 Our culture is one where divorce is considered OK.  "Normal", even.
I come from a family that is no stranger to the sting of divorce.  My Dad has been divorced four times over.  My Mom, twice.  I have one full-blooded sibling and seven (SEVEN!) other siblings who share the same Dad as I do (Fertility was never an issue for him.  Or his wives, apparently).
That being said, divorce is not an option for me.
I remember watching my Dad drive away when I was three and asking my Mom if he still loved us.  I have witnessed the emotional aftermath that all of my siblings have endured in the wake of divorce.  My entire story is one that would BLOW YOUR MIND.  I could be on Oprah for a week with the tales I could tell.  However.  It is not something that needs to be aired on the Internet (Or Oprah).  Trust me.
As I grew to be a woman, and moved out on my own, I worked through it all and decided what I wanted from Life and from my Husband.  I gave it all to God. Lo and behold, I met and married Matthew.  The main reason being that he shares my faith and holds the same ideals that I do. Plus, he is hot.  Bonus!
He also comes from a family were nobody is divorced.  It is kind of awesome.
When I was a teenager, a woman I respected said something to me that rings true to this day.  I think of it daily, and quote it to others whenever I have the chance.
Love is not a feeling.  It is a commitment.
Those words resonate through my very soul.  Because they are true.
The statistics for divorce tell you that it is something that happens to approximately 50% of couples.  Much higher than it used to be, but it is acceptable.  Apparently.  People see these statistics and think that their odds are not so great.  Then they go into marriage with the thought that is it doesn't work out, there is always divorce.  Because it is an easy option.
I am a child of divorce. It is NOT EASY.
A little while ago a guy in the grocery store referred to me as "his future ex-wife".
Be still, my beating heart.
Matthew and I have both committed to be in this marriage FOREVER.  Divorce is NOT an option, nor will it EVER be.  We work daily at building upon the foundation that we created over eight years ago.  We go on date nights, we communicate throughout the day and we laugh at each other's jokes.
Yes, we have an advantage that we speak the same love languages.  We have a lot of differences though.  I am an extrovert and he is an introvert.  I hate sales people and he is a salesperson.  He is can be passive aggressive whereas I like to put it all on the table, deal with it, and move on.
We talk about these differences.  We joke about these differences.  We don't fight about these differences.  We are ONE.  Two halves of the same whole.
If we were in this with the thought that this may not be forever…it would be AWFUL.  I would live in fear that one day Matthew would wake up and just give up on me.  On us.  His reasons would be that I lose my patience too easily, that I do not clean the house as deeply as he does, that my farts reek more than his ever do.  He could then walk out the door.
Where is the comfort in that?  Where is the security?  Where is the LOVE?
For love is not a feeling.  It is a commitment.  One that we make to each other every day, 'TIL DEATH DO US PART.
To choose otherwise is to choose to fail.
At least in my humble opinion.
comment via Facebook
comments