A common theme around these here parts involves me writing eloquently (Ha!) about my sweet baby girl. She is intelligent, funny, adorable.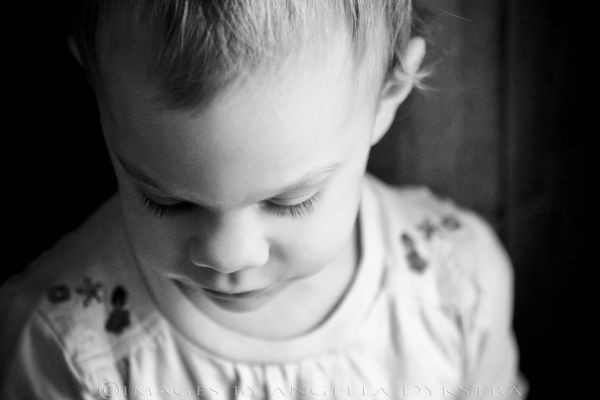 She is also a girl! After two rambunctious boys and days spent playing with trucks and superheroes, I finally had a little being who was genetically just like me.  Girly bits and all that jazz. I started to dream dreams of pink, and of purple, and of all things pastel.
Those dreams are all coming true already.  She "cooks" in her kitchen, plays with dolls, has tea parties with her brothers who pretend they don't want to be there but TOTALLY DO. She is in love with all things Princess. The dresses, the jewelry, The Little Mermaid (The songs are TORTURING me).  The upside is that if we want her to do something (take medicine, eat vegetables, etc), we tell her it is "Princess".
"Princess" broccoli. It's what's for dinner.
This past week we have been known to comment on a regular basis that Miss Emily has figured out what it really means to be TWO. 'Tis all about the TERRIBLE.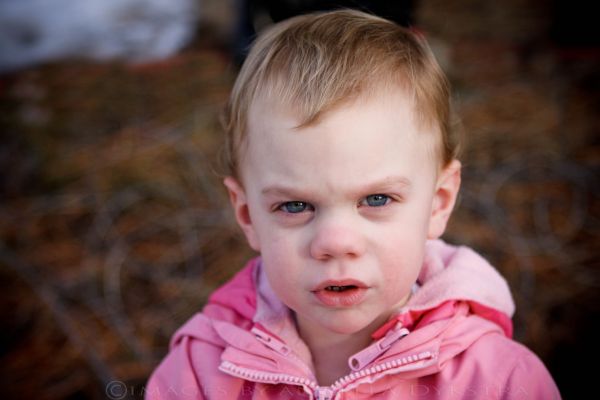 That would be FIRE you see in her eyes.  I have no idea where she gets that from.
Here is an example from last week while I was loading the kids into the van.  I put on a CD and she yelled, "LOUDER!" (My kids like my music (If anyone buys her The Little Mermaid soundtrack for Christmas, they should PREPARE TO DIE) and they like it loud.)
I told her that the music was loud enough.  Mommy needs to be able to think at least a little bit. No. Really.
Her response?
THHBBBBPPPTTTTTTT!
I told her that she was NOT to do that to Mommy. That is called Bad Manners.
THHHBBBBBPPPPTTTTTT!
I dealt with it immediately, but that wasn't the last time she has pulled that stunt. She is a feisty one, that girl.  Again, NO IDEA where she gets it from.
On Sunday afternoon, she decided to kick it up a notch.
The kids were all playing downstairs while my brother watched the game.  Matthew was in the office practicing guitar (Swoon) and I was playing on my pretty new laptop. All of a sudden Lance came upstairs and told me that I needed to get downstairs. STAT.
Little Miss Emily had pooped in her diaper.  This is something that we praise her for (The pooping. Not the diaper) as she has always had constipation issues.  Lately her stool has been softer (You are welcome) and she had decided to experience it in its full glory.
She had shoved her hands down the back of the diaper and upon realizing that her hands were covered in FECES, decided to WIPE HER HANDS ALL OVER THE LEATHER COUCH. I (surprisingly) did not take a photo.  You really are welcome for that one.
Besides. I was too busy carting her up to the bath and repeating, "Don't touch me. DON'T TOUCH ME. FOR THE LOVE OF ALL THINGS HOLY KEEP YOUR HANDS AWAY FROM ME."
So. Sick.  I honestly washed my hands about twenty times. Possibly thirty.
Then on Monday night, whilst I was at Boot Camp, SHE DID IT AGAIN.  I did not have to deal with it (Phew!), but methinks it is time that Miss Emily started doing her business on the toilet.
It's a good thing she's so stinking (Ha!) cute, or I would have to send her packing.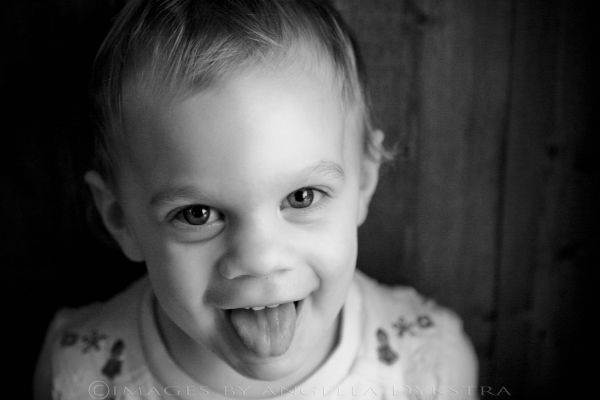 I have said it before, but I will say it again. The teenage years are going to be AWESOME.
comment via Facebook
comments