When I shared the above photo, I wrote this caption: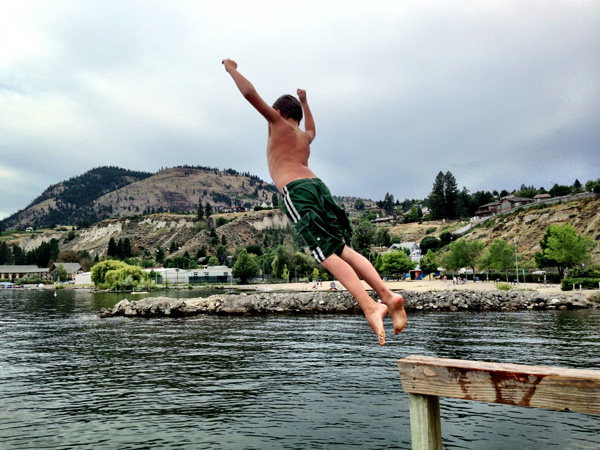 My kid who struggles with anxiety is also my kid who can be the most fearless.
He runs and he jumps and he breaks his collarbone (twice!) and he jumps off of railings into the water.
I feel a lot like him this week. I'm still trying to figure out my own anxiety issues, but I am running (literally) and jumping (literally) and we made a big jump to realize The Dream. That dream comes true today.
It was a huge leap of faith, but we knew it was what we were meant to do. Since then, I have had so many jobs fall into my lap that it feels like a CONFIRMATION stamp has been placed on The Dream. Our life has been made even more crazy than usual, because while work is good, it also takes up a lot of time and our kids are on summer break and we have all of the balls (and our kids) up in the air. I have hit the breaking point, and crossed it the other night, but I feel like I've stepped off of the ledge. It's still in my peripheral vision, but school is less than three weeks away, and things will be less busy.
(I've been saying that things will be "less busy soon" for over five years now. It never happens, but hope springs eternal.)
(Probably because the reality would crush my soul.)
I'm sorry that I'm so vague about The Dream, but it's something that we don't want to share, here. The problem with something that is SO BIG and SO AWESOME is that it dwarfs everything and I can't think/breathe/write about anything else. So, if you want to know what's going on, just leave me a comment and I'll email you. It may take me a week because of ALL OF THE JOBS (Yay!), but I will so totally tell you what's going on. I might even attach a few photos.
None of this would be happening without all of you. Have I told you lately that I love you? It's true.
comment via Facebook
comments